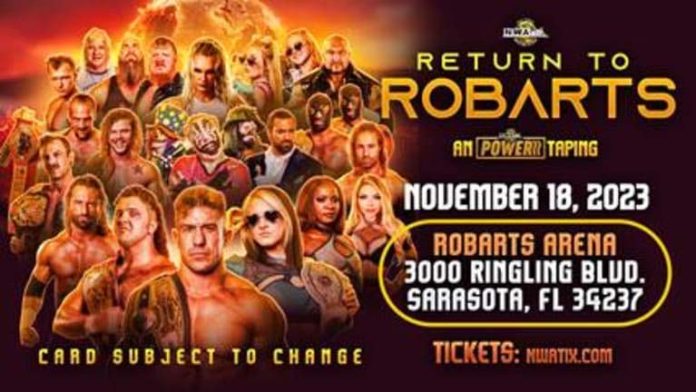 The following was sent to us:
NATIONAL WRESTLING ALLIANCE MAKES TRIUMPHANT RETURN TO HISTORIC ROBARTS ARENA FOR NWA POWERRR TV TAPING: CELEBRATING THE GLORIOUS PAST AND SHAPING THE FUTURE OF PROFESSIONAL WRESTLING
Sarasota, FL – Sept. 28 2023 – The National Wrestling Alliance (NWA) is set to make a monumental return to Sarasota, FL, as it proudly announces "Return to Robarts," a spectacular NWA Powerrr taping at the iconic Robarts Arena on November 18, 2023. This historic event not only marks the resurgence of the NWA in Sarasota after more than 35 years, but also pays homage to the illustrious history of Championship Wrestling from Florida, which regularly graced the walls of Robarts Arena from 1967 to 1987.
Robarts Arena, a hallowed ground for professional wrestling enthusiasts, witnessed some of the most unforgettable moments in the sport's history. Legends such as Dusty Rhodes, Terry Funk, Austin Idol, the Iron Sheik, Mr. Wrestling 2, Rick Rude, Dutch Mantel, Barry Windham, Jake Roberts, Wahoo McDaniel, and many others etched their names into wrestling mythology by captivating audiences with their awe-inspiring performances within these very walls.
NWA President William Patrick Corgan expressed his excitement about the return, stating, "Returning to Robarts Arena is a special moment for the National Wrestling Alliance. This building holds a rich tapestry of wrestling history, and we are thrilled to bring the NWA back to where legends were made. Our commitment to being the stalwart soul of professional wrestling continues, and this event is a celebration of the sport's enduring legacy."
Scheduled to appear at "Return to Robarts" are NWA World's Heavyweight Champion EC3, NWA World Women's Champion Kenzie Paige, NWA World Tag Team Champions B.F.T. with their manager Aron Stevens, NWA National Heavyweight Champion Thrillbilly Silas Mason, NWA Junior Heavyweight Champion Colby Corino, NWA United States Tag Team Champions Daisy Kill and Talos, the Brothers of Funstruction with their manager the Insane Clown Posse's Violent J, Thom Latimer, Kamille, Natalia Markova, Mercurio, Ruthie Jay, Samantha Starr, the legendary Ricky Morton and many more.
The event promises to be a unique experience for wrestling fans, combining the electric atmosphere of a live NWA Powerrr taping with a special focus on celebrating the remarkable career of the 'Universal Heartthrob' Austin Idol. Idol, a living legend in the wrestling world, has left an indelible mark on the sport and continues to contribute as a manager in the NWA. Alongside Corgan, a special guest with deep ties to florida wrestling will also be on hand to present a very moving tribute; celebrating Idol's over 50 years in the squared circle.
Scheduled for November 18, 2023, with doors opening at 6 p.m., "Return to Robarts" is not only a taping of the popular weekly wrestling program NWA Powerrr but also a captivating live event that promises thrills, excitement, and nostalgia for fans of all ages.
Championship Wrestling from Florida holds a revered place in the annals of wrestling history, serving as a crucible where the sport's most iconic figures were forged and legendary rivalries unfolded. This NWA territory became a breeding ground for excellence, consistently delivering high-quality, action-packed wrestling events to the fervent fans of the Sunshine State.
Notably, Championship Wrestling from Florida played a pivotal role in shaping the trajectory of televised wrestling broadcasts. As one of the pioneering territories to embrace the potential of television, it contributed significantly to the evolution of wrestling as an entertainment spectacle.
Attendees will have the opportunity to engage with their favorite stars through meet and greet sessions. Tickets for this monumental event are available at NWATix.com. Robarts Arena is conveniently located at 3000 Ringling Blvd, Sarasota, FL 34237.
Don't miss this historic night as the National Wrestling Alliance brings the thunder back to Robarts Arena, creating memories that will resonate with wrestling fans for generations to come.
For tickets and additional information head to NWATix.com and follow the NWA on all social media platforms. Tickets are on sale now so get them while you can.
Card subject to change.