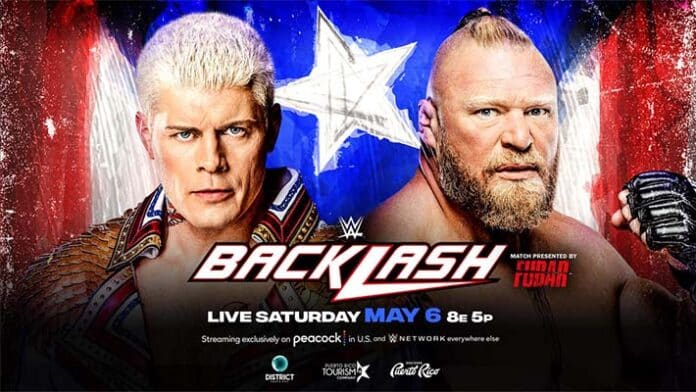 WWE will be holding its first premium live event in San Juan, Puerto Rico since 2005. WWE Backlash will take place tonight at the Coliseo de Puerto Rico José Miguel Agrelot in San Juan, Puerto Rico.
Below we look at the most up-to-date match card, as well as predictions for each match.
Seth Rollins vs. Omos
Omos continues to be put in matches that appear from out of nowhere. He was thrown into a match against Brock Lesnar at Wrestlemania 39. Now he is having a match with Seth Rollins, which just feels like another throw-in match with no real story behind it.
Rollins is extremely over as a Babyface. He is carrying a ton of momentum from his win against Logan Paul at Wrestlemania 39. To have him lose this match right now just does not make any sense.
Prediction: Omos will dominate the match, however, Rollins will find a way to pull out the win!
United States Championship Triple Threat Match: Austin Theory (c) vs. Bobby Lashley vs. Bronson Reed
Austin Theory has tried his best to make the United States Championship relevant on a Raw brand that was missing a World Champion on their show most nights. However, the reign has been lackluster for me, and having the title switch hands may not be a bad thing.
Having a triple-threat match is a great way of having Theory lose his title while still looking strong by not being the one pinned. If WWE does go this route, look for Bobby Lashley to pick up the win over Bronson Reed. The WWE will want to have the United States Championship on Smackdown being the Intercontinental Championship is on Raw.
With Bronson Reed drafted to Raw, it would make sense for Lashley to win and then continue to feud with Theory, who will also be on Smackdown.
Prediction: Bobby Lashley wins United States Championship!
Raw Women's Championship Match: Bianca Belair (c) vs. Iyo Sky
While Iyo Sky is talented, it is hard to imagine her winning the title from Bianca Belair here. There most likely will be interference if Bayley and Dakota Kai are at ringside, however, I don't see this match ending any other way but with a Bianca Belair victory.
Prediction: Bianca Belair retains her Raw Women's Championship!
Smackdown Women's Championship Match: Rhea Ripley (c) vs. Zelina Vega
Rhea Ripley has so much momentum, and her title reign has just begun. For this reason, a Zelina Vega win seems highly unlikely. I do feel WWE made the correct choice in having Vega as Rhea's opponent, given her Puerto Rican heritage and being this event is being held in Puerto Rico.
Prediction: Rhea Ripley successfully defends her Smackdown Women's Championship!
6 Man Tag Match: Undisputed Tag Team Champions Kevin Owens & Sami Zayn, Matt Riddle vs. The Bloodline (Jimmy & Jey Uso, Solo Sikoa)
This match should be a good one given the chemistry and history with all the superstars involved. I've been back and forth with picking a winner in this match.
On one hand, the Bloodline is really in need of a win. There's no title on the line here, so a win for the Bloodline makes sense. On the other hand, a Bloodline loss would most definitely cause more friction between the faction.
The feud between Owens, Zayn, and the Bloodline appears to be coming to an end, with the Bloodline drafted to SmackDown and Owens and Zayn drafted to Raw. It's because of this reason I'm going to go with the Bloodline losing and continuing the turmoil storyline within their group on Smackdown.
Prediction: Kevin Owens, Sami Zayn, & Matt Riddle will defeat The Bloodline!
San Juan Street Fight: Bad Bunny vs. Damien Priest
It is nice to see Damien Priest being showcased in a Marquee Match on a premium live event. Given his heel status and Puerto Rican heritage, he is the perfect villain to face off against the hometown hero Bad Bunny.
There has been a good build-up to this street fight, and it has made me interested in the match. While there's sure to be interference from The Judgment Day, I believe LWO will come out and even things out.
In the end, the Babyface and crowd favorite, Bad Bunny, will come out with the win.
Prediction: The crowd goes crazy as Bad Bunny defeats Damien Priest!
Cody Rhodes vs. Brock Lesnar
There's no denying that Cody Rhodes has done some amazing storytelling both on the mic and in the ring since his return at the Royal Rumble! There is also no denying that Brock is still one of the best workers in the business, when he's invested in a match. If this Brock shows up, this match will undoubtedly be the match of the night!
After given Rhodes fell short of winning the championship and finishing his story at Wrestlemania 39, another loss here would be completely devastating to any momentum he still had! To simply put, Cody needs this win, Brock does not.
In the end I think Brock will put Cody over and give him the win. The only other ending I can see is if this is not a one off match. There might be a no contest or DQ of some sort if this feud is going to continue. Given Brock's schedule, we'll go with this most likely being a one and done match. For that reason I am picking Cody Rhodes to win.
Prediction: Cody Rhodes will defeat Brock Lesnar in possible match of the night candidate!