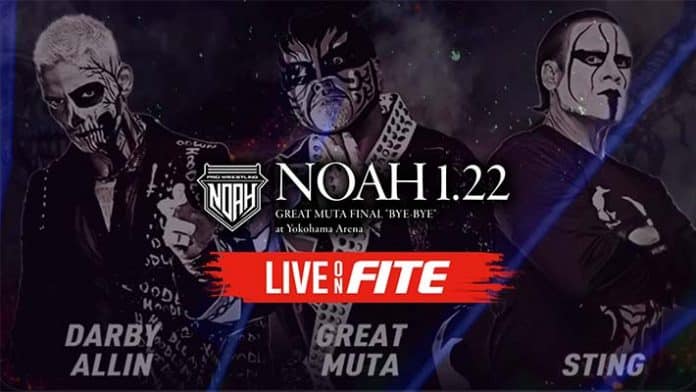 Pro Wrestling Noah The Great Muta Final Bye Bye Results – January 22, 2023
Tag Team Match
Kongo (Hajime Ohara & Hi69) vs. Atsushi Kotoge & Seiki Yoshioka 
End of the match happens when Hi69 hits Seiki Yoshioka with a Stuka Splash for the win.
Winners: Kongo (6:41)
Rate: 5
Tag Team Match
Jungle Kyona & Saori Anou vs. Sumire Natsu & Maya Yukihi
After a brief altercation at the opening bell between Sumire Natsu & Saori Anou tags out to Jungle Kyona & Maya Yukihi & they started trading strikes. Natsu pulled Kyona to the floor, helping her team establish control early. Natsu & Maya then worked to isolate Kyona, leading to the eventual hot tag.
Anou reversed the flow of the match for a while but it didn't take long as Natsu & Yukihi begin their isolation tactic again. This time Kyona was able to help Anou keeping her competitive even through Natsu & Maya's concentrated efforts.
Kyona eventually made the tag but a top rope dropkick then a pair of running boots, and a top rope splash left her on the receiving end of a near fall. Kyona continued to fight, however, landing a double suplex, a double lariat and a sliding lariat for a near fall of her own.
Natsu connected with a pair of DDTs, forcing Anou to make the save & this led to a scramble for control. Kyona eventually landed a lariat which she followed with the Jungle Buster on Natsu to get the win for her team.
Winners: Jungle Kyona & Saori Anou (13:46)
Rate: 6
Timothy Thatcher vs. Masaaki Mochizuki
Match begins with Timothy Thatcher trys a quick attempt for grappling control but Masaaki Mochizuki answered by targeting Thatcher's leg taking the lead early before Thatcher eventually struck back by taking control on the mat.
Mochizuki used the targeted Thatcher's leg but when Thatcher shows a little bit of life, Mochizuki slowed him to a halt by focusing on the leg. Mochizuki tried to connect with a flurry of strikes but Thatcher caught him with an Fujiwara Armbar for the submission win.
Winner By Submission: Timothy Thatcher (8:44)
Rate: 5
6 Man Tag Team Match
Junior Heavyweight Tag Team Champions Yoshinari Ogawa & Eita & Nosawa Rongai vs. Junta Miyawaki,Alejandro & Yasutaka Yano
Match starts off with a brawl before Yoshinari Ogawa,Eita & Nosawa Rongai to establish an early lead. Ogawa,Eita & Rongai were more than willing to gain a numbers advantage at any turn as they worked to isolate whoever they were in the ring with before they eventually ripping off Alejandro's mask & the ref calls for the bell.
Winners By DQ: Junta Miyawaki,Alejandro & Yasutaka Yano (7:22)
Rate: 4
After the match Nosawa cut an unwilling Miyawaki's hair.
6 Man Tag Team Match
Good Looking Guys vs. Masa Kitamiya,Daiki Inaba & Yoshiki Inamura 
Good Looking Guys eventually established control by forcing Yoshiki Inamura into the corner and trading tags to keep him from his team. Good Looking Guys maintained their control for some time even after Masa Kitamiya tags into the match.
A tag to Daiki Inaba actually turned things around for his team. A lariat to Jack Morris caused a match reset leading to a Jake Lee & Inamura exchange. Inamura drops Lee with a suplex and a ton of elbow strikes but Lee answers with a big knee to the midsection followed Yakuza Kick. The rest of GLG cleared the ring of their opponents and Lee hits Inamura with Skewered Front Kick to get the win for the team.
Winners: Good Looking Guys (10:49)
Rate: 6
GHC Marital Arts Rules Match
Kazushi Sakuraba vs. Hideki Suzuki
Match starts off with Kazushi Sakuraba & Hideki Suzuki were scrambling on the mat. Sakuraba tried to secure guard on Suzuki but Suzuki was able to pass. After the stalemate on the ground they stood up and traded a few palm strikes, but Suzuki secured a double leg takedown to return to the mat.
Sakuraba pops back to his feet and tried a takedown of his own finally pulling Suzuki into full guard. From guard Sakuraba nearly secured an armbar but Suzuki flipped out of the hold. Both men struggled for control of the legs of the other leading to an extended struggle for the lead.
Sakuraba secured a triangle choke from the mat. Suzuki tried to escape by powering up and landing a buckle bomb but before he could connect, he passes out & the ref calls for the bell.
Winner By Referee Stoppage: Kazushi Sakuraba (10:37)
Rate: 5
6 Man Tag Team Match
Junior Heavyweight Champion Amakusa,Ultimo Dragon & Ninja Mack vs. Yo Hey,Kzy & Dante Leon 
Match starts off with an extended period of animated sequences then everyone hits dives except Ultimo Dragon, who teased a jump instead. Sonny Onoo got involved, landing some quick kicks on Kzy before Ninja Mack hits Yo Hey with Ninja Bomb to get the win.
Winners: Junior Heavyweight Champion Amakusa,Ultimo Dragon & Ninja Mack (11:41)
Rate: 6
8 Man Tag Team Match
Sugiura Gun & GHC Heavyweight Champion Kaito Kiymoiya vs. Kongo (Kenoh,Katsuhiko Nakajima,Masakatsuki Funaki & Manabu Soya)
Kenoh & Satoshi Kojima entered the match early and with the rest of Kongo's help, Kongo established control. Kongo worked to isolate Kojima with Kongo beating on Kojima.
Once the tag finally came Takashi Sugiura goes after Kenoh then they started trading heavy blows and putting Kongo on the backfoot. Kaito Kiyomiya tags in and continued to further the lead made by Sugiura.
Masakatsu Funaki challenges Kiyomiya then he connects with strikes and forcing the tag. Manabu Soya & El Hijo De Dr Wagner entered to trade power moves with Soya gaining the upper hand with a spear and a brainbuster. Kongo rushed the ring to fully cement Soya's lead, which led to a free for all shortly after. Once the ring is cleared, Wagner hits Soya with  Wagner Driver and a moonsault to score the win for his team.
Winners: Sugiura Gun & GHC Heavyweight Champion Kaito Kiymoiya (18:36)
Rate: 7
6 Man Tag Team Match
The Great Muta,Darby Allin & Sting vs. Hakushi,Akira & Naomichi Marufuji
The Great Muta & Hakushi opened the match. Muta taunted Hakushi with a spray of green mist in the air. A scramble led them to the ground before Naomichi Marufuji & Sting tags into the match. Marufuji tried chopping Sting but Sting was unphased. Sting drags Marufuji into the corner and tags in Darby Allin. Before Allin & Marufuji could come to blows, Marufuji tagged in Akira. Akira & Allin traded moves briefly before tagging out to Sting & Hakushi.
Sting hits Hakushi with a lariat that sent him to the floor. Hakushi took a moment to recover, only for Sting to bump him off the apron over the barricade, and into the bell table this led to a brawl outside with Muta focusing Hakushi.
Muta chokes Hakushi with a cable before jumping his ringside accompaniment. Muta took Hakushi's graveside marker, broke it over his knee and jabbed the jagged wood into Hakushi's head, drawing blood. After dragging Hakushi back into the ring, Allin bites Hakushi's wound and Sting targeted it with slams into the barricade and ring post.
Muta slows down the violence momentarily by locking Hakushi in an STF in the middle of the ring. Akira hit the ring to make the save, leading to a tag into Marufuji.
Marufuji moved Allin into the corner leading into a slightly faster sequence. Allin lands a dive before grabbing a chair. Instead of hitting him with it Allin sat Marufuji in the chair, climbed to the top rope, and hit a dropkick from the ring 2 the floor.
Sting tagged in, but after several Stinger splashes, he lost control to Akira before he gets caught in the Scorpion Deathlock before Muta reentered the match. Muta connected with his signature dragon screws and Shining Wizard but Akira held on. After blocking Muta's 2nd attempt at a shining wizard, Akira landed a top rope splash and tags out to Hakushi.
Hakushi climbed to the top rope and delivered a falling headbutt for a near fall. Allin hits the ring, smashing Hakushi over the head with his skateboard this led to a brawl, clearing the ring of everyone but Hakushi & Muta.
Hakushi cupped his hands over his cut and drank his own blood before botching a top rope walk. Muta blinded Hakushi with the green mist after the fall. Muta hits Hakushi with a shining wizard. Hakushi's tag partners hit the ring and made the save but Muta's partners were quick to back him up.
With Hakushi still on his back, Allin landed a Coffin Drop. Muta followed this with another Shining Wizard on Hakushi to get the victory.
Winners: Great Muta,Darby Allin & Sting (22:23)
Rate: 6
After the match Muta attacked Hakushi's ringside monk again. He grabbed the grave marker and stabbed Hakushi with it again. Muta then took Hakushi's blood and wrote a message on the broken marker trapping Hakushi's demon inside him forever.
On his way to the back Muta was visibly in a lot of pain. Allin & Sting helped him to the top but left him alone for one last mist spray.