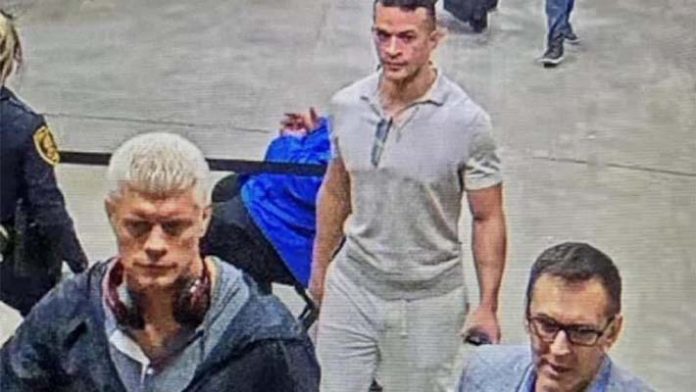 As PWMania.com previously reported, a viral photo of Ricky Starks arriving backstage at the WWE Royal Rumble this past Saturday night has gone viral. The photo also includes WWE's John Cone.
The photo appears to be a screenshot from a surveillance camera, and it went viral on various social media pages earlier today. This sparked speculation that Starks might be interested in a WWE job at some point.
We don't know when Starks' AEW contract expires, but he signed around June 2020. The viral photo means nothing, and he's not the only wrestler from a competing company to appear backstage at a WWE show. In fact, current WWE talent has been seen visiting backstage at other wrestling events.
Starks appeared to react to the photo on Twitter by making a joke about "GTV," the storyline that ran for weeks on WWE TV around 1998-99. According to the plot, someone was installing surveillance cameras throughout the arena. Unfortunately, the storyline was never completed, but for years, there has been speculation that Goldust was the person revealed behind the GTV videos.
You can check out Starks' tweet below:
Damn they brought back GTV 😂

— Ricky Starks (@starkmanjones) January 30, 2023