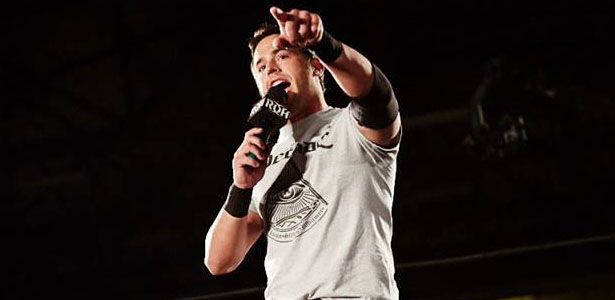 Ring of Honor superstar Roderick Strong recently participated in an exclusive interview with PWMania.com. A multiple-time champion across the independent circuit, Roderick talks about his career, why he has remained with ROH for as long as he has and more. Below is the complete interview.
Roderick, thank you for joining us here at PWMania.com! To start off, how did you decide to become a wrestler?
Pretty much what everyone else says, I fell in love with it as a child. However, I was lucky enough to actually start being a part of wrestling when I was four years old. My dad had a friend call him and ask "Hey, do you want to be a pro wrestler?" And he said, "Sure, why not?" He was 38 years old at the time, too.
So when we went to the practice, it ended up being Jim "The Anvil" Neidhart as the trainer. Jim was somebody I was a fan of from the Hart Foundation days and so wrestling pretty much became a part of my life after that.
How'd you get in touch with ROH at first?
I was working for a company called IPW Hardcore in Tampa Bay and they were doing some stuff with Jersey All Pro Wrestling. They brought Dan Maff down, he saw me wrestle and he told me I'd be a great fit for ROH. Overtime, Maff tried getting in touch with Gabe Sapolsky to get him to meet me, which I did, through Maff, of course. After that, I had my first tryout match on September 20, 2003 and the rest is history.
During your tenure in ROH, you've been a part of a lot of stables such as Generation Next, the No Remorse Corps, the House of Truth and the Decade. Which stable was your favorite and why?
When you decide to become a wrestler, you want to have some sort of impact that people will remember you for. And Generation Next, for what we did, was great and they are always embedded as my number 1.
You've been a part of ROH since 2003. What keeps you coming back to ROH after all these years?
I got a super loyal bone in my body for them. Just being a part of Ring of Honor and watching it grow and wanting to help it become bigger than it's ever been is part of the reason I keep coming back. I love being in the position to help the younger guys, just like the older guys used to help me when I was younger. It makes me feel like I'm doing a lot more than just performing. It feels like I am helping them from the inside and out.
I mean, hey we got our first live PPV on June 22. How exciting is that? I think ROH is hotter than it's ever been. I think we're going to shock a lot of people on June 22.
A lot has changed in Ring of Honor since you've started there. What do you think has changed the most and what do you think has stayed the same?
The amount of exposure has changed. The amount of passion in the locker room has always stayed the same. I just think that's something that's a part of ROH that, unless the company comes to an end, that passion will always be there. It is always going to be a company that is driven to present the best wrestling. And not just the wrestlers, but the passionate fans are still the same as well.
But speaking of the fans, if there's one thing that has changed, it's that more casual fans are aware of ROH. They're getting into it and they're seeing the passion that fans have had for 12 years.
With that in mind, there have been interviews in the past with ROH wrestlers where they are always asked "How can the company grow to a mainstream product?" When you look at ECW, they came up pretty quickly. Why do you think that ROH has not come up as quickly?
ECW had a lot of funding and at the time, they were such an extreme alternative to everything else on TV. Wrestling was really hot back then.
But I think the way that Ring of Honor has come up will be a business model for a long-term company. Slow and steady wins the race.
While you've wrestled for ROH, you've also wrestled for Full Impact Pro Wrestling (FIP). That company was always seen as second tier to companies like ROH and Dragon Gate USA. But you were able to make the FIP Title a World championship. How did it feel to know that you were the one to do it?
FIP, which was at the time the sister company to ROH, was a place to help the younger guys to come up. It was also instrumental in helping me become who I am today in professional wrestling. FIP let me make mistakes and learn from them. To have that opportunity to make the FIP title a World title was a big deal for me and it's something I'll never forget.
At this stage in your career, do you ever aspire to work for WWE?
Of course, who doesn't? I'm still young, in a sense. Even though I've been around for a long time, I'm still only 30 years old. There's a lot more tread on the tires.
Everyone's dream is to be a huge superstar in professional wrestling. And to one day wrestle at Wrestlemania where my niece and nephew can watch me means more to me than anything.
One of your nicknames is "The Messiah of the Backbreaker." Were you intentionally trying to master the variations of the backbreaker? Or was it something that just happened?
That was something I intentionally tried to do. That's one of those things where people try to figure out how they can be different from everybody else. It's something I worked on and thought about it a lot. For the most part, I can do it to anybody.
You've also worked in Japan. How are the two countries different, in your opinion, when it comes to wrestling?
It's a lot different. Psychology-wise and just knowing how to get the emotions out of the crowd is different. But it's always great blending the Japanese and American styles of wrestling.
I think the Japanese crowd loves the American style in addition to the Japanese style because they like to be entertained. To me, Japanese people are the ones who go out more, do karaoke, go see movies etc. They want interaction and that's why they like the American style. New Japan Pro Wrestling is a great example of that because they blend both styles and look how successful they are.
What's next for Roderick Strong?
June 22, live on PPV, I tap out Cedric Alexander!
PWMania appreciates your time and wishes you luck in all you do!
Follow Roderick Strong at @roderickstrong
Follow Brett @TheDeutch
Follow PWMania @PWMania