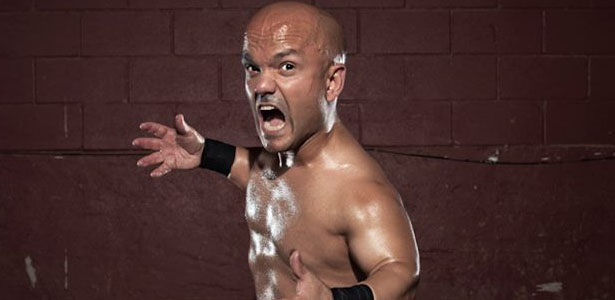 American Midget professional wrestler Short Sleeve Sampson recently took some time to participate in an exclusive in-depth interview with PWMania.com. Sampson works on the independent circuit, mainly for Micro Championship Wrestling, and TNT Pro Wrestling. He has also made appearances with WWE and TNA, most recently at Extreme Rules to announce the weeLC match featuring Hornswoggle vs. El Torito as "Jerry Smaller", a parody of Jerry The King Lawler. Sampson spoke on his favorite moment in WWE, Extreme Rules, the photo he took at the pay-per-view with John Cena and the Wyatt Family in the background, Vince McMahon, Midget Wrestling and more. Check out the complete interview below:
How did you decide to become a wrestler?
I grew up being a huge fan of it. My grandfather was also involved in the midget wrestling business. What ended up happening was there was another midget wrestler in my home state of Rhode Island who was involved in the independent scene. Through a mutual friend, he got a hold of my contact info and one night he called me up and asked me if I'd be interested in doing a show. Now mind you, I had no prior training. We did a midget tag team match at an independent show and we had a great time. But I felt bad for the fans ultimately because I was kinda bad. Basically, what I knew was what I saw on TV. Nonetheless the fans had a good time and the promoter was happy. I remember being so nervous that I ended up signing an autograph and spelling my name wrong. At the end of the night, I thanked the promoter and the guy who contacted me and told them if there was anything else going on in the future, I would be interested. So time went by and I got another phone call to be a part of a show for the same promoter. The only thing different about this was that I wrestled a singles match instead of a tag match.
The following night, which was a Sunday, at 10:30 p.m. I received a phone call from someone in WWF, asking me if I would be interested in being a part of a segment the next night on Monday Night Raw. After talking to this guy, I realized it was legitimate, so I said yes. The next night I was in the ring with Triple H, Big Show, Shane and Stephanie and Tiny the Terrible (the one who got me into the business) and we were making fun of The Rock two weeks before Wrestlemania. So after that was over, I went home and told my wife I was going to train and that's how I got into the business.
What was your favorite role to play in WWF/E?
There are definitely several different ones. The ones that stand out the most are the parodies. I was mini-Kurt Angle and I worked with Angle and did some work with John Cena as well. Both of them are very professional and fun to work with.
Another one was my Undertaker parody and working with him and JBL. I don't know if getting chokeslammed by The Undertaker was the best thing in the world, but hey, how many people can say they've been chokeslammed by The Undertaker?
I also enjoyed the Juniors Division, even though it was short-lived. It was great to be a part of the inaugural match. Another reason I liked it was because this was the first time in WWE that I was allowed to be Short Sleeve Sampson instead of a parody of someone. I was allowed to be myself and wrestle the way I normally wrestled.
Why do you think the Juniors Division did not last long?
I think everybody had a different idea of what they wanted to see from us. Some people wanted to continue the comedy aspect of midget wrestling while others wanted it to have a serious tone and showcase our talents. In the beginning, they told us that they were going to hire 18 guys; 6 guys from the US, 6 guys from Mexico and 6 guys from Japan. There was going to be a title belt and everything.
The thing of it is there was no consistency to it, so it just fizzled out.
Midget wrestling has always carried that comedy stigma. Do you think there will ever be a time where midget wrestling is taken seriously?
I think it's actually already taken seriously today. It may not have mainstream attention in WWE or TNA, but it's in the independents. There are even strictly midget wrestling companies, just like there are strictly hardcore wrestling companies or family-oriented companies.
I think that it's up to each individual worker to challenge themselves to learn the business and be trained. Just because someone is five feet tall does not make them a wrestler. Also, you have promoters that will use that to their advantage to advertise midget wrestling on their show. That does not mean that they will actually have midget wrestlers, if you know what I mean.
As for comedy aspect of midget wrestling, well, for some of these workers, that's all they know how to do. When it comes to taking a bump, knowing psychology or the difference between a wristlock and a wristwatch, they have no idea.
I wanted to make myself stand out from that. I remember when I first went to the wrestling school I trained at. The one thing they asked me was "How do you want me to train you?" And I told them to train me like everyone else. I wanted to take every bump and do every spot. Some things may have had to be modified, but in the end I wanted to be treated like everyone else and wanted to work with everyone else, regardless of height. I actually prefer to work with big guys because I can creatively do so much more, such as tell the David vs. Goliath story.
If you were in charge of bringing midget wrestling to the mainstream, what would you do?
I think it has to be a slow and steady process of bringing in midget wrestlers and putting time and development into their storylines and characters.
I think that the direction that WWE is going in is smart. They got Hornswoggle who has worked with WWE for a while and everyone knows who he is. They just brought in El Torito, a great worker who has that lucha libre style and you got him going against Hornswoggle. What they need to do before the fans lose interest in the storyline is bring in a third guy and then a fourth guy and start a story with them. Then do a battle royal type thing where you would need more guys and you slowly start to establish the character and storylines, similar to what they did with women's wrestling. Normally, a woman would come out as a valet and only get a woman's match every once in a while. And then there would be a mixed tag match. Nowadays the women are getting trained and they are having better matches.
This is all much different than bringing in 10-15 guys and just shoving them down everyone's throats.
What was your working relationship like with Vince McMahon?
It was a huge honor to work for him. I have a lot of respect for Vince and what he's done, whether or not I agree with some of his decisions. He's the head honcho and to work for the number one company is a great experience.
How was your experience at Extreme Rules?
I enjoyed it. It allowed me to do something different and the nice thing about it was we weren't given any scripts. I got a lot of positive feedback from it and I can only hope that people were entertained by it. And I got to take a whole lot less bumps.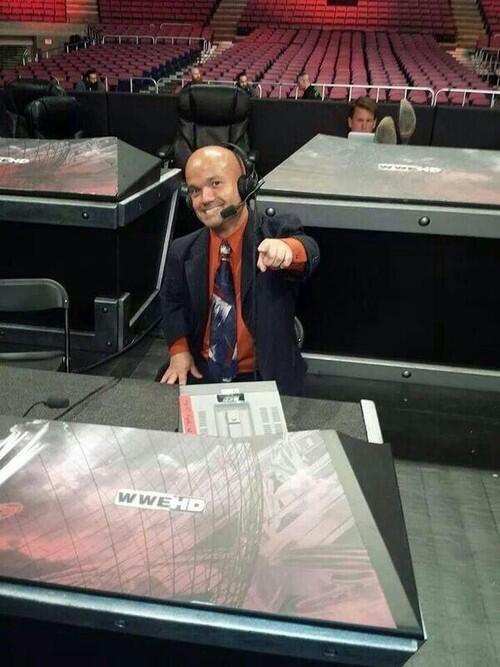 One of the more notable moments of Extreme Rules was where a picture was taken of you and the picture had John Cena and the Wyatts in the background talking before their match took place. According to reports, there was backstage heat on you for that. Can you describe what happened?
I had been taking pictures throughout the day and after the weeLC match, I uploaded some of those pictures to my Facebook and social media pages. I was getting a lot of comments on the pictures and after an hour or so, someone commented on that particular photo: "If I were WWE, I'd fire Short Sleeve Sampson right now." And I thought why would someone say that? So I looked at the picture and saw that Cena and the Wyatts were in it and I was surprised. So I deleted the picture. That was all done before their match took place that night. In that hour, people probably saved the photo and uploaded it, because the next day I saw that the photo went viral.
WWE never contacted me about it. I actually talked to them and everything's been fine. There's no heat. Had I known what was in the background, I never would have uploaded the picture. And I put up an apology for that online. I appreciate everything WWE has done for me and the opportunities they've given me and I would not want to burn any bridges.
But the thing about the photo and the business being exposed in that photo, the problem with that is the fans who deliberately try to expose the workers. They were the ones who ran with this thing and their immaturity came out. If I was a fan of something and there was something controversial posted by that person, I'd tell them "There's something going on in this picture, did you know about this?" But instead, everyone's looking to cut everyone's throats and throw knives in their backs. This business is crazy enough as it is. Why can't we all help each other out instead of trying to one-up another?
Even if a picture like that is put online, everyone knows that wrestling has been exposed. In this day and age, with the advent of technology, do you think people will still be angry about things like that when they already know that the business has been exposed?
I think anything that's controversial creates a story. Ultimately, people want to have that story and want to break the news to draw people to their site.
How do you think wrestling can adapt in an age where their business gets leaked?
10 years ago before technology, it was a whole lot easier. If a face and a heel got seen at a restaurant together, that was taboo. But now, everything's out there. The only thing we can really do is be careful. But it's up to the discretion of the fans. They have to ask themselves what they want to get out of wrestling. I never go on the dirtsheets because there's stuff I don't need to know. If it's important, I will find out or someone will let me know. I don't need to know about shoots or anything like that, because it's all a matter of opinion. The bottom line is as long as promoters are still booking me and fans are talking to you and buying merchandise, I've done my job. If the fans are getting up during your match to get a soda, then there's something wrong there.
How's your farewell tour going?
Last August, I turned 40. I love this business, but there are other things I want to do, including acting. Wrestling and acting schedules end up conflicting with each other. At the end of last year, I decided to create a farewell tour of 40 shows in 40 cities. It's called the Midget Times Farewell Tour. I wanted to show appreciation to fans and promoters and go out the right way. I didn't want to just quit cold turkey. I also didn't want to be one of those guys who didn't know when to quit or to be in a wheelchair for the rest of my life. At this point, I'm midway. Right now, the 40th show has not been booked, but it will probably happen later this year.
I've got shows coming up with Michael Bryan of Northeast Wrestling, Old School Wrestling in Texas, some of the NWA promotions in the US, etc. I've worked for some great promotions in Canada, including ASW. I got a huge two week tour with Danny Warren in the Manitoba area too. Probably 80 percent of the shows I've been on so far have been sold out. It's been really great seeing the fans showing support.
The other thing that's coming up in June is I will be receiving an award at the Cauliflower Alley Club in Las Vegas for Male Wrestler of the Year. That's such a huge honor because it encompasses all of wrestling, not just a few promotions. I'm really excited for it.
I remember first seeing you live at NWS and you started rapping and had a call-response chorus where you said "When I say Short Sleeve, you say Sampson, Short Sleeve!" and then the crowd would say "Sampson!" Have you worked for NWS since?
It's probably been a couple years. I've worked for them on and off for the past 10 years. It was always a good time and a lot of fun. I think the last time I was there, I tag teamed with Tommy Dreamer. It's a great promotion with the up and coming local talent as well as big names.
As far as the "When I say Short Sleeve, you say Sampson" thing goes, I started doing that after my second match. I started putting my own music together before I started wrestling. I thought "How could I put music and wrestling together?" I wrote this whole rap while I was new and green. I remember going in the ring and asking the ring announcer for the mic, which is not something you normally do because you need permission for it. I took the mic and started rapping and the "When I say Short Sleeve, you say Sampson" went over quickly. I wanted people to remember who I was and what better way than to involve the fans and get them to hear my name and say my name.
I remember a time when NWS was running weekly shows especially during the summer. They had some type of contract with a local amusement park where they would run shows every Thursday, so they have grown a lot with the product and the talent that they have.
What's next for Short Sleeve Sampson?
Right now, I'll just be finishing up my farewell tour, the dates of which are posted online. I just finished up a short film last fall. I will also be doing voiceovers for an RPG video game called Steamworks which has not been released yet. It will be coming out for the Xbox and Playstation systems. I got a few other TV and movie projects in the works and that's pretty much it.
Also, I'd like to throw out my social media sites. Check out my Facebook "Official Short Sleeve Sampson" and my website is www.shortsleevesampson.com.
Thanks a lot for your time, Sampson! PWMania appreciates your insight and wishes you the best!
Follow Brett on Twitter @TheDeutch