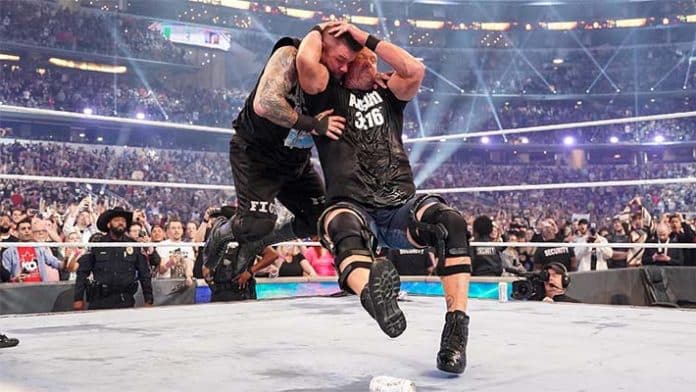 Steve Austin made a successful comeback at WWE WrestleMania 38 last year, defeating Kevin Owens.
It happened after Owens talked trash about the WWE Hall of Famer, prompting Austin to shoot a promo and accept an invitation to appear on the KO Show, which turned into a match with the former Universal Champion.
Following the show, Austin was said to be open to any proposals for WrestleMania Goes Hollywood in April. As PWMania.com previously reported, WWE did offer Austin several opponents for this year's event, but he declined.
Austin was asked by Justin of The Wrestling Classic what the process was for him to come out of retirement after not wrestling since 2003 at WrestleMania 19.
He said, "I got a call from WWE. They said, 'Hey man, would you like to take part in WrestleMania 38.' It was in Dallas, Texas, and it was kind of a sentimental thing of I played football right outside of Dallas. I started in the Sportatorium with the world-famous Von Erich family, and what a fitting way…I always said I would never get back into the ring. I was done, but I always said I would if the stars aligned properly and they did. They presented a storyline or a short angle with Kevin Owens, who I absolutely love, who is golden on the mic and awesome in the ring. Once they said, his name, the creative process continued into what it was. And not for it to not be a full-blown match, but a talk segment that turned into what a match would be. I love Kevin Owens and I was happy to share the ring with him."
Austin also mentioned a possible appearance at WrestleMania Goes Hollywood in this interview.
You can check out the complete interview below:

(h/t to WrestlingNews.co for the transcription)