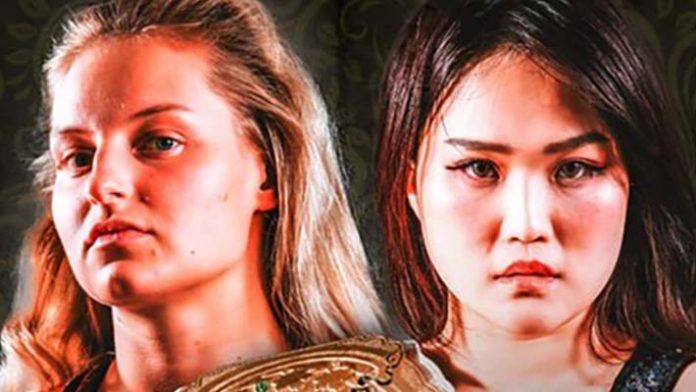 Pro Wrestling: EVE certainly made sure the Coronation weekend was all about the Queens as night 1 of their 13th anniversary was an amazing event.
PWMania.com spoke to Safire Reed earlier this week, and she said it was her time to shine. Well, she proved that alongside Billie Starkz as they kicked off the weekend with a fantastic match, where the ability was far greater than their years.
Whether it was on the mat, outside the ring, or off the stage, the two put on a clinic in the opener that set the tone for the night. Reed may not have won, and although she is still looking for her first win, you're going to hear and see so much more of her, especially as she challenges an arrogant Nina Samuels to a fight when Samuels is cleared to compete.
Starkz went on to win the #1 contender title tournament, defeating Emersyn Jayne in a top-notch final. Jayne beat Laura Di Matteo to reach the final and had some questionable tactics to try and beat Starkz, but it didn't come to fruition, and the match ended with a victory for the 18-year-old.
Starkz goes on today to take on the champ, Miyu Yamashita, who defeated Millie McKenzie in a MOTY candidate, a 30-minute Ironwoman match. This brutal match had everything as blood was shed and bodies were bruised. McKenzie has always been impressive since coming on the scene over 5 years ago. I always felt a match like this would highlight her strengths and put her on the platform she deserves. She had the perfect opponent in Miyu as their styles complimented one another and they held nothing back. For me, this should be the start of a series between this two as with Miyu taking it 4 falls to 3, it shows how close the competition between the two is.
The hard hitting bout between Janai Kai and Skye Smitson went down great with the vocal crowd. The two both have a real MMA style to their matches and I see both being champions across Britain by the end of 2023.
Two top tag bouts also highlighted how strong this roster is. The Unbreakables and M62 Wrecking Crew worked at breakneck speed and it was great to see Lucky Sky, Rhio, Alexxis Falcon and Lizzy Evo in action. They are all doing so well in singles competition throughout different promotions, so seeing them in tag format was enjoyable and highlighted how great UK women's wrestling is, and that's before Royal Aces, Charlie Morgan and Jetta, entered the fray and beat The Unbreakables.
Overall, what I really liked is that the show had a bit of everything and, in doing so, was played out to perfection. I don't think I've ever been so excited about British Wrestling before and EVE just made that excitement stronger. Night 2 will be a stormer so, people, go check Pro Wrestling: EVE out!
RESULTS
EVE Title #1 Contendership Tournament First Round: Billie Starkz defeats Safire Reed (15:15)
EVE Title #1 Contendership Tournament First Round: Emersyn Jayne defeats Laura Di Matteo (8:19)
The Unbreakables (Lucy Sky & Rhio) defeat M62 Wrecking Crew (Alexxis Falcon & Lizzy Evo) (13:30)
The Royal Aces (Charlie Morgan & Jetta) defeat The Unbreakables (Lucy Sky & Rhio) (3:29)
Janai Kai defeats Skye Smitson (9:21)
EVE Title #1 Contendership Tournament Final: Billie Starkz defeats Emersyn Jayne (10:46)
EVE Title 30 Minute Ironwoman: Miyu Yamashita (c) defeats Millie McKenzie [4:3] (30:00)