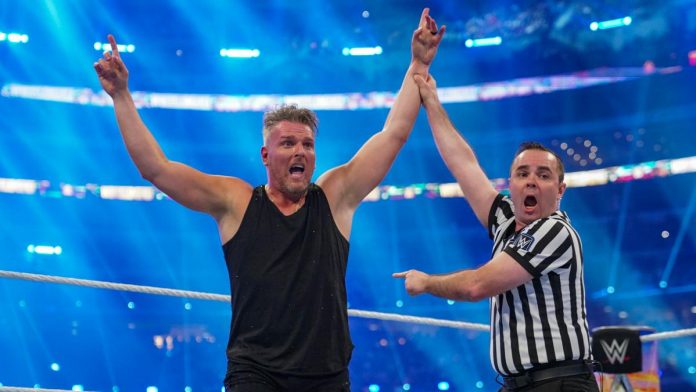 Well, this one is not as bold as my first one.
College football is now over, and Pat McAfee suddenly becomes available Friday and Sunday nights. What would be the point of bringing him back without any fireworks? The Men's Royal Rumble makes perfect sense. I assume he will return in slot #20 or #21 and go on to eliminate two or three superstars, including Baron Corbin and Austin Theory, before being eliminated by someone who will be included in a program with him that will culminate in a match at Wrestlemania. I think that "someone" is Wade Barrett.

The two would fight for the permanent position next to Michael Cole as the idea will go that "you can't just return and replace me" type of story-line. Pat will have to co-exist with Wade each week until the match at Mania gives us a decisive victory, and ultimately claim the spot next to Michael Cole.

The result at Mania can garner us two results:
One result is Pat McAfee beats Barrett and becomes the color commentator for Smackdown. This would open the door to Pat reclaiming his spot, and Wade Barrett going back to a singles career either on the red brand or in NXT.

Another result is that Pat McAfee wins in an evenly, cleanly fought match and the two shake hands after, agreeing that they both can co-exist as commentators next to Michael Cole.
My prediction: I am going with the former!

Like my take? Follow me on instagram @thearibarkan
What do you think? Share your thoughts, opinions, feedback, and anything else that was raised on Twitter @PWMania and Facebook.com/PWMania.