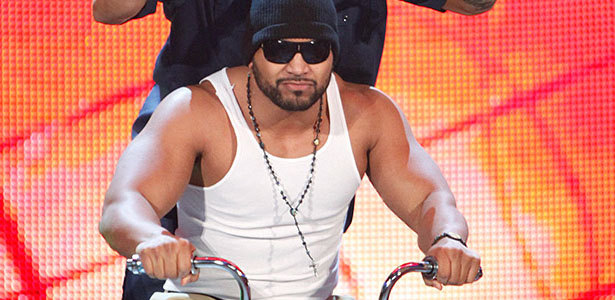 Former WWE superstar Tevita Fifita, better known as Camacho, recently participated in an exclusive interview with PWMania.com. Fefita talks about his time in WWE, his character's direction, his relationship with Triple H and Vince McMahon, his involvement in NXT and more.
It's a pleasure to have you with us, Tevita. So, how did you decide to pursue a career as a professional wrestler?
In the summer of 2004, I was going into my senior year of college and I was playing football. I called my older brother and told him that we were going to do pro wrestling. That's pretty much how it started.
You trained at the Team 3D Academy of Professional Wrestling. How were Bubba and Devon as trainers? Was there anything specific you learned from them that really stayed with you?
Bubba and Devon are phenomenal trainers. They were fundamentally sound in working with me and the other guys. Bubba always used to tell us, "If you're thinking of going slow, go slower." They took our time with us so we could take our time in the ring.
One of the things they would do is do a hold on us and let us know what we were getting into. And generally, they taught us how to take care of each other when we're in the ring.
So if you messed up, they didn't put you through a table, right?
Haha, no of course not.
How did you get in touch with WWE initially?
While I was training with Bubba and Devon, a family friend of mine, Ricky Santana put in a good word for me at WWE and asked around if I could get a tryout with them when they came to Tampa.
You started your WWE tenure in Florida Championship Wrestling (FCW) and you've also wrestled for NXT. What are the differences between working in developmental and the main roster?
FCW was totally different from the main roster. We wrestled in a warehouse, so it had an old school feel for it. WWE is a 100 times different; bigger arenas, bigger production. WWE has 100 production trucks. FCW had maybe one big truck.
To promote their shows, FCW would show up to the town they would perform in two weeks beforehand and they'd put up signs. FCW was never promoted, to my knowledge, on the WWE website itself.
NXT, however was a game-changer. They changed the way that guys were brought up through the developmental process. They've done a great job of preparing NXT talent for the main roster. The Performance Center provides everything for the talent to get them ready for WWE. When NXT is taped at Full Sail University, it feels like a mini-Raw or SmackDown, so when the talent comes to the main roster, the transition is much easier. The only difference is that the arena is bigger.
NXT has become a popular program, especially with the advent of the WWE Network. Fans are able to watch it more than they used to. What is your opinion on the growth of NXT since you've been a part of it?
The growth is amazing and the brand has incredible fans. One of my close friends who loves wrestling used to watch ECW a lot and now he goes to the NXT shows.
I love the environment of NXT because it's more intimate and close-knit. At Raw or SmackDown, I feel like people enjoy the show but they don't have much of a chance to be a part of the show. NXT allows them to have more of a say.
Some of the guys that have come up to the main roster from NXT are Adam Rose, Big E Langston, Bo Dallas, etc. Do you feel there's anyone in NXT that has been overlooked and that should be a part of the main roster?
I'm pretty sure they're right on task when it comes to bringing up talent when they're ready.
How do you feel about your overall run in WWE?
It was an enjoyable experience even though it was short. I got to see parts of the world that I've never seen before. Hopefully one day, I get to do it again.
Hunico, a guy you worked with, plays the Sin Cara character. The character has been around for a while, but it seems like it has not caught on. Nowadays, he has a match here and there, especially squash matches. Why do you think this has happened to the Sin Cara character?
It was hot when it first came out. I think that the injuries from the early going hurt the character. But Sin Cara is still around, so hopefully something will happen.
When you were a part of the main roster, you mainly made appearances on Superstars and SmackDown, but not many appearances on Raw. Especially considering that Raw's three hours are ideally supposed to give talent more TV time, why do you think you were not included as much on the brand?
That's a good question. I have no idea.
Because you weren't on Raw as much, did you still have to follow the same schedule as the rest of the roster?
Yeah, even if I wasn't on Raw, I would still do the house shows and other shows as well. I'd try to get a workout early in the morning. The schedule was still hectic. The call time was 1:00pm for Raw on Eastern Time when we had to start getting ready.
What was your working relationship like with Vince McMahon?
Vince and I talked to each other maybe once or twice. Most of my conversations were with Triple H.
Did you have creative control of your character? What would be your ideal character to play on WWE television?
I did, but I just don't think I did what I should have done with the character.
As far as my ideal character, I wouldn't be Camacho anymore, that's for sure. The character was an awesome opportunity. But if I were to be a character, it wouldn't be one that wasn't my nationality. I'm a Polynesian-American and at the time, I was playing a Mexican. If I would go back to WWE, I'd be myself. If anything, I'd probably use part of my dad's real name, which is Tonga. Or hell, maybe I'd just go back as T.
You were released not too long ago along with a number of other WWE superstars. Was there any reason in particular for your release?
I think creative did not have anything for me. We were running with Camacho in NXT and then I talked about changing my character. Camacho was going to be scrapped and a different character was going to be created altogether. I was going to start a tag team with Wesley Blake in NXT, but because of my release, it didn't happen.
Now that you're no longer with WWE, do you intend to pursue wrestling elsewhere? What's next for you?
I'll definitely be enjoying some time off, now that I'm off the WWE schedule. But I'm looking forward to wrestling my older brother one day. I'd like to wrestle for whoever wants me. Come September or October, I'll probably start working again. It doesn't matter which company it is, I'd just like to wrestle.
As far as what's next, everything is next; anything I've missed out on because of work, hanging out with family and friends, traveling and stuff. Life's too short not to make the most of it.
Thank you so much again for your time, Tevita. PWMania wishes you well in all you do!
Follow Camacho at @TheWWECamacho
Follow Brett @TheDeutch
Follow PWMania @PWMania