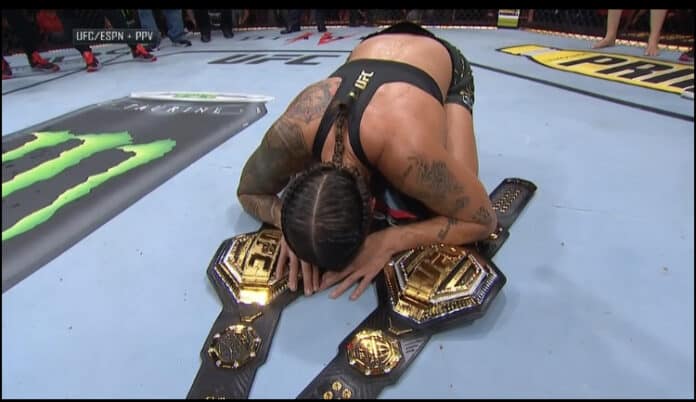 After a dominant win Saturday night at UFC 289, the gold standard & GOAT in women's combat sports, officially announced her retirement. Amanda Nunes laid her gloves, along with both her UFC Bantamweight & Featherweight championship belts on the Octagon mat. A symbol of a fighter's retirement.
Nunes would say after the match, in front of the sold out crowd in Vancouver, British Columbia, Canada, "double champion forever, this is the perfect night to retire." There's been speculation before going into this fight, about the possibility of Nunes retiring after the match or in the near future.
What is next for this future UFC Hall Of Famer? For the time being, Nunes said she plans on taking a long break and heading back to her native country of Brazil for a period of time. She states she has been dealing with nerve damage in both legs, a reoccurring issue that happens every time she fights.
After taking the time she needs off, Nunes said she'll get back to her Lioness Studio gym in South Florida and become a coach. She said she loves the sport too much to disappear.
With Nunes retired, the landscape of the UFC Women divisions have definitely changed. There are some great women fighters in UFC. Who will be the next fighter to step up and try to cement their legacy? One thing is for sure, the historic reign of Amanda Nunes will go down as the greatest! A feat that no one has every accomplished before her, and may very well never accomplish again.