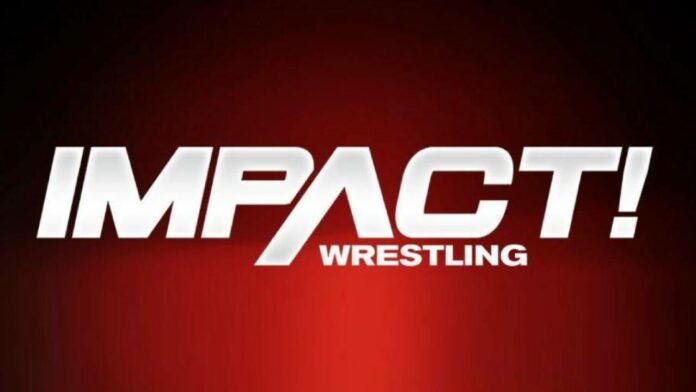 Impact Wrestling Results – July 22, 2021
Impact Wrestling on AXS TV opened with highlights of Slammiversary over the weekend.
We see Chris Bey has apparently joined The Bullet Club.
Rohit Raju with Shera vs. Chris Bey.
They have some solid wrestling early. They each try to out-trick the other, leading to tempers flaring. They go into a hot series of sequences until Raju nailed a big legsweep. Bey ran Raju out of the ring. They battled on the apron, where Bey missed an elbow and Raju snapped him on the ropes. Raju nailed an elbow for a two count and choked Bey against the ropes. He argued with the referee, allowing Shera to nail Bey with an big right hand.
Bey was elevated and slammed to the mat for a two count. Raju nailed a suplex for another two count. The crowd tried to rally Bey but Raju held him down with a side chinlock. Bey fired out with several elbows but was shoved into the buckles and nailed with a running big boot. Raju missed a cannonball in the corner, allowing Bey to come to life with a series of strikes and a Famouser. Bey nailed a leaping strike and hits an enziguiri. Bey came off the top with a flying bodypress. Bey struck him with a big right hand. Bey went for the Art of Finesse but was caught and hit with a Side Russian Legsweep and cinched in a STF. Bey fought for the ropes but Raju shoved off the ropes and brought him back to the center of the ring. Raju cut him off but was caught with the Art of Finesse.
Your winner, Chris Bey!
A good back and forth performance from each competitor.
Backstage, Jay White asked Bey if he got his message. Bey said he walks alone. White asked him how walking alone has been working out for him and warned him the invitation will expire. Bey didn't respond.
Backstage, Gia Miller interviewed Don Callis. Callis asked Tommy Dreamer and Scott D'Amore how it feels to fire him but knowing Don Callis is more powerful than ever because he's with Kenny Omega. He said Omega was hurt at Slammiversary and had to go to the hospital and he's not happy that they had to deal with that. Callis was asked about Jay White being here. He said that he wasn't happy they were told Jay White was here. He said the working environment in the company sucks and he doesn't like being here, but they have the World title and everyone is going to have to deal with him and Omega.
Matt Striker and D'Lo Brown broke down the Homecoming PPV on 7/31 and tonight's lineup.
Mickie James came to the ring and said it was good to be back and having the chance to kick a champion in the mouth at the PPV felt good. She then said she had a serious intention when she came out at the PPV and didn't finish that business, so she was here today to do that. She asked Impact Wrestling Knockouts Champion Deonna Purrazzo to come out to the ring. Purrazzo, unhappy, made her way towards the ring. They faced off in the ring. Mickie said that she didn't mean for things to get physical at the PPV. There is a time and place for everything and she thought that was the time and obviously Deonna didn't agree. She wants the best of the best at the 8/28 Empowerr PPV produced by a woman.
Purrazzo said she came out giving Mickie the benefit of the doubt and hoped she would recitify what she did at Slammiversary. Purrazzo said Mickie was out here for herself not Deonna. She is giving Purrazzo lip service because she needs Purrazzo because that's the only way to make the NWA PPV the best women's wrestling PPV of all time. Everyone wants to get a piece of her. She said if she wants Purrazzo, she can grovel at her feet and apologize right now. Mickie looked away. Purrazzo said that perhaps she needs to do what Mickie did and slap her into next week. They faced off.
Gail Kim made her way to the ring. Kim told her that she came out to clear up the confusion. Kim was the one who told Mickie to go out there at Slammiversary. The NWA PPV is going to be a great moment in pro wrestling history, run by a pioneer in Mickie James. Kim said that she hasn't heard a no and Purrazzo doesn't want to miss out on a chance of history. The crowd chanted "Yes." James said it's the age of the Virtuosa and this is a chance for her to add another brick to her legacy. She put out her hand and asked Purrazzo to please come to the NWA PPV. Purrazzo took her hand and shook it, sealing the deal.
This was a good segment that really made the NWA PPV seem important.
They aired a promo teasing the debut of Drama King Matt.
Jake Something & Matt Cardona & Chelsea Green vs. Tenille Dashwood & Sam Beale & Brian Myers with Kaleb with A K
Beale and Something started with Beale the victim of Something's power. Jake wiped him out with a big clothesline and tagged out to Cardona. Beale was knocked to the floor. Cardona nailed a flapjack on Myers and worked him over with punches in the corner.
Dashwood distracted Cardona, allowing Myers to slip underneath and catch him with a superkick from behind. Myers nailed a back suplex for a two count and tagged out to Beale. They went for a double suplex but Cardona landed on his feet and nailed a double neckbreaker.
Green tagged in and battled Dashwood, hitting a curb stomp into the buckles. Myers dumped Cardona over the top. Something clotheslined Myers over the top. Green went for the Tomakaze but Kaleb tried to distract her. Taylor Wilde attacked Kaleb and knocked him off the apron. Beale lifted Greene for an over the shoulder powerslam but she turned it into a Tomakaze and scored the pin.
Your winners, Matt Cardona & Chelsea Green & Jake Something!
They showed highlights of W. Morrisey defeating Eddie Edwards at the PPV. Edwards cut a promo challenging Morrisey to a fight in the parking lot right now.
After a commercial break, Morrisey met him and they brawled with fans watching outside. Eddie was sent into a production truck and beaten with a series of rights. Morrisey nailed him with a traffic cone. Edwards came back to nail him with a trash can over the back. He tossed a cooler at Morrisey, who deflected it and kicked Edwards with a big boot. Edwards was whipped hard into the production truck and beaten with a trash can.
Morrisey pulled out production wires and began choking Edwards with them. He placed the cooler over Eddie and stomped it down onto him. The crowd chanted for Eddie. Edwards pulled out two Singapore Canes and began beating Morrisey with them, running Morrisey off. A bloody Eddie celebrated beating him down and running him off.
Backstage, Brian Myers said Tenille Dashwood was under his learning tree like Beale and that their losses would allow them to rebound. Dashwood said there was no way she was going to Homecoming with him. That was funny. Myers was shocked she would drop this news on him right then and there. Myers blamed Beale for this. Beale promised to find him a partner. Myers told him not to.
They showed footage of FinJuice attacking Jay White after the end of Slammiversary but White getting the better of Dave Finlay.
Jay White came to the ring. The crowd chanted "Switchblade" at him for a long time. He introduced himself as the top asset in pro wrestling and was the last rock and roller. He said that he single-handedly sold out Madison Square Garden and the first-ever Grand Slam Champion. He said he was the NEVER Openweight Champion and the real belt collector. He was here in Impact Wrestling for one man, David Finlay. He said that Finlay thinks he can come to Impact to hide from him but they will facing off at Resurgence on 8/14. He said the Finlay name used to be respected but now it's laughed at. He said Daddy must be so disappointed in his son. He said Finlay will never, ever beat him again and will never beat him for the NEVER Openweight title.
White said he couldn't pass up an opportunity at Slammiversary to say hello to Bullet Club's greatest fans – The Good Brothers, guys who are walking around as if it's still 2013. He said those guys are the true fans of Jay White. The Good Brothers are only relevant when they are attached to Bullet Club but this is a new era and they have standards. Their application to rejoin has been turned down, but since he's a good guy, they can come out and appeal the decision.
The Good Brothers, Kenny Omega (bandaged up) and Don Callis came to the entrance ramp. Callis said when he was in New Japan, Jay White was one of his favorite talents. He said White was talking about the new Bullet Club but he remembered what the Real Bullet Club was like, putting over Omega, Anderson and Gallows. He said they were selling out the Tokyo Dome when he was a young guy. He said the Bullet Club is a group made of mid-carders today beyons White so perhaps White should be asking to join the Elite.
White noted that Callis doesn't even work for Impact anymore. The crowd chanted, "You got fired." White said they are talking about the old days, so they shouldn't ignore that the last time White wrestling Omega, he beat him. Omega said that he and Callis are going to have to talk about this and left The Good Brothers to deal with White. Anderson said that White is unthankful for everything the Good Brothers laid out for him to allow The Bullet Club to be popular. When they left Japan, they allowed White to make a livable wage. They put themselves over and how big their homes are. They said he's the leader of Bullet Club but they are Bullet Club royalty. They told White he should be thanking them. White said nothing ever changes with them. All they ever did was talk and they still keep talking. The truth is Anderson's career peaked when he lost the 2003 G1 Final and that White is everything they wished they could have been. They all started brawling. Gallows nailed him with a big boot and they doubleteamed him. Chris Bey made the save but was cut off by a Gallows right hand. He and White eventually fought back and backed The Good Brothers from the ring.
Gia Miller interviewed X-Division Champion Josh Alexander. He said he's going to keep knocking down challengers. He wants to be a champion everyone can be proud of and be the face of the company. Kenny Omega walked by and mocked him.
Backstage, The Good Brothers said that Jay White should have been thanking them for allowing him to have the life he has. They said Chris Bey doesn't realize what he's gotten himself in. They challenged White and Bey to a match next week.
Ace Austin & Madman Fulton vs. FinJuice
Austin and Finlay started out and had some nice action. Juice tagged in but was cut off by Austin. Fulton tagged in. After a commercial, Austin and Fulton tagged in and out, working over Finlay in their corner. Austin nailed a clothesline in the corner. He swept the leg and continued working over Finlay.
Finlay tried to fight from underneath. Finlay finally backdropped Austin away and tagged in Juice, who cleaned house. Fulton was clotheslined over the top to the floor. Finlay nailed a pescado. Juice took over on Austin with a series of right hands. He went for a flying bodypress on Fulton, who caught him but was rolled up for the pin.
Your winners, FinJuice!
Austin and Fulton attacked them after the bell. Finlay nailed a rana over the top to the floor on Fulton. FinJuice set up for a Doomsday Device but Shera and Rohit Raju attacked them. The four heels left FinJuice laying.
Backstage, Rich Swann and Willie Mack said Violent by Design are complaining they lost their Tag Team Titles because of Swann and Mack. They've lost titles before but they took responsibility for their losses. They challenged VBD to face them next week. The lights flickered and Violent by Design attacked them as Eric Young stood over them and watched. Young said they found them this week and next week, they end them.
Backstage, Moose was pounding on Scott D'Amore's office. He told Scott that he knows Scott saw Chris Sabin get lucky at Slammiversary and demanded a rematch. Sabin showed up and said they can fight next week in the main event.
Impact Wrestling Knockouts Tag Team Champions Rosemary & Havok vs. Fire N' Flayva
Rosemary and Kiera Hogan started with Hogan using her quickness to thrown off Rosemary. Rosemary caught her with a sideslam for a two count. Havok tagged in and mauled Hogan. She picked up Hogan for a slam but Hogan slipped away and tagged out to Tasha Steelz.
Steelz took the fight to Havok but was grabbed and tossed across the ring. Havok nailed a backbreaker across the knee for a two count. Havok nailed an Avalanche in the corner. Rosemary tagged in and smashed Steelz's head into the turnbuckles over and over. She went to the ropes but was distracted by Hogan, allowing Steelz to nail a cutter.
The challengers worked over Rosemary. Hogan nailed a series of strikes to the back followed by a series of rights. Steelz chopped away at Rosemary in the corner, then stomped away at her. Steelz nailed a series of crossfaces to the neck and face. Rosemary fired back with forearms and nailed her with a big clothesline. Rosemary nailed a Slingblade but missed a charge into the corner.
Steelz drilled her and scored a two count. The challengers again tag in and out, continuing the wear down Rosemary. They battled back and forth until Steelz and Rosemary nailed each other with high cross bodyblocks at the same time.
Hogan and Havok tagged in with Havok cleaning house. She nailed Avalanche splashes on each of the challengers. She nailed a Facewash on Hogan but Steelz escaped the same fate. Hogan locked on a sleeper, riding Havok's back. Rosemary tagged in and nailed an inverted DDT for a two count. Hogan went for a superkick but accidentally nailed Steelz. The champs double-teamed Hogan and scored the pin.
The winners and still Knockouts Tag Team Champions, Havok and Rosemary!
Impact went off the air with Decay celebrating.
Credit: PWInsider.com