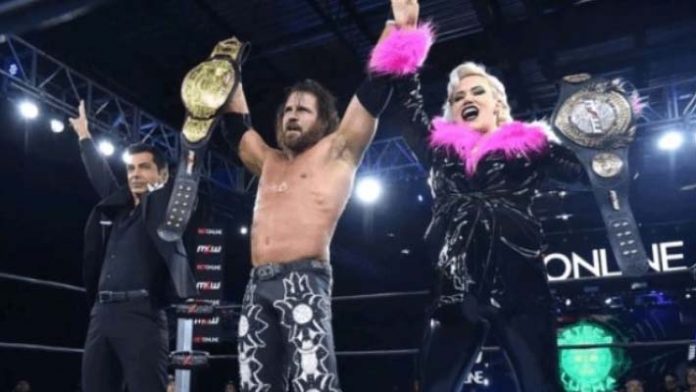 Your new MLW National Openweight Champion is John Hennigan.
Hennigan defeated Davey Richards to win the MLW National Openweight Title on Tuesday's MLW Underground episode on REELZ. This match was recorded on January 7 during the Blood & Thunder event.
Cesar Duran, Hennigan's manager, and his wife, inaugural MLW World Women's Featherweight Championship Taya Valkyrie, interfered in the match's controversial finish.
This is Hennigan's first MLW title reign. On June 23, 2022, Richards defeated Alex Kane at the Battle Riot IV tapings to become the third champion. Richards' reign lasted 103 days because the match didn't air until November 17.
Several shots from Tuesday night's title change are included below:
Call him what you want, but @TheRealMorrison wants to called Johnny #OpenweightChamp after tonight. #MLWUnderground @ReelzChannel @betonline_ag pic.twitter.com/O0QccqNPAK

— MLW Underground on REELZ (@MLW) March 1, 2023
Johnny Pizza Thief! We have on good word that's a #Philly pie from Lorenzo's on South! #MLWUnderground @ReelzChannel @betonline_ag pic.twitter.com/Kv3HKkPWyF

— MLW Underground on REELZ (@MLW) March 1, 2023
Davey Richards (@RichardsWesley) puts @TheRealMorrison in dire straits much to the chagrin of @thetayavalkyrie & @RealCesarDuran! #MLWUnderground @ReelzChannel @betonline_ag pic.twitter.com/8Q7FOdTbtZ

— MLW Underground on REELZ (@MLW) March 1, 2023
High-five…watch for it. @thetayavalkyrie @RealCesarDuran #MLWUnderground @ReelzChannel @betonline_ag pic.twitter.com/xR9AQHhRnP

— MLW Underground on REELZ (@MLW) March 1, 2023
A controversial finish, but @TheRealMorrison walks away as the new #Openweight champion! #AndNew #MLWUnderground #MLW #MajorLeagueWrestling pic.twitter.com/IgLMhEjrSh

— REELZ (@ReelzChannel) March 1, 2023
The new power couple in pro wrestling is @TheRealMorrison & @thetayavalkyrie #MLWUnderground @ReelzChannel @betonline_ag pic.twitter.com/hC0Oq6Elsz

— MLW Underground on REELZ (@MLW) March 1, 2023
About last night…. #AndNew.

Watch #MLWUnderground on @ReelzChannel Tuesdays 10pm: https://t.co/2uPqtL7aHI pic.twitter.com/4fMXSF2vKo

— MLW Underground on REELZ (@MLW) March 1, 2023