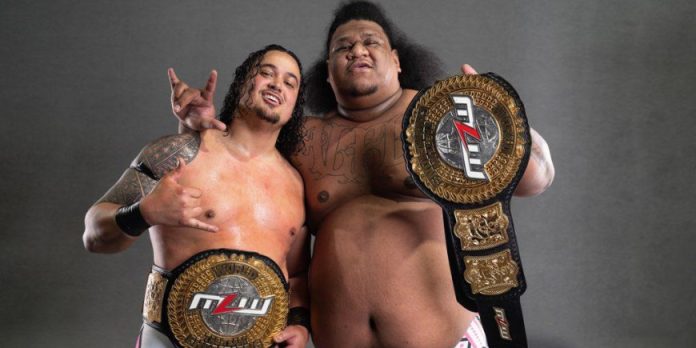 Two MLW wrestlers are now free agents.
Two-thirds of the Samoan SWAT Team, Lance Anoa'i and Juicy Finau, have been given MLW releases. On Sunday, both announced their departures via social media.
Anoa'i and Finau were MLW Tag Team Champions as part of the Samoan SWAT Team stable before losing their titles at Never Say Never in July. Since then, neither has wrestled for the company.
Anoa'i stated, "As Of TODAY! I have been granted my @MLW Release! I wanna thank MLW! Wanna give a big shout out to my USOs @JuicyFinau and @SAMOANWEREWOLF Thank you for everything! Love you guys! #SST"
Finau posted, "As of today I've been released from @MLW Just want to thank everyone I've crossed paths with while I was there. Extremely thankful to MLW for the opportunities! Especially wanna thank my brothers @SAMOANWEREWOLF & @lanceanoai IM NOW A FREE AGENT TOKO OUT! OFAS"
It is worth mentioning that while Anoa'i and Finau have announced that MLW has granted them releases, Fightful Select says that the promotion does not intend to fulfill Alex Hammerstone's release request.
On Sunday, Hammerstone stated that he had requested his release from the company and that he had been removed from the promotion's roster page, but his release had not been confirmed.
Anoa'i is the son of Samu, a former WWF Tag Team Champion, and Roman Reigns and The Usos' cousin. He has previously worked as an enhancement talent for WWE, most recently in 2019 in a bout against Shane McMahon on Raw as part of an angle featuring Roman Reigns.
Jacob Fatu, another of Anoa'i's cousins and the third member of the MLW incarnation of the Samoan SWAT Team with Anoa'i and Finau, will compete for the MLW World Championship on November 18 at Fightland.
You can check out the posts below:
As Of TODAY! I have been granted my @MLW Release! I wanna thank MLW!

Wanna give a big shout out to my USOs @JuicyFinau and @SAMOANWEREWOLF Thank you for everything! Love you guys! #SST pic.twitter.com/8WR7pa3dZQ

— Lance Anoa'i ランス・アノアイ (@lanceanoai) October 29, 2023
As of today I've been released from @MLW

Just want to thank everyone I've crossed paths with while I was there. Extremely thankful to MLW for the opportunities!

Especially wanna thank my brothers @SAMOANWEREWOLF & @lanceanoai

IM NOW A FREE AGENT🫡

TOKO OUT! OFAS pic.twitter.com/0Ayreo88BW

— 🌴FINAUMENAL🇹🇴 (@JuicyFinau) October 29, 2023