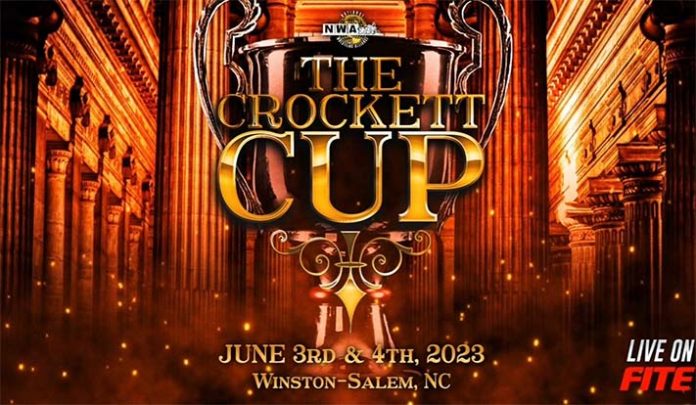 Night one of the 2023 NWA Crockett Cup is in the books.
The National Wrestling Alliance held the first of their two-night 2023 NWA Crockett Cup special event on Saturday night in Winston-Salem, North Carolina.
Featured below, courtesy of Jon Rogers and F4WOnline.com, are complete results of the event.
NWA CROCKETT CUP NIGHT ONE (6/3/2023)
Pre-Show:
They got straight into the action, but said that "they got some matches out of the way before they went live." If you wanted to find those result, you had to go to Twitter.
Judais & Max the Impaler (w/ Father James Mitchell) defeated The NOW (Hale Collins & Vik Dalishus) in an NWA Crockett Cup first round match
Magnum Muscle (Dak Draper & Mims) defeated The Spectaculars (Brady Pierce & Rush Freeman) (w/ Rolando Freeman) in an NWA Crockett Cup first round match
Control Your Narrative (Flip Gordon & Fodder) defeated Sent2Slaughter (Dan Maff & Shawn Donovan) in an NWA Crockett Cup first round match
Donovan and Fodder started and Control Your Narrative took the early advantage. They even took a break long enough to each get a kiss from Angelina Love who was ringside. Maff finally got his tag and they worked on Fodder. After some work by Maff, Gordon hit a Samoan drop and moonsault onto Donovan for the win. They move on to face the NWA Tag Team Champions and the no. 1 seeds, La Rebelion.
SVGS (Jax Dane & Blake "Bulletproof" Troop) (w/ Chris Silvio, Esq.) defeated TNT (Terrence Hughes & Terrell Hughes) in an NWA Crockett Cup first round match
Terrell Hughes started with Troop. They went back and forth a little bit and when Terrence went for a secret tag, the referee didn't call it until TNT was hitting their double-team Pele kick. Jax Dane got his own tag and went to work on Terrence and even got a little help on the outside from Silvio. Terrell got the hot tag so SVGS tried to even the odds but it did not work.
There was a weird spot where Silvio distracted the ref from seeing a tag by TNT so the illegal man on TNT got caught in a figure-four leglock, courtesy of Troop so he tapped out. SVGS moves on to face the 4th-seeded, Jinetes del Aire.
The Outrunners (Turbo Floyd & Truth Magnum) defeated Daisy Kill and Talos; The Miserably Faithful (Sal the Pal & Gaagz the Gymp) and Eric Jackson and Jeremiah Plunkett (w/ Danny Dealz) in a four-way elimination match for the 24th seed in the NWA Crockett Cup
They didn't even show this whole match, just a little highlight reel, because it took place before the pre-show went live. The Miserably Faithful went out first, then Jackson and Plunkett, and last were Daisy Kill and Talos.
The Brothers of Funstruction (Yabo the Clown & Ruffo the Clown) defeated The Fixers (Jay Bradley & Wrecking Ball Legursky) in an NWA Crockett Cup first round match
The Fixers looked really tough, but they're against two clowns, so it only worked so much. The Fixers attacked both clowns right as the bell rang they dominated this entire match. Ruffo made his way into the match after Yabo was getting destroyed. He got one clothesline in, but that was it.
Jay Bradley went for a moonsault but he came down wrong on his knee and he had to roll out. Wrecking Ball came in to finish the job but Ruffo went to the top and stopped the firemen's carry slam and rolled up Wrecking Ball. He's so big his shoulders never even really touched the floor, but he got the three count. Not sure what the deal is with that. The Brothers of Funstruction move on to face #5 A Cut Above.
Los Vipers (Arez & Toxin) defeated The Heatseekers (Elliott Russell & Matt Sigmon) in an NWA Crockett Cup first round match
This one is a little interesting since Arez usually teams with Komander in AAA, but he's with Toxin for this tournament. Both teams went back and forth with their own double-team moves. Toxin got a hot tag and did a cool spot where Sigmon lifted him up and he hit a dropkick onto Russell but Toxin fell right on his head. They both then took out each member and Arez hit the double stomp and northern lights suplex onto Matt Sigmon for the win. Los Vipers move onto the next round where they will face the 6th-seeded Mortons, Ricky and Kerry.
After the match, they showed some highlights from the matches that took place before the pre-show. It was a quick match between Judais and Max the Impaler. They move on to face #2, Tyrus and Chris Adonis.
The War Gods (Kratos & Odinson) defeated Brian Brock & "Magic" Jake Dumas (with Christi Jaynes) in an NWA Crockett Cup first round match
They each got a spray of their Chrome Spray that was supposed to get them locked in and they started.
Dumas started trying a magic trick but Odinson was not impressed. Brock and Dumas eventually fought back against Kratos, but Dumas was on the ring apron showing off when Brock threw Kratos into him on the apron. They got the timing wrong though and he was standing there for ages. Off the mistake though, Kratos hit his finishing move and Odinson tackled Dumas like he was playing football. Kratos pinned Brock for the win. They move on to face the #7 seeded Country Gentlemen.
After the match, they showed Magnum Muscle's post-match interview after beating The Spectaculars before the pre-show.
The Outrunners (Turbo Floyd & Truth Magnum) defeated Idolmania Sports Management (Cyon & Jordan Clearwater) (w/ Austin Idol) in an NWA Crockett Cup first round match
The Outrunners got into this match by winning the play-In match that took place before the show. If they want to win this tournament they have to win five matches over 2 days.
This match started as just a flexing contest between the two. Just flexing all over the arena. They finally got to the action which Cyon dominated. Both of ISM worked over Truth Magnum. Floyd pulled the legs of his own teammate to avoid Clearwater and the Outrunners turned it around. Clearwater was able to fight back a bit and counter an elbow, a knee, and a frog splash, moving out of the way of all of them. When Clearwater went for the tag, a masked man ran out and pulled Cyon off the apron. The Outrunners got Clearwater up for the finish and got the upset.
The mystery man kept attacking Cyon. He was doing it in a black Cyon mask. Austin Idol just kinda sat there confused while the mystery man walked away. Idol then looked at his son Cyon and walked away himself. The crowd started chanting Austin Idol's name and Tim Storm said they were, "stunned."
Main Card:
Blunt Force Trauma (Carnage & Damage) (w/ Aron Stevens) defeated The Outrunners (Turbo Floyd & Truth Magnum) in an NWA Crockett Cup second round match
I guess to add insult to injury, The Outrunners are fighting their third match of the night and second match in a row. BFT dominated Magnum in the early going, but when Carnage went for something extra, Floyd got the hot tag and the Outrunners took out both of BFT. Carnage and Damage got the advantage back with a couple of dropkicks and they hit the double flat liner onto Floyd for the win.
The War Gods (Kratos & Odinson) defeated NWA United States Tag Team Champions The Country Gentlemen (AJ Cazana & Anthony Andrews) in an NWA Crockett Cup second round match
The Country Gentlemen attack the Gods before the bell due to them already having a match tonight. Odinson is able to fight back and get Kratos into the match. He hit Andrews with a big forearm and power slam, but the champions turned it around quickly. The Country Gentlemen showed such great teamwork. Odinson took Cazana by surprise with another football tackle and Kratos came in and hit Andrews with the finish for the surprise win.
Joe Alonzo (w/ Jamie Stanley) defeated Alex Taylor (w/ Danny Dealz) for a spot in night 2's six-way scramble
They locked up to get going and went back and forth. Alonzo got thrown out and Alex Taylor went for a dive but Stanley interfered. Danny Dealz came with his own interference after Alonzo got the heat back. While Taylor was on the outside, Alonzo distracted the ref so Stanley could drive Taylor into the post.
Alonzo worked over Taylor's shoulder and elbow. Taylor got the advantage with a dropkick and a tope. Back in the ring, Alonzo tried to roll him up and when Taylor got out Stanley distracted him again right in front of the referee. Alonzo connected on a superkick and DDT for a near fall. Such a near fall that Alonzo's music started playing. Soon after, Alonzo locked an armbar onto Taylor and he had to tap.
After the match, Bobby Fulton came out to the ring and talked up the Crockett Cup and talked about how he won the first tournament and this tournament separates men from boys. The Mortons made their way out during the interview. Kerry Morton put over Fulton and himself.
The Mortons (Ricky Morton & Kerry Morton) defeated Los Vipers (Arez & Toxin) in an NWA Crockett Cup second round match
Kerry and Toxin got the match started and they had a great-looking sequence. The Mortons had the advantage though because Toxin went for an arm drag and didn't grab his arm.
After working over Arez a little bit it went back to the great back-and-forth wrestling from the beginning but Kerry was a lot more tough. He hit Arez with a big knee and instead of tagging in Ricky he walks to the outside and grabs his belt and says the champ does whatever he wants. Ricky was able to stop him, but it resulted in a roll-up for a near fall. Kerry hit another knee and grabbed the belt again, but Ricky stopped him again. Ricky went to help Arez up while Kerry distracted the referee, but Ricky went full heel and smacked Arez with the belt for the win.
The Brothers of Funstruction (Yabo the Clown & Ruffo the Clown) defeated A Cut Above (Thom Latimer & Rhett Titus) in an NWA Crockett Cup second round match
Latimer and Titus kinda laughed this one off. You could tell they weren't taking it seriously. But Yabo was able to lock in a headlock after some catch wrestling. Titus somehow ended up with a big red clown nose which really pissed him off. Ruffo got the tag after Latimer got his own tag, but he just started juggling.
They started actually wrestling and Latimer hit Ruffo with a dropkick so hard his wig fell off. A Cut Above kept dominating the two clowns. The clown shoes were a big part of this match because all the clowns used were kicks and leg drops. Latimer actually took a lot from the two clowns but he found an opening and hit a moonsault onto both of them. Titus got the tag and when he went for the slam onto Yabo he fell back and got rolled up by Ruffo the Clown for the upset.
Kamille Interview
After the match, A Cut Above kind of admitted to losing, and when they went for an interview with The Brothers of Funstruction, NWA World Women's Championship Kamille made her way out and forced them out of the ring. She tried to remind Latimer that this was about tag teams and that he needed to focus on the NWA TV Title and getting the lucky seven. She then put herself over compared to Tyrus.
She called herself the real main event and the real champion. She then repped Durham with a hand sign and called the crowd lazy for not doing it. Kamille followed with a promo on Natalia Markova who she is facing on Night 2. This really dragged and was out of place on a show with 19 matches to get through.
Jinetes del Aire (Myzteziz Jr. & Octagón Jr.) defeated SVGS (Jax Dane & Blake "Bulletproof" Troop) (w/ Chris Silvio, Esq.) in an NWA Crockett Cup second round match
SVGS attacked Jinetes del Aire right as the bell rang and when they went back for revenge, SVGS rolled out. They kept the advantage throughout the early going. Myzteziz Jr. got the hot tag and you could tell Troop was really gassed or something was bothering him. Octagon set him up in the corner and hit a slingshot moonsault but the pin was broken up. Troop then locked in a really ugly figure-four that was broken up by a Myzteziz frog splash. Octagon just pinned Troop and got the win. They move on to the Quarterfinals where they will be against The Brothers of Funstruction.
Ruthie Jay, Samantha Starr & M95 (Madi Wrenkowski and Missa Kate) (w/ Baby Doll) defeated Pretty Empowered (Ella Envy, Kenzie Paige, Kylie Paige & Roxy) in a Hardcore Team War match
Ruthie Jay, Starr, and M95 came out with different weapons like a chain, can of gas, cookie sheet, and 2×4 piece of wood. Ruthie Jay is replacing La Rosa Negra who was supposed to be in tonight's match but there was a car crash apparently. Pretty Empowered came out with their own weapons that included, batons, chairs, and a pink hockey stick.
Apparently, this is an elimination match where you can get pinned, submitted, or thrown over the top rope. Missa Kate and Roxy started the match. The only way other people can come in is if someone is eliminated, but Ella Envy interfered leading to Roxy pinning Kate and eliminating her. Madi Wrenkowski came in for the babyface team. Pretty Empowered kept dragging out the opposing team and destroying them with weapons. But Madi came back in and hit Roxy with the reality check stomp for the elimination.
Kylie Paige came in for Pretty Empowered and hit Wrenkowski with the hockey stick but Wrenkowski fought back with a cookie sheet. Paige locked in a cross-face, but Wrenkowski grabbed the hockey stick and locked in her own cross-face with the stick for the tap. Kenzie Paige ran in quickly with her own cookie sheet and pinned Wrenkowski immediately. Ruthie Jay came in and had a great sequence with Kenzie but some powder from the outside helped Kenzie get the roll-up. Kenzie went to celebrate but Starr immediately came in and threw her over the top rope.
Ella Envy came into the ring with some trash can lids and went to work on Starr. They wrestled quite a bit to end this match with the one on one. They went back and forth and even fought on the outside by going through the middle rope. Baby Doll even helped and gave Starr a coal miners glove made famous by Jake Roberts. She used the glove to club Envy in the face and win the match.
Mike Knox & Trevor Murdoch defeated Magnum Muscle (Dak Draper & Mims) in an NWA Crockett Cup second round match
Knox and Murdoch went straight on the attack before the bell. Maybe about the 100th time, somebody has done that just tonight. Draper and Knox started the match when it actually got started, but they turned it around quickly. It actually went back and forth a little bit, but Knox and Murdoch were in control for most of it. It was really unbelievable how much they dominated. Probably the most out of anyone on the show. They went high and low on Mims and got the easy pin. They move on to the Quarterfinals to face The Mortons.
The Midnight Riders (Tyrus & Chris Adonis) defeated Judais & Max the Impaler (w/ Father James Mitchell) by DQ in an NWA Crockett Cup second round match
This match did feel a little bit bigger than the rest just because of the NWA World Title and the sheer size of everyone in the match. It was somewhat of a standoff in the early going, but it was fun. They put Max the Impaler over by having them faceoff with Tyrus and having him run away to tag out.
Adonis was able to get some offense in, but Judais and Max cut off the ring. Throughout the night, the camera work and commentary have been less than great I would say. It's like watching Roman Reigns' reaction to AJ Styles in 2016 at the Royal Rumble, but like all night. They really worked over Adonis; it almost lasted 10 minutes.
Tyrus finally got the hot tag and tackled Judais but for some reason, kissed Max the Impaler. This really pissed them off and they ran into the ring, but when the referee tried to stop Max, the ref got shoved out of the ring. It took a really long time, but he called for the DQ. The Midnight Riders advanced by default and they will face off against The War Gods.
EC3 defeated "Thrillbilly" Silas Mason (with Pollo Del Mar) to retain the NWA National Heavyweight Championship
Davy Crockett replaced Velvet Sky on commentary for the last two matches.
They tied up early and Mason locked in a Kimura. EC3 got the ropes and was able to reset. They got back to it and when Mason went for a dropkick he almost missed and jumped right over top of him but EC3 rolled out and tricked Mason to get the upper hand. He also used Pollo Del Mar on the outside as a human shield and connected with Mason on a backdrop onto this cement where there is no padding.
EC3 worked back in the ring and worked on Mason with a knee. It was dominance by the champ. He rolled the outside and even yelled at Del Mar which was enough distraction for Mason to hit a sidewalk slam onto the ring apron. He made his comeback in the ring with chops and spears but EC3 drove Mason's head into the apron which brought on a near fall. After another near fall, EC3 went to grab the belt and leave but he got back in the ring. Pollo Del Mar tried to stop him but Mason went for a forearm and hit Del Mar off the apron. After hitting his own valet, he gets rolled up by the champion to retain his title. After the match, Silas Mason was leaving and stepped over Pollo Del Mar.
NWA Tag Team Champions La Rebelión (Bestia 666 & Mecha Wolf) defeated Control Your Narrative (Flip Gordon & Fodder) in an NWA Crockett Cup second round match
Before the match began, the commentary team hinted at Fodder not being medically cleared. Kyle Davis came to the ring and reiterated this point, but Mecha Wolf grabbed the mic and made fun of Fodder for having to miss the match. Instead of being named the winners due to forfeit, the bell rang and they were going to count out Control Your Narrative but Flip Gordon came out to stop the count. This was a call back to last year's Crockett Cup when La Rebelion had a handicap match.
They actually started the match as a handicap match and Flip Gordon got the early advantage by throwing both members out of the ring. But they turned a DDT into an assisted suplex. They continued to dominate Flip Gordon as you would expect. Gordon was able to counter a few things but it was really just a spot show. He then hit a dropkick and springboard cutter to get going, but right as he started getting hot again, they shut him down. La Rebelion went up to the top for a double superplex that Flip was able to fight off for a second, but they did it.
This is when Fodder came out selling his leg with Angelina Love. As he got the tag, Love gave him a kendo stick and he used it on Bestia 666. The referee didn't DQ him and Love actually pulled him out of the ring. Still no DQ. The legendary Vampiro then ran in and attacked both Fodder and Gordon. Still no DQ. Mecha Wolf hit a frog splash onto Gordon and got the pin. They'll face BFT in the Quarterfinals.