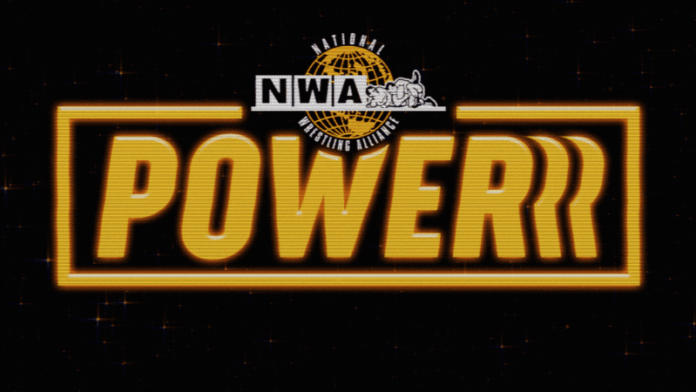 NWA Powerrr Results – April 18th, 2023

This week's NWA Powerrr kicks off from Highland Park, Illinois with Joe Galli, Danny Dealz and Tim Storm on commentary.
Opening Segment
In-ring interview between Kyle Davis, Jordan Clearwater and the NWA World Heavyweight Champion Tyrus. The champion gets a warm reception from the crowd as he begins to  acknowledge Adonis and how he had brought his A game to their championship fight at NWA 312. The win made Tyrus think about the history of the NWA and what the history represented. He then takes the moment to announce his entry into the 2023 Crockett Cup in June. Clearwater gets a little ahead of himself as he thanks Tyrus for choosing him as his partner for the tournament. Clearwater tries to sell the idea of "The Golden Smash" as their team name. Tyrus entertains the name and right before he leaves the ring he does remind Clearwater that he never said he had chosen him or anyone else yet as his partner.
NWA World Television Championship Match
Thom Latimer (w/ Angelina Love) defeated Fodder to retain his championship.

Backstage interview between May Valentine, Kerry and Ricky Morton. Valentine congratulates Kerry on his recent title defense. Kerry reminds us all that the cream always rises to the top. The reigning, defending and traveling champion takes the time to recognize his father's help in his accomplishments. Ricky then announces that he will be teaming up with his son in June for the Crockett Cup.
Backstage interview between May Valentine, Thrillbilly Silas Mason and Pollo Del Mar. Valentine wants to know how Thrillybilly is feeling about his main event match next week against Odinson. Thrillybilly and Pollo Del Mar are not afraid as they are putting up Thrillybilly's number one contendership status up for grabs in next week's match.

Women's Exhibition Match
Natalia Markova defeated La Rosa Negra.

Backstage interview between May Valentine and Ella Envy. Ella has a huge opportunity as she will be facing her partner/best friend (Kenzie Paige) for the NWA Women's Television Title. Ella says Kenzie Page is more than just a partner, which is why Ella was offered the opportunity to be Kenzie's first-ever opponent for the belt. She then goes on to say that after she beats Kenzie, Roxy will be her first opponent. 

Backstage interview between May Valentine and the NWA National Heavyweight champion EC3. EC3 feels vindicated after his NWA 312 victory and looks forward to being that much closer to the NWA World Heavyweight Championship. In the meantime, he doesn't care who or where he has to defend his title, whether it be on the moon or Asgard itself, he will be there.
Main Event
Singles Match for the NWA World Junior Heavyweight Championship
Kerry Morton defeated Joe Alonzo (w/ Jamie Stanley) to retain the championship for the second time this month.
NWA Powerrr episodes premiere every Tuesday on Youtube at 6pm est.