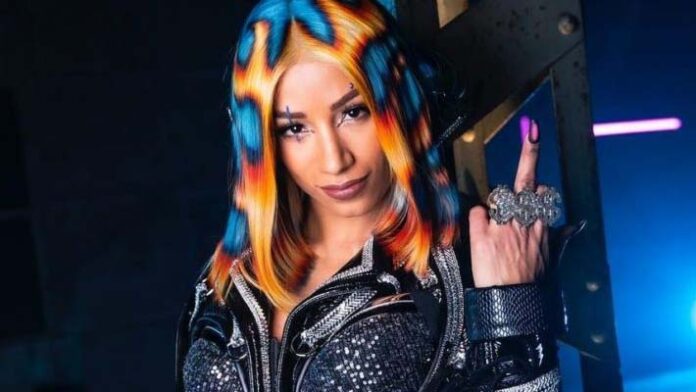 Mercedes Mone has been training with NJPW stars in preparation for her return to the ring.
The former Sasha Banks will return to the ring on February 18 to compete for KAIRI's IWGP Women's Championship at NJPW Battle of the Valley. The show quickly sold out after the match was announced.
KUSHIDA, the former IWGP Jr Heavyweight Champion, and Fred Rosser, the current NJPW STRONG Openweight Champion, have both shared photos from a recent training session with Mone.
KUSHIDA noted that Mone had asked about attending his seminar:
"The day before the seminar, Sasha-san suddenly sent me a DM 'if I could join tomorrow's class?' I thought you were joking, but she really came. I was very inspired by her attitude that she still wants to learn wrestling techniques. We're LOVE Prowrestling.Respect."
On Twotter and Instagram, Rosser posted a selfie with Mone and wrote, "Making MONÉ Moves and I've got two words for you…She reeeady! #njbitv"
Mone made her NJPW debut at the Wrestle Kingdom 17 event on January 4 to set up the match. The former WWE star hasn't wrestled since May 2022, when he and Naomi left the company due to creative differences.
You can check out the photos below:
Making MONÉ Moves and I've got two words for you…She reeeady! #njbitv
•
•
•
•#njpwSTRONG #moment #BlockTheHate #legitboss #theboss #theblueprint #thestandard #ClosedFistOpenHeart #njpw #nevergiveup #bestrong #nodaysoff #beyourbestversion @njpwglobal @MercedesVarnado 💕 pic.twitter.com/AuVNIExgR1

— nodaysoff FRED ROSSER III (@realfredrosser) January 20, 2023