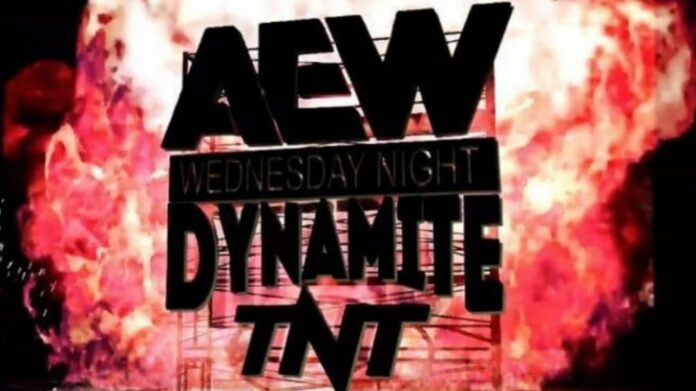 AEW Dynamite Results – November 6, 2019
It's time for the go home show before AEW's Full Gear. What will Cody's big announcement be? Will people come back this week? What will Mox do to set up his match with Kenny Omega?
We are in in Charlotte, NC at the Bojangles Coliseum: Our announcers are Jim Ross, Tony Schiavone, and Excalibur and it's time to get started
Pac is first out tonight, and he has an imperfect record and he's upset about it. Next up is Trent, with Chuck Taylor and Orange Cassidy. Pac, of course, he walks alone.
Trent of Best Friends vs. Pac.
They tie up and trade holds with no one getting an advantage. The crowd reminds Pac that he sucks. Pac goes outside the ring to get in Cassidy's face, returns to the ring and runs the ropes with Trent. Pac takes a couple of chops in the corner, and as Pac rolls off to get outside the ring, he hits a shoulder into Trent and tries to flip in, only to get caught by Trent who hits hi m with a suplex and a two count. The fight gores to the outside with Trent taking a whip into the barricade.
Pac stomps Trent and then tosses him into the other barricade. Did you know the crowd thinks Pac sucks? Pac rolls into the ring to stop the count and goes back outside and drop Trent throat first across the barricade. Pac goes back to the ring to wait for a count out. As Trent goes toward the ring, Pac does a twisting dive onto Trent outside the ring, following it up by tossing Trent back into the ring. Pac gets to the top turnbuckle for a missile drop kick and a two count.
Pac drops to the mat to put Trent into a headlock. Trent brings them both to their feet and they trade big chops. Pac tosses Trent into the corner, and Trent flips almost over, but drop back and into the ring. Pac hits with a German Suplex, maintains the hold and gets another two count. Pac drops a knee and then holds Trent with a chin-lock with a knee in the back. Trent struggles to get free and when he does get up, they trade blows. Pac gets tossed into the corner, and when Trent comes in, Pac flips him to the outside and then snaps Trent onto the rope and Trent hits the floor..
Pac goes for a leap over the ropes, but Cassidy comes into the ring and kicks lightly at Pac. Pac does what everyone should do and kicks Cassidy in the face. This allowed Trent to come in, nails Pac with a suplex and tosses Pac from the ring. Trent follow up with a Topi over the top rope. Now, it's Pac's turn to get tossed into the barricade. Pac tosses Trent into the barricade, but Trent retaliates with a spear.
They enter the ring and Trent hits Pac with a knee to the back of the hear and gets a two count on Pac. Pac gets to his feet and Trent nails him with an inside out clothesline and a swinging DDT for another two count on Pac. They go to the outside and Pac is able to hit a brain buster on Trent on the lightly padded floor.. Pac tosses Trent into the ring, climbs to the top and Pac nails the Black Arrow for the three count. No, two count only! Pac puts the Brutalizer on Trent who is out cold and the referee stops the match.
Your winner: Pac!
Pac grabs the microphone and says he's head what Hangman said about him. They will be fighting this Saturday and Pac will make an example of him.
We come back for Cody's entrance. He comes to the ring to talk with Tony Schiavone. Cody says that The Elite was already looking for people. The crowd chants AEW and Cody gives a few names of legends that have been a part of wrestling. Cody says the people he named were not just wrestling, they were also management. Cody says that AEW is Ellis Island for a wrestler, it's freedom. Cody says he's heard the criticism of being management and a wrestler with a title match. He says if he does not beat Jericho at Full Gear, he will never challenge for the championship again. He calls out Jericho for calling people millennial. He also calls Jericho a d*** for being just as privileged as Cody was.
Cody calls Jericho a carny succubus. It's not about Dusty Rhodes, and it's about Cody's long road to being on top. Cody says it will be a match beyond, the they will eat Jericho alive.
Hell of a great promo, go out of your way to see it.
Commercials take us out of the promo and we see Cody heading to the back as we see ads for Sprint.
As we come back, YOUR tag team champions SCU is on their way to the commentary table. We get a recap of SCU's victory. The winner of the next match will be added to the Tag Team Championship match tonight. The Dark Order come to the ring and the Lucha Brothers are with the Spanish announce team. Next up on the way to the ring, The Private Party.
Private Party vs. The Dark Order..
We start off with Grayson from the Dark Order and Quen from Private Party in the ring, and Grayson taking control. Quen is thrown to the Dark Order's corner and Uno is tagged in. They beat down Quen down with strikes and quick tags. Quen is able to get out of the corner, and grab Grayson and hit him with an atomic drop. Kassidy comes in for a kick to Grayson's head. Kassidy tries to grab Grayson, and he is dragged out by Uno to recover. Grayson tries to come in the back door, and Kassidy rails on him with blows until Grayson is able to hit a Urinagi and tag in Uno. Uno drops Kassidy across his knee and stomps on him.
Grayson is tagged in, and Kassidy tries for a kick to Grayson and nails Uno instead. Grayson follows up and stops Kassidy from tagging. Dark Order keeps working over Kassidy until his on the apron, and Grayson drops onto Kassidy and we go to commercial. There's an ad for a huge comic convention here in Minneapolis that costs way to damn much has has fewer comics than my living room.
We come back to Dark Order still in control with Uno beating down Kassidy. Kassidy is able to get some offense and hits a standing suplex. Both men in the ring struggle to tag. Uno gets his tag and Kassidy brings in Quin, who is hit by Uno and Grayson covers for a two count. Dark Order sets up for the Fatality, but Quen escapes with a back flipping drop kick. He tosses Grayson out of the ring and when Uno charges for a spear in the corner, Quen kicks him and then hits a moonsault onto Uno who rolls out of the ring.
Quen flips over the top rope onto the Dark Order. Grayson comes in to get hit by Quen, and Quen is able to leap off the rope with a cross body into a two count. Quen tags in Kassidy and they start a double team, but Grayson is able to kick both of them, and tag in Uno. Uno puts Kassidy on his shoulders and drops Kassidy for a neck breaker and a two count, broke up by Quen. Dark Order tags and Quen is tossed into the corner onto Kassidy. Dark Order cannonballs into Quen for a two count.
Dark Order sets up for the Fatality again, but Quen is able to reverse the hold into a rana knocking the Dark Order's heads together. Kassidy is brought in and the Dark Order tries an attack, but it's broken up by Private Party. Private Party hits the Silly String on Uno, and then follow up with Gin and Juice on Grayson for a three count.
Your Winners: Private Party
Highlights are shown and we are told they have been added to the tag team match Saturday night.
We come back to a tragedy of the Rock and Roll Express getting attacked. Then, we see the Young Bucks being jumped by Santana and Ortiz. It's commercial time.
By the way, what happened to Hybrid 2 in the tag team match on the show? Did they drop out because I can never remember their names, and they want the night to be a little easier on me?
We come back to Jaime Hayter on the way to the ring. Next up is Emi Sakura as Freddie Mercury. They hype the You Tubes and next is Shanna, who shows she's not just a one time star. She resides is France, don't ya know. And now, we have the Champ, Riho!
AEW Women's Champion Riho & Shanna vs. Emi Sakura & Jamie Hayter .
Starting off are Riho and Emi. Who trade leg sweeps and pins that aren't even one counts. It ends with Riho in the corner begin stomped and attacked by Emi. As Emi is ,mocking Riho, Riho tries to go for a tag, but Hayter comes in to cut her off. Riho is tossed into the ropes and cartwheels out of the way and knees Emi. Shanna is tagged in and takes over with strikes on Emi. Shanna hits a pair of arm drags on Emi and then nails a lifting uppercut for a one count.
Shanna is able to get a flip neck breaker on Emi for a two count. Riho is tagged in, and they hit Emi with double team kicks and other attacks for Riho to get a two count. Riho tries a northern lights suplex and Emi blocks. Riho tosses Emi into the ropes and tries for a 619, but Emi blocks and hits a back breaker. Hayter is tagged in and hits Riho with a suplex and then humiliates Riho with kicks as we go to commercial. We seen Riho get beat up through the break.
We come back to Hayter still beating down Riho. Riho is able to escape and gets a flying head scissors to toss Hayter into a and Emi cuts Riho off. Riho escapes a slam and is able to stomp on Emi and get the tag.
Shanna is in the ring and attacks Hayter in the corner. She follows up with running knees in the corner and then nails a running forearm shot on Hayter for a two count. Shanna is able to get a jawbreaker, but Hayter is able to grab Shanna for a back breaker on her knee and Hayter tags in Emi. Emi gets the crown to stomp for We Will Rock You. She tosses Shanna into the corner and hits a cross body. Emi goes for the Vader Bomb, but Shanna gets her knees up.
Shanna tries to get the tag but Hayter pulls Riho off the apron. Emi and Shanna trade blows until Shanna hits a rana and Emi is out of the ring. Shanna climbs tot he top and dives onto Hayter and Emi. Rolling Emi into the ring, Shanna is able to get Sliced Bread, followed by a DDT and a two count. Shanna tries to get a full nelson on, but Emi breaks free. Emi reverses a DDT and drops Shanna to the mat. Emi tags in Hayter who starts working over Shanna.
Hayter brings Emi in to the ring and tosses her into Shanna, following up with another strike and a two count. Hayter hits a power bomb on Shanna for another two count. Shanna tries to get a DDT, but Hayter hoists her up and slams her to the mat. Hayter hits a pair of clotheslines and covers for the two count, but Riho is up and gets in to break up the count. Hayter tosses Riho out of the ring.
Hayter tags in Emi who nails Shanna with a brutal back breaker and a Vader Bomb,. Riho breaks up the pin with double foot stomps. Riho is tagged in tries to hit knees into Emi but misses and gets pinned for a two count. Riho reverses with a roll up for a two count on Emi. Emi is able to reverse and roll up Riho for the three count.
Your winners: Emi Sakura & Jamie Hayter
We see a video package of Brandi Rhodes in a chair with a glass of something. She tells the audience they shouldn't have called her stupid or a bimbo. She lets us know that someone is coming who is a nightmare. She's not in charge of the women's division, and they can't stop her. Brandi asks who are the bullies now.
And who is she talking about?
Commercials let us know about the PPV coming up.
When we come back, Brandon Cutler is in the ring, and Shawn Spears comes to the ring with a chair and Tully Blanchard. We see an update of Spears attacking Joey Janela on Dark,.
Brandon Cutler vs. Shawn Spears
They tie up and trade wristlocks. Spears is able to drop Cutler to the mat. Cutler is tossed to the corner and is able to flip over Spears. Cutler nails Spears with kicks and takes Spears to the floor. When Cutler goes to pull Spears in, Spears sweeps his legs and takes him down. And Cutler has his turn being tossed into the barricade. Spears tosses Cutler into the ring and keeps control with chops in the corner. Cutler is able to get in a couple of kicks to get distance and blows in. Cutler goes for a leap off the top, misses and is nailed with a clothesline. Spears gets a Death Valley Driver on Cutler for the three count.
Your winner: Shawn Spears
Tully slides in a chair and is about to drop Cutler on it, but Joey Janela runs in and drives Tully and Spears off. It's time for more commercials for wine as Joey looks tough in the ring.
When we come back, we get a recap of Mox's anger with the Unsanctioned match.
And now, your main event of the evening. No Young Bucks match, so I may get this done before midnight.
Page is our first man out. Kenny is second with another new entrance video. Does he get a new one every week? Sammy Guevara is next to the ring. They call him the Spanish God. Sammy takes video of himself on his way to the ring. And now, it's Chris Jericho who is Undefeated. Jake Hager is with him. And they bring commercials with them.
AEW Champion Chris Jericho & Sammy Guevara vs. Kenny Omega & Hangman Page.
Starting us will be Kenny and Sammy. Kenny asks Sammy to step aside to allow Jericho in. Jericho tags in and then tags out. They take their time to lock up with a collar to elbow tie up. Sammy takes down Kenny with a chancery and they both get to their feet. Sammy is able to take down Kenny for a one count. They go back to trading wrist locks. Kenny starts slapping Sammy while holding him, Sammy does the same and back flips out of the wrist lock. Sammy arm drags Kenny, they then start trading chops. Kenny tosses Sammy to the corner and hits a running back elbow and a back drop. Kenny tags in Page.
They both pull Sammy up, hits Sammy with a kick, Kenny leaps over Sammy for a leg drop, followed by Page with a Thesz Press for a two count. Sammy is pulled up for chops from Page. Page tied for a running move, Sammy is able to leaps up but gets caught by Page. Sammy escapes attempts a kick but Page dodges. Page grabs Sammy and hits a fall away slam for a two count.
Sammy is able to knee Page and escape to tag in Jericho. Jericho comes in to get a kick to the face from Page. Jericho is tossed into the corner but is able to reverse and drop kick Page. He pounds on Page and preens to the crowd. He then is able to hit a backdrop on Page. Jericho tags in Sammy who gets a two count on Page.
Sammy tries a suplex, but Page reverses. Sammy is able to tag as Page is recovering. He tosses Page in the corner for chops. Jericho tags in Sammy and Page is able to tag in Kenny who takes down Sammy with a series of running blows and he nails Jericho for one for good measure. Kenny tries for a spinning strike, but Sammy blocks it the first time, but is unable to block it a second. Kenny for the two count on Sammy. Kenny pulls Sammy up twists his arms and hits a pair of chops. Kenny puts Sammy into the rolling drop followed by a moonsault and a Two Count.
Kenny tries to slap on a full nelson, but Sammy escapes gets out of the reverse German and then hits an enziguiri on Kenny. Kenny takes another kick to the back of the head in the corner. Sammy hits a springboard and Kenny is able to catch him in midair and toss him out of the ring. Kenny sets up for the Terminator, but Jericho interrupts. Kenny gives him a rana for good measure and as Kenny tries again, Hagar nails Kenny from outside the ring. Sammy comes in and we have our final commercial break.
When we're back, Jericho is beating down Kenny. The ref is s=-distracted as Sammy chokes Kenny with the tag belt, but when Jericho comes back, Kenny fights out fo the corner and rolls to his side for the hot tag to Page. Page chops down Jericho. Sammy is knocked to the floor, Jericho is tossed by Page with a Fallaway slam and Page leaps from the ring onto Sammy on the floor. Page comes back in and takes down Jericho with a wind up clothesline.
Page sets up for Deadeye, Jericho tries to reverse to the Liontamer and Page is able to escape. He clotheslines Jericho out of the ring. Sammy blindsides Page and Kenny comes into the ring and misses a runny knee strike on Sammy. Sammy runs in toward Kenny, who tosses him over the top rope into the waiting arms of Hagar.
Kenny flips over the top rope onto both of them. Page then moonsault onto Jericho and Sammy. Jericho is tossed into the ring and as Kenny is coming in, Pac runs in and hits Page with a low blow. Jericho hits the Judas Effect on Page for the three count on Page.
Your Winners Jericho and Sammy Guevara!
Jericho starts a post match beat down, but Cody breaks it up. As Jericho and Sammy are backing away, MJF nails Sammy with a chair and tosses Jericho into the ring. Cody hits Jericho with the Crossroads. But wait, Mox is on his way to the ring with a barbed wire bat.
Mox and Omega stare each other down, and Jericho attacks Cody. MJF and Hagar are fighting outside the ring and Jericho and Cody fight. Kenny has his barbed wire broom and faces off with Mox. They are interrupted by Santana and Ortiz, and THEY are interrupted by the Bucks. It's chaos. It's fighting everywhere. It's an unabridged brawl!! The brawl ends with Mox and Kenny Omega fighting into the back and Nick climbs a ladder to leap onto everyone!
We go off the air with The Elite and the Inner Circle still fighting.
Credit: PWInsider.com