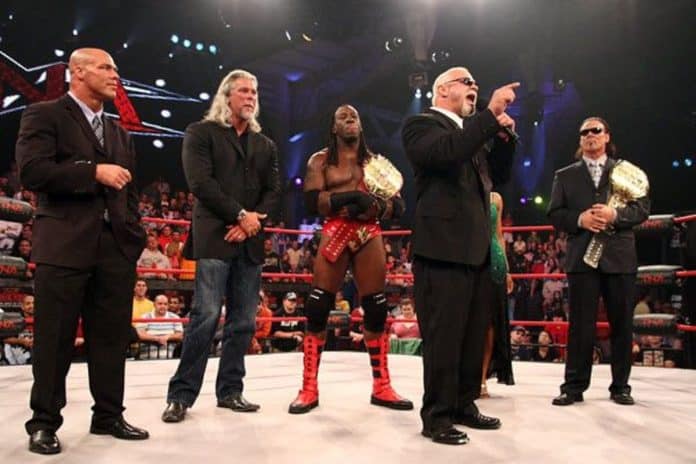 Two-time WWE Hall of Famer Booker T recently took to an episode of his "Hall Of Fame" podcast, where he talked about a number of topics including how he wishes the Main Event Mafia would have had more time together.
Booker T said, "I loved the Main Event Mafia. I wish we had more time together. I wish we really did something with that."
Booker T also talked about how he had a lot of fun moments with the Main Event Mafia.
"But that time that we did have those two years that we spent in TNA, it definitely was fun. I had some fun moments. I can't say it was the greatest time, anything like that. But I did have a lot of fun doing those Pre-tapes. I remember one where I was talking to the wall, so mad, and Jeremy Borash was in it and I told him I was going to jump on him if he didn't get out of there. It was just stupid. I see Jeremy Borash every week because he's and to think about those times, it's just crazy fun. But that's what wrestling truly is all about. And those moments like when we took over the show and me taking the microphone and beating up Chris and Petey Williams and all those guys, it was just stupid fun. And when I see it on Twitter now, I go, wow, man. I think, at that time also at that time, TNA ratings, we were drawing like 1.5 million people watching the show. Oh, yeah. And for me, maybe I just wasn't thinking about it that way. I guess because I would go places when I was in TNA back then, a lot of people thought I had retired because a lot of people, I guess they get a lot of overseas traffic, you know. But it was just one of those things."
You can check out Booker T's complete podcast in the video below.