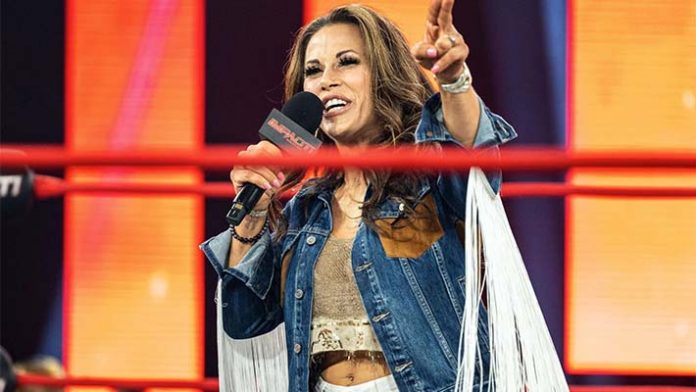 IMPACT Wrestling star Mickie James recently spoke with WrestlingNews.co on a number of topics including when she was medically cleared to compete.
James said, "I've been cleared for a while, I've been cleared for a minute, and I have been waiting and biding my time because honestly, I've been sitting back, as I've been, you know, preparing. I went to France and did a show and I did the UK and just kind of getting in the ring back again before I just showed up on TV and made sure I was feeling good. I've been watching my friend shine, Trinity. I think I left and I was certainly sad, you know, to have to relinquish the title and stuff, but then I've been able to sit back during all of this and watch my friend come in and shine and take over the division. It's been beautiful to watch."
"So, you know, I feel like I've been cleared for a while, but I was enjoying the moment and I wanted her to have that moment, but then, you know, here comes IMPACT 1000 and I just felt like it could not miss a dose of Hardcore Country. There were so many women that I shared the locker room there both before and now it was the opportunity to be in the ring with Awesome Kong, who I've never been in the ring with, you know, and share a stage with her. I think back to my history with IMPACT Wrestling and I was there from the very beginning, the very first TNA show all the way to the very first TNA pay-per-view, all the way to the birth of Hardcore Country in like 2010 and then to come back this last time after Empower and the Last Rodeo and all of that and I was like, I want to be there in New York for this incredible celebration because I knew it was going to be a night to celebrate the past, the present, and the future."
James also talked about possibly facing IMPACT Knockouts World Champion Trinity at their Bound For Glory PPV.
She said, "We've never had a one on one match, Trinity and I. We've been on the same team. We've been on opposing teams? You know, a lot of times it was like we were on two different shows so we don't really see each other for the pay-per-views and stuff like that. I want this one on one match too. I meant what I said, like I've been feeling good for a while, but I've also sat back and I've really truly been enjoying her run as champion. I've really, truly, as a sister and as a friend, I have really been loving all of these moments and seeing her get this opportunity and doing exactly what I knew she would do and that is shine and it's beautiful to see. Even though it was my apprehension of like, just coming back anyway, I'm like, I really want her to have all of these opportunities."
"Now I look at it and I go like, she's ran through a lot of that locker room. She's ran through pretty much the entirety of that locker room now since she's been there in this short time, and really dominated obviously. There's other women that are back and that are coming back, so I'm sure that they want an opportunity at the championship too, but I must remind her and the company that I never lost that championship. I never did. I was forced to relinquish it and I understood that and I did that, and now that I've sat back and I feel like okay, maybe she's running out of competition. Maybe it's time for a match that both of us want, I feel like that the people want, and that we've never seen before. If I'm going to say, okay, if I'm going to test myself and go after it again, like I like anyone who is a wrestler and is walking into a wrestling television show or television company, if you're not trying to be champion, then what are you doing? Right? I like being champion. It feels good on me and I enjoy it. I love seeing my friend shine, but I think I've sat back and watched her glow this whole time and I was getting a little antsy."
"At first, you know, dipping my toes in at Impact 1000 and just being there for all of that, that was super, super special but again Memphis is not too far from home. I can literally drive there and I was like oh, I definitely want to show up there and just maybe see what's in store for Hardcore Country, but you know, I also think like, oh God, Trin and I, if we were tag team champions could rule the world. There's so many things that we can do."
You can check out Mickie James' comments in the videos below.