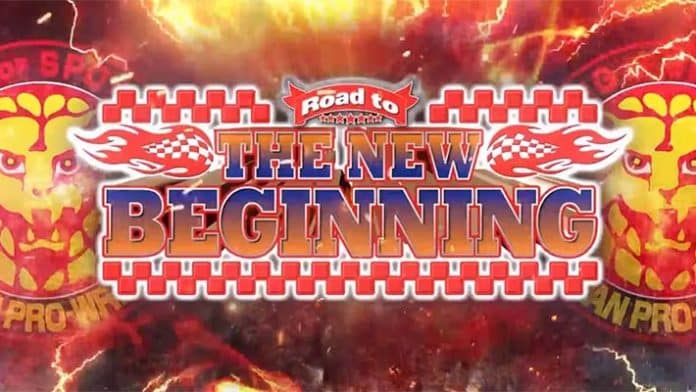 NJPW New Beginning In Nagoya Results – January 22, 2023
Tag Team Match
Most Violent Players vs. Oskar Leube & Yuto Nakashima
Togi Makabe locks in a Boston Crab on Yuto Nakashima but Oskar Lebue made the save. Makabe hit a clothesline for a near fall then he hits Nakashima with the King Kong Knee Drop to get the win.
Winners: Most Violent Players (9:25)
Rate: 5
8 Man Tag Team Match
House Of Torture vs. El Desperado,Minoru Suzuki,Ren Narita & Tomoaki Honma
Both teams brawled at the bell then House Of Torture was working over Tomoaki Honma in the fairly basic offense before Honma finally hit a DDT on Yujiro Takahashi. Minoru Suzuki got the hot tag and he attacks Evil with forearm shots and kicks to the gut.
Suzuki nails a Mafia Kick to Evil's face after Takahashi's interference but House Of Torture began working over Suzuki. Suzuki made it to his corner & hits Ren Narita with a chop to tag him in, and ordered Narita to get in the ring. Dick Togo got his wire and choked Narita. Narita hit a northern lights suplex on Togo then a mid ring Octopus submission and Togo taps out.
Winners By Submission: El Desperado,Minoru Suzuki,Ren Narita & Tomoaki Honma (10:40)
Rate: 5
After the match Suzuki got on the mic and he challenged the House of Torture to put their NEVER Openweight 6 Man Tag Team Titles on the line against his new faction but it appeared that House Of Torture were uninterested as they headed to the back.
8 Man Tag Team Match
Chaos (IWGP Tag Team Champions Hirooki Goto & Yoshi Hashi & Tomohiro Ishii) & Ryohei Oiwa vs. TMDK
Mikey Nicholls & Yoshi Hashi started this match off before Ryohei Oiwa & Kosei Fujita got in and traded chops and forearm shots. Zack Sabre Jr & Tomohiro Ishii got in and traded some offense then Ishii drops him with a hard forearm shot. TMDK began working over Ishii in their corner as they were teaching Fujita how to do some moves. Ishii finally hit a German suplex on Nicholls.
Hirooki Goto made the hot tag and he hit a spin kick in the corner on Nicholls then a bulldog. Yoshi Hashi entered and hits a standing neckbreaker. Shane Haste hit a reverse powerslam dropping Goto gut first on the mat. Oiwa entered and hit a dropkick. Oiwa & Fujita traded forearm shots and Fujita hit several dropkicks. Ishii & ZSJ reentered, and Ishii hit a back suplex and they were both down. Haste hits a dropkick on Oiwa then a Dynamic Bomb to get the win for TMDK.
Winners: TMDK (11:22)
Rate: 6
6 Man Tag Team Match
Bullet Club vs. Hiroshi Tanahashi,Master Wato & Jado
Hiroshi Tanahashi hits a senton on Taiji Ishimori and Tanahashi,Master Wato & Jado works over Ishimori in their corner then Bullet Club began working over Wato on the floor.
Tanahashi finally makes the hot tag and he hit a 2nd rope twisting crossbody on Kenta then a 2nd rope summersault slam. Kenta got an inside cradle for a near fall and they traded forearm shots. Kenta hit a powerslam and they were both down. El Phantasmo enters to face Tanahashi. Tanahashi applied a Texas Cloverleaf while his partners also had submission holds applied. Jado entered and hit a back suplex on Phantasmo at 10:30. Tanahashi hits Twist & Shout on Kenta. ELP nails Jado with Sudden Death to score the victory.
Winners: Bullet Club (11:27)
Rate: 6
8 Man Tag Team Match
United Empire vs. Just 4 Guys
United Empire & Just 4 Guys brawled at the bell before Francesco Akira hits a plancha on Yoshinobu Kanemaru. Will Ospreay whips Taichi into a guardrail. In the ring Ospreay hits a backbreaker over his knee on Kanemaru and United Empire were in charge. Aaron Henare hit a senton on Kanemaru then some blows to the chest as Kanemaru was tied in the ropes. Taichi entered and traded offense with Henare. Henare hit a 2nd rope spin kick on Taichi.
Ospreay entered and hit a springboard flying forearm for a near fall on Taichi. Ospreay hit an enziguri. Kanemaru hit a DDT on Ospreay. Douki hit a top rope double stomp on Ospreay, and he applied the Douki Chokey but Henare hit a Blue Thunder Bomb. Douki hit an enzuigiri on Ospreay. Akira hits a DDT on Douki, and Ospreay immediately hit a Hidden Blade on Douki for the win.
Winners: United Empire (9:24)
Rate: 5
8 Man Tag Team Match
Chaos (IWGP World Heavyweight Champion Kazuchika Okada & Yoh),Shota Umino & Ryusuke Taguchi vs. Los Ingobnrables De Japon
Tetsuya Naito & Shota Umino started this match off with quick reversals. Yoh & Hiromu Takahashi got in and traded offense, with Yoh hitting a hurricanrana. Yoh hit a standing neckbreaker. Ryusuke Taguchi entered and hit his butt bumps on Takahashi. Sanada entered and worked over Taguchi. Okada tied up Sanada in a Rings Of Saturn type submission hold but Sanada reached the ropes.
Naito & Okada traded offense before Umino enters and hit a summersault senton on Naito, then a fisherman's suplex for a near fall. They traded forearm shots. LIJ hits some quick moves on Umino. Umino hit a side slam on Bushi for a near fall. Umino then hits Death Rider on Bushi to get the win for his team.
Winners: Chaos,Shota Umino & Ryusuke Taguchi (11:20)
Rate: 7
After the match Takahashi & Yoh continued to argue
KOPW 2023 Title & Takagi's #1 Contendership To The IWGP World Heavyweight Title MMA Rules Match
Shingo Takagi (c) & (h) vs. Great O Khan
Shingo Takagi & Great O Khan wrestled on the mat for a bit then later on the match LIJ walks to ringside to be in Takagi's corner before Takagi rolls to the floor and United Empire immediately threw him right back in.
O Khan applied a leg lock but Takagi reached the ropes then Takagi hits a hard clothesline and rips off the blue robe. Takagi hit a sliding lariat and applied a sleeper hold on the mat, but O Khan reached the ropes. O Khan rolled to the floor but LIJ tossed him back in.
Back in the ring Great O Khan had a sleeper hold on the mat. O Khan chokes Shingo with the belt of his outfit. United Empire beats up Takagi on the floor while the referee was distracted. Back in the ring O Khan applied the sleeper again. Takagi finally escaped and slammed him to the mat. Takagi nailed a series of elbow shots to the side of the head. He again applied the sleeper until O Khan passes out & the ref calls for the bell.
Winner & Still KOPW 2023 Champion & #1 Contender To The IWGP World Heavyweight Title: Shingo Takagi (22:37) (STILL CHAMPION!!!!)
Rate: 5
After the match Takagi got on the mic and said Somehow I was able to win. He also noted he won a day earlier at Wrestle Kingdom 17 Day 2 He said he has no reason to be afraid of anyone. He will now focus on his IWGP World Heavyweight Title match against Kazuchika Okada then he calls out Okada. Okada emerged from the back and got in the ring. Takagi said he would put the KOPW Title on the line as well so the match would be under KOPW rules but Okada got on the mic and rejected the idea saying he doesn't want 2 belts he only wants his IWGP World Heavyweight Title. He taunted Shingo, saying Shingo must think he can only win with gimmicky rules. Takagi said he expected that response from Okada; he said he will be a double champion then. Okada left and Takagi celebrated with his LIJ teammates to close out New Beginning In Nagoya.