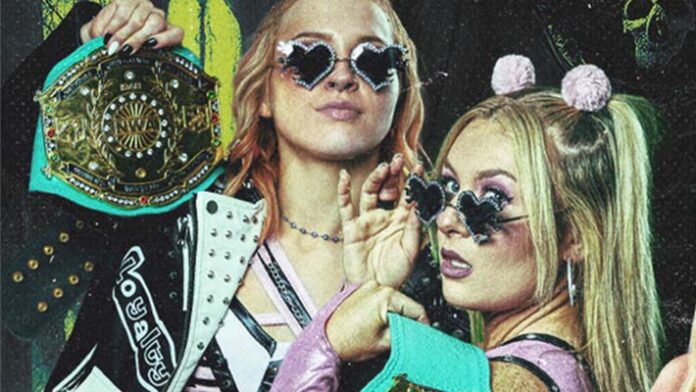 In an exclusive interview with PWMania.com's Scott Mitchell (@Scott44Mitchell), Pretty Empowered members, Ella Envy (@ellaenvypro) and Kylie Paige (@kyliealexxa), sit down to discuss their time in NWA so far, NWA entering its "prettiest" era yet, winning all the gold at NWA 75, and more.
You can check out the complete interview below:
Back when you both first made your debut for NWA, while it was at different times, what was it like for each of you?
Ella Envy: "It was good. As everybody knows, I debuted with Kylie's older sister Kenzie, and that was a really fun experience in itself. It was cool honestly getting to be on NWA and winning the title in my third match in, like Pretty Empowered should. In all seriousness, it was a cool experience and I've enjoyed my time here. It's just been a roller coaster of emotions, and just a lot of fun experiences that I'm very thankful for."
Kylie Paige: "My debut came in February, and I first began wrestling in May the year before. So, I got it fast, and it was a lot at once, but I was very grateful. I had Kenzie back there with me, whenever I got back, she was crying, and I was crying. It's very near and dear to my heart for sure."
What is it like to share a locker room with arguably one of the most talented women's divisions around today, yourselves included?
Kylie Paige: "It's very empowering to be around a lot of talented, and pretty women. I've been very blessed to be a part of this division, and to be working with my best friend Ella and my sister Kenzie."
Ella Envy: "Yeah, I agree with that. When we all get together, we all just have such a good time. It's not even like something we would consider work or anything, it's just genuinely such a good time. It's a very cool experience to be able to work with a WWE hall of famer like Jazz herself. She's very hands-on in the women's division. Pretty Empowered would not be as pretty without her and the women's division as a whole. The women's division at NWA is awesome, even more so now since we hold all the gold. We run that place, but like I said, it's a lot of fun. We always have such a good time when we're there, and it allows us to run the place like we always do."
The first time you all teamed up on NWA television came in a Hardcore War match. What was it like to take part in that match and go to new extremes?
Kylie Paige: "You push yourself whenever you bring weapons into a match. We got to show that we aren't just pretty faces, that we're crazy. I feel like people needed to see that because look at us, now we're champions. You can't touch Pretty Empowered, we're pretty, we're crazy, and everything that you're not."
Ella Envy: "My favorite part of that match was when Kylie hit Madi Wrenkowski in the crotch with that pink hockey stick. Even though we took the L because Baby Doll's stupid butt was in the way, that was the first time we got to showcase as a team, and a unit, and show we aren't just playing around. We're not just pretty faces, we can be hardcore, and we are those girls. More importantly, it was a lot of fun going out there and hitting people with our pink weapons. It was a great match overall, and I feel like we did make a statement that night."
Pretty Empowered and M95 have told quite the story, for quite some time now. It all culminated at the end of August when you finally won the NWA World Women's Tag Team Championships, what was that moment like for you?
Ella Envy: "They stink and they're brats. Truthfully, it was funny we took these titles from them, hilarious. They kept it warm, but they did ruin the belts a little bit because they were so reckless with our belts. No worries though because now they're safe at home with us. But, working with them was truly just a headache. It was so annoying, the need deodorant."
Kylie Paige: "With how stinky they were, it truly caused me to have a headache, so I can agree with that statement. They never deserved these titles like me, and Ella do. So, I'm very happy we took them off of them and they're home safe and sound."
At NWA 75, it was essentially Pretty Empowered's coming out party. Between Kenzie Paige defeating Kamille, and you two both winning the NWA World Women's Tag Team Titles. What was it like on both of those nights for you and everything you guys accomplished on NWA 75?
Ella Envy: "I feel a sense of relief. Not just for us, but for Billy, and the entire company. Finally, NWA has gold around the waist of people who deserve it, and someone who can bring this company to the next level. It was so relieving to finally get the respect we deserve after going out there week after week, month after month, and having to associate with all the ugly people. Honestly, on behalf of Kylie and I, you're all welcome for taking the company and these belts to a whole new level."
Kylie Paige: "NWA 75, what does it mean to me? It was very important. Because I made history which is not talked about enough. Ella, they're praying for our downfall already. I'm the youngest women's tag team champion, the youngest in NWA history, and possibly all of wrestling. Anyway, 75 was very important to me and my sister, and my sister Ella, it meant a lot, especially for NWA. You're welcome."
What does it mean to you guys to be one of the top women's tag teams around today in a division that is very hit-or-miss in other promotions, the women's tag team division?
Kylie Paige: "What does it mean to us to be the top women's tag team? It means a lot. We get to set an example of what wrestling should be. We're amazing, pretty, talented, and everything. It gives a lot of people a chance to do something they'll never live up to, but I digress."
Ella Envy: "Besides the fact that I'm a 3x NWA World Women's Tag Team Champion, it's super important to me. We give these other loser girls something to look forward to and inspire them to be. To be honest, would you not want to be one of us? Would you not want to work hard, go to the gym, be pretty, and be a champion like us? Exactly."
At the upcoming Samhain show, you will be defending those titles against Natalia Markova and Taylor Rising. What's your mindset like heading into what will hopefully be your first title defense of many?
Kylie Paige: "Blondie 1 and Blondie 2? No, I'm not worried. Because, while Markova has proved herself, Taylor Rising? You've been here for a sip of coffee and you're getting a shot at my title? That's crazy. We'll make an example out of them. Honestly does not even compare to Pretty Empowered."
Ella Envy: "I don't know if you remember us saying that we are HISTORY MAKERS, not just tag team champions. Kylie is the youngest champion in NWA history, and I'm a 3x World Women's Tag Team Champion. It's for a reason, we hold these belts for a reason. Just like, there's a reason Markova has never held a belt in this company. And, like you said, I don't even know who Taylor Rising is. I just remember her trying to cut in front of us at catering one time and we had to put her in her place. Like I said, Kylie and I are not just two thrown-together girls. So, you best bet that we will walk out with our tag team Championships. We're not worried about it and we can't stress that enough."
What can we as fans expect from the future of NWA with Pretty Empowered now running things?
Kylie Paige: "You can expect the prettiest era that NWA has ever been in, or will ever be in. You can expect the PRETTIEST era, and a lot of pink."
Ella Envy: "Like she said, it's the Pretty era. It's time for the new girls, aka us. Get rid of Kamille and get rid of all the other losers. It's OUR time. People wanted a change, and here it is. We're going to be running the company on our own, and sprinkling in a little bit more pink, and a lot more pretty, because I don't know if you know this or not, but we have proved ourselves time after time as to why we deserve this and care about this company. Just remember that the proof is in the pretty."
Is there anyone you would specifically love to stand across the ring with?
Ella Envy: No. I guess the only people worthy of our time would possibly be The Beautiful People, and we can decide who is the prettiest, even though we already know. Truthfully, I don't think any of these losers deserve any shot at our title but that's just me."
Kylie Paige: "I have to agree with Ella. We're the most talented. Who deserves a shot at our titles? We earned these. They're beautiful, they're the prettiest titles, so they belong on the prettiest people, same goes for Kenzie's title."
Is there a message you can send to the fans reading this?
Ella Envy: "Just keep watching. Things are about to get different around here, and they're about to get real pretty."
Kylie Paige: "Amen. If you want to see Pretty, tune in to Powerrr every Tuesday at 6:05 p.m. Eastern, and don't forget… Wear deodorant, okay?"