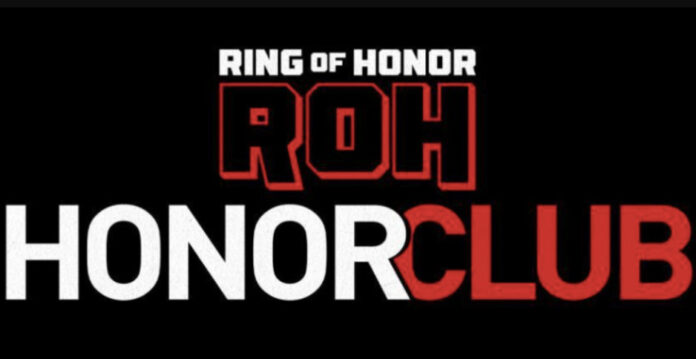 ROH TV Results – October 19, 2023
Gravity vs. Angelico
Gravity & Angelico grappled to a stalemate to start this match before Gravity sends Angelico to the floor with a dropkick before following him outside with a dive.
Gravity went for a crossbody but Angelico caught him with an dropkick then Angelico ties up Gravity with a submission before leaning Gravity back onto his shoulders for a near fall.
Gravity evaded a corner charge before sending Angelico down with an enzuigiri then they traded pinfall attempts before Gravity hit an around the world sunset flip.
Angelico countered it into a triangle choke but Gravity powerbombs his way free. Gravity went for a splash off the top rope but Angelico got his knees up. Angelico locks Gravity in Navarro Deathlock for the win.
Winner By Submission: Angelico
The Righteous were backstage & They talked about leaving ROH World Tag Team Champion MJF all alone at WrestleDream with him now having 4 hyenas chasing after him. Vincent says that when they speak they speak the truth.
Shawn Dean vs. Peter Avalon
Shawn Dean got the advantage early on with a dropkick then scores a near fall with a bodyslam then Ryan Nemeth cuts off Dean on the outside with Avalon dropping Dean.
Trish Adora chases Nemeth to the back allowing Dean to get back on the offensive then hits Sonic Boom Lariat then follows it with a float over DDT for a near fall.
Avalon came back with a flurry of offense by scoring near falls with a superkick and a Death Valley Driver. Dean ducks an enzuigiri before hitting one of his own.
Avalon cuts Dean off on the top rope but Dean knocks Avalon to the mat and hits Last Salute Splash for the win.
Winner: Shawn Dean
Mercedes Martinez vs. Marti Belle
Mercedes Martinez escaped a leg hold by slapping Marti Belle in the face then she clobbers on Belle by drilling her with a knee to the face. Martinez hits Anarchist Suplex for a near fall.
Belle got some offense in by dropping Martinez to a knee before booting her in the face then Belle hits Penalty Kick for a near fall.
Martinez ducks a big boot before hitting a rolling elbow and a Tree Slam then Martinez locks Belle in Brass City Sleeper for the submission win.
Winner By Submission: Mercedes Martinez
Lexy Nair is with Women's Champion Athena & Billie Starkz. Athena gave Starkz an aggressive pep talk for her match tonight against Diamante.
Tony Nese vs. Ethan Page
Match comes to a close when Tony Nese rolls up Ethan Page with his feet on the ropes to get the win.
Winner: Tony Nese
After the match Nese mocks Page and demands he shake his hand. Page reluctantly goes to do so but Nese pulls away. Page punches him and goes to hit Smart Mark Sterling with Egos Edge but Nese pulls him out and they run away.
Billie Starkz vs. Diamante
Match ends when Billie Starkz rolls up Diamante to score the win.
Winner: Billie Starkz
After the match Diamante & Mercedes Martinez attack Billie Starkz & Athena but Athena & Starkz eventually chase them off with a steel chair.
Pure Rules Match
Josh Woods vs. Pat Buck
Josh Woods quickly caught Pat Buck by the legs forcing Buck to use his 1st rope break before Buck came back forcing Woods into the ropes to burn 1 of his rope breaks.
Buck went for an O'Connor Roll but Woods held onto the ropes thus burning his 2nd rope break. Smart Mark Sterling complained to the referee allowing Buck to punch Woods in the face.
Woods got his shot back but the referee saw it and administered Woods an official warning. Woods caught Buck by the knee and stuffed it. Woods went after the knee but Buck kept catching Woods in pinning positions for near falls.
Woods went back after the knee before hitting a gutwrench powerbomb then locks in the Woods Lock for the submission win.
Winner: Josh Woods
Tag Team Match
Cole Karter & Griff Garrison vs. Myron Reed & Ren Jones
Myron Reed ducks a clothesline from Griff Garrison then Cole Karter caught Reed with a knee to the back allowing Garrison to drop him with a big boot. Karter hits a dropkick on Reed but couldn't stop the tag to Ren Jones so took him down with a running forearm.
Jones hit a brainbuster for a near fall then Garrison got a blind tag by hitting a ripcord elbow on Jones before Karter hits Dominator for the win.
Winners: Cole Karter & Griff Garrison
Dalton Castle was backstage. He knows that the people love when he's on television and that he won't let anyone stop the people from getting what they want. He's gonna make ROH television extraordinary.
Kiera Hogan vs. Allysin Kay
Kiera Hogan avoids a boot from Allysin Kay to start the match then hits Kay with a dropkick and a hip attack. Hogan had control until Kay caught her on a crossbody and dumps her on the knee.
Kay cuts off a wheelbarrow attempt sending Hogan up and over with a German suplex then Hogan avoids a corner charge by hitting a shotgun dropkick off of the 2nd rope. Hogan hits a hip attack and a running boot in the corner for a near fall.
Kay drops Hogan with a lariat for a near fall. Kay brought Hogan to the top rope but Hogan knocked her down and hit another dropkick then Hogan follows with Face The Music for the win.
Winner: Kiera Hogan
Tag Team Match
The Righteous (Vincent & Dutch) vs. Kevin Matthews & Rod Gordon
Dutch hits Rod Gordon with Bossman Slam and Vincent hits Autumn Sunshine to get the quick win.
Winners: The Righteous
Lady Frost vs. Zoey Lynn
Zoey Lynn caught Lady Frost with a crucifix pin early on but Frost came back with a kitchen sink knee then Frost clobbers Lynn by hitting a hurricane kick and a cartwheel Air Raid Crash then hits Frostbite for the win.
Winner: Lady Frost
Komander vs. Metalik
Metalik caught Komander with a Slingblade bulldog before hitting the ropewalk dropkick then Metalik hit a plancha to Komander on the floor before hitting a springboard splash in the ring for a near fall.
Komander ducks a corner charge and sent Metalik over with a rana then Komander walks the ropes and hit another rana before following Metalik to the floor with a dive.
Komander hits an elevator Code Red on Metalik for a near fall then Komander brought Metalik to the top rope where he hit a top rope rana for a near fall. Metalik cuts off Komander on the top rope then hit a rana off of the ropes.
Metalik hits Metalik Driver for a near fall then follows up with a moonsault but Komander got his feet up on the moonsault and hits a gutbuster before following with ropewalk Shooting Star Press for the win.
Winner: Komander
Triple Threat Tag Team Match
The Workhorsemen (Anthony Henry & JD Drake) vs. Gates Of Agony (Toa Liona & Kaun) vs. Action Andretti & Darius Martin
The Workhorsemen, Action Andretti & Darius Martin worked together to take out Gates Of Agony early. Andretti & Martin worked together to cross up JD Drake with Andretti hitting a reverse crossbody for a near fall.
Drake cuts off Martin with a chop allowing Anthony Henry to get in and hits a double team on Martin for a near fall then Toa Liona flew in taking both Henry & Martin out.
Gates Of Agony works on Martin before Martin hit a combo move on Gates Of Agony. Andretti got the tag but ran into The Workhorsemen.
The match broke down into a brawl before Andretti hit a springboard 450 onto Drake then goes for the cover but Liona broke up the pin allowing Gates Of Agony to hit Open The Gates on Henry to score the win.
Winners: Gates Of Agony