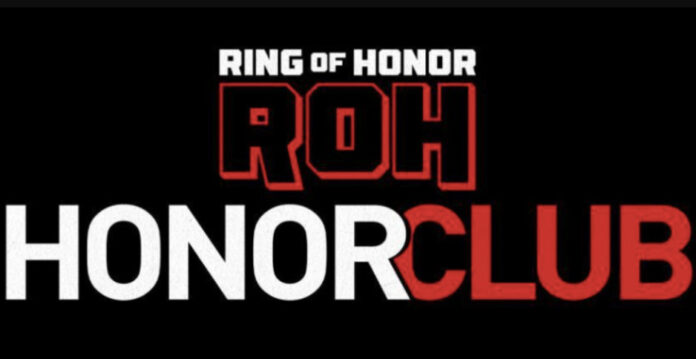 ROH TV Results – September 21, 2023
Kicking off this week's ROH with a promo from the new ROH World Champion Eddie Kingston & he talks about not liking Claudio Castagnoli but respecting his talents. He dedicated the ROH World Title win to former ROH World Champion Xavier.
Pure Title Match
Katsuyori Shibata (c) vs. Nick Wayne
Nick Wayne knocks Katsuyori Shibata into the corner before hitting Shibata's signature shotgun dropkick on Shibata himself. Shibata woke up and drills Wayne with a forearm before following with the shotgun dropkick on Wayne.
Shibata locks in the Cobra Twist, forcing Wayne to use his 2nd rope break before Wayne immediately used his 3rd rope break to escape a hold before dropping Shibata with a neckbreaker for a near fall.
Wayne hit a pair of high kicks and went for Wayne's World but Shibata caught him in a sleeper hold. Shibata sat Wayne down and hits Penalty Kick to get win.
Winner & Still Pure Champion: Katsuyori Shibata (STILL CHAMPION!!!!)
Backstage Lexy Nair is with Lee Johnson but he was quickly interrupted by Lee Moriarty & Shane Taylor. Moriarty mockingly offered a handshake before Taylor got in Johnson's face. They broke away before things got physical.
Diamante vs. Catie Brite 
Diamante drills Catie Brie to the mat with Rolling The Dice to get the super quick win.
Winner: Diamante
Backstage Lexy Nair is with The Infantry & Willie Mack. Carlie Bravo said that they have become one of the hottest teams in ROH and alongside Willie Mack they would win the 6 Man Tag Team Titles.
Lee Moriarty vs. Lee Johnson
Lee Johnson picks up the pace and sends Lee Moriarty to the floor with a dropkick. Johnson met Moriarty on the floor and peppered him with chops. Back in the ring Moriarty cuts off Johnson with a kitchen sink knee before Moriarty hit a bridging suplex for a near fall.
Johnson fought out of a Ground Cobra and avoided another kitchen sink knee before taking Moriarty down with a lariat. Johnson fired up by hitting a Blue Thunder Bomb for a near fall.
Moriarty yanks Johnson into the turnbuckle but Johnson drills Moriarty with a superkick. Johnson hits a frog splash but Moriarty got his foot on the ropes to break the pin. Moriarty drops Johnson on the ropes neck first before hitting a leg lariat to get the win.
Winner: Lee Moriarty 
In a pre tape Women's Champion Athena held Minion Training with Billie Starkz & Lexy Nair. Their tasks included rigorous exercise, booing Willow Nightingale and attempting to scare The Renegade Twins. According to Athena Nair passed her training but Starkz did not.
Mercedes Martinez vs. Trish Adora
Trish Adora had Mercedes Martinez in a fireman's carry before Diamante distracted her. Martinez lays Adora out with a spinebuster. Diamante got some shots in on Adora while the referee was distracted by Martinez before Martinez hits Anarchist Suplex for a near fall.
Adora caught Martinez with a bridging German suplex from her knees before following with a senton for a near fall. Martinez hit a half & half suplex before hitting a running forearm. Martinez follows with a forearm before locking on the Brass City Sleeper for the submission win.
Winner By Submission: Mercedes Martinez
Women's Title Match
Athena (c) vs. Angelina Love
Athena & Angelina Love traded kip ups before Athena drops Love with a back heel kick and a Meteora for a near fall. Love rolls to the floor and apprehended Billie Starkz then sent Starkz into Athena to gain control. Back in the ring Love hit a sidewalk slam for a near fall.
Athena bit her way out of a chinlock before firing up with a combo that ends with a low enzuigiri. Athena hits a handspring forearm before going to the top rope but Love cuts her off.
Love ducks a corner charge before hitting the Botox Injection for a near fall. Athena came back with her double knee facebuster to score the win
Winner & Still Women's Champion Athena (STILL CHAMPION!!!!)
Backstage Lexy Nair is with Maria Kanellis-Bennett, Cole Karter & Griff Garrison. Garrison said that he felt he's lost a step since returning from injury and that teaming with Karter seemed like a relatively good idea.
6 Woman Tag Team Match
The Renegades (Robyn & Charlette) & Leyla Hirsch vs. Willow Nightingale, Skye Blue & Kiera Hogan
Kiera Hogan quickly got the upper hand on Robyn Renegade by hitting a hip attack and a low dropkick for a near fall. Blue tags in and hit a rising knee before landing a superkick for a near fall.
Charlette Renegade & Leyla Hirsch yanks Willow Nightingale & Hogan off the apron before The Renegades hit a double suplex on Blue for a near fall. The Renegades double teams Blue before Hirsch tags in.
She ragdolls Blue around with suplexes before snatching Blue's arm in a cross armbreaker. Blue rolled her up to escape before tagging in Nightingale & she ran wild on The Renegades & Hirsch.
Nightingale hits a double suplex on The Renegades for a near fall before we get a brawl before Nightingale hit a Pounce on Hirsch. Nightingale hit a Death Valley Driver on Charlette before Blue hits Code Blue to score the win.
Winners: Willow Nightingale, Skye Blue & Kiera Hogan
Backstage Lexy Nair is with Mark Sterling, Tony Nese & Spanish Announce Project & they talked about their 6 Man Tag match
Ethan Page vs. VSK
Ethan Page hits a powerslam and set up for Ego's Edge but VSK escapes and fought back. Page hit a cradle slam before hitting the outside in cutter to score the win.
Winner: Ethan Page
6 Man Tag Team Match
Spanish Announce Project (Serpentico & Angelico) & Tony Nese vs. El Hijo Del Vikingo, Gravity & Metalik 
Metalik starts off with Serpentico by quickly taking him down with a tilt a whirl backbreaker. Gravity & Angelico tags in with Gravity sending Angelico to the floor with a lucha armdrag.
El Hijo Del Vikingo & Tony Nese came in with Vikingo hammering Nese with kicks before sending him to the floor with a dropkick.
Vikingo hit a step up twisting tornillo to the floor before Gravity & Metalik followed with dives of their own.
Metalik came in but Smart Mark Sterling cuts him off in the ropes and allowed Nese to take control. Angelico tags in and tied Metalik in knots before he reached the ropes all the while arguing with Nese.
Angelico brought Metalik to the top rope but Metalik brought him down with a sunset flip powerbomb. Gravity tags in and ran wild by hitting a powerslam and a standing moonsault for a near fall.
The match broke down into a brawl before Nese tried to unmask Gravity. Serpentico took offense to that leading to Spanish Announce Project bailing on the match. Metalik tags in and hits a rope walk senton for the win.
Winners: El Hijo Del Vikingo, Gravity & Metalik 
Backstage Lexy Nair is with Ethan Page. He hasn't felt this good in a while not since he challenged MJF for the AEW World Title in his hometown of Hamilton Ontario. He wanted to get back to that feeling so he's here in ROH to keep competing.
Tag Team Match
Action Andretti & Darius Martin vs. Cole Karter & Griff Garrison
Cole Karter was outpaced by Darius Martin so he quickly tags out to Griff Garrison. Action Andretti & Martin outsmarted Garrison by fooling him with a blind tag to score with a double team.
After Karter & Maria Kanellis-Bennett trips up Martin as Garrison drops him with a big boot. Karter kept control of Martin with Maria helping on the outside.
Martin fought off a double team to make the tag to Andretti & he ran wild on both men. After a scramble Karter tried getting a roll up with his feet on the ropes.
Garrison knocks his feet off the ropes not wanting to cheat to win. Martin & Andretti took advantage as they isolating Karter before Andretti hit a springboard 450 to score the win.
Winners: Action Andretti & Darius Martin
6 Man Tag Team Titles Match
Mogul Embassy (Brian Cage, Toa Liona & Kaun) (c) vs. The Infantry (Carlie Bravo & Shawn Dean) & Willie Mack
The Infantry isolated Kaun with a wishbone before Toa Liona tags in then Liona drops Bravo with a lariat before Kaun came in with a senton. Brian Cage tags in to continue the offensive on Bravo. Bravo fought his way to the tag to Mack & he took Cage down multiple times.
Mack fought Mogul Embassy before hitting a Yakuza Kick on Cage for a near fall. Cage cut Mack off and hits outside in superplex. Bravo tags in and drops both Cage & Kaun before avoiding Liona's charge.
The Infantry isolated Liona by drilling him with kicks before Mack hit a Stunner. The Infantry hits a double suplex on Liona before tagging Mack & he hits a frog splash on Cage for a near fall.
The match broke down into a brawl with Mogul Embassy isolating Mack before Gates Of Agony hits Open The Gates on Mack to score the win.
Winners & Still 6 Man Tag Team Champions: Mogul Embassy (STILL CHAMPIONS!!!!)