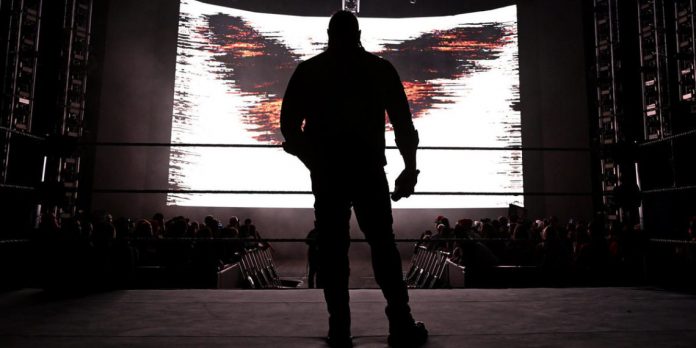 The professional wrestling world has lost one of the greatest to ever lace up a pair of boots. It's been a week since the news broke that Windham Rotunda, also known as Bray Wyatt, had passed away, and it still does not feel real. The feeling of numbness and disbelief has not worn off, and who knows if it ever will. It has been a week of reflecting, reminiscing, and reminding ourselves both of the importance of telling our loved ones we love them, and also the importance of professional wrestling in the lives of fans. The importance of professional wrestling that leads to this passing feels like the equivalent of losing a friend or relative rather than a "celebrity". Today, I want to do all of those things and just share it with the whole world in the hopes it heals you some more like it has for me. My friends and I recorded an episode of our podcast about Bray, and though we cried and struggled through it, it was therapeutic and needed for us, and I hope everyone who hears that or reads this can gain some sort of closure to help heal the pain.
The first thing that always pops into my mind when it comes to Bray is the sheer immensity of his creative genius. This was a man who never stopped creating and never stopped producing for the business he loved and the people he loved to entertain. He never failed to captivate an audience, whether he was a swamp cult leader, a Mister Rogers/Steve from Blue's Clues hybrid, or a demonic fiend, he got you hooked every single time. His way with words was merely the precipice of what he could do, turning even the most average promo into a cacophony of melodic statements and riddles, that always kept you on your toes. He could change the inflection in his voice to make you laugh, cry, be confused, and be scared all at once. Windham constantly tried to create magnificence with everything he did, and he pretty much always succeeded to some degree. He was, and will forever be remembered as, one of the most uniquely creative minds in the business's history. There will never be another who operates at the level he did, and it's a shame he won't be able to pass that on to anyone else.
Beyond his character work, we cannot forget about Bray's in-ring work as well. One thing that was always impressive about Bray was his constant ability to remain relevant in a business full of constant change, ebb and flow. Look at the list of some of the names he's feuded with over the years: John Cena, The Undertaker, Randy Orton, Roman Reigns, Seth Rollins, Chris Jericho, The New Day, Daniel Bryan, Kane, CM Punk, Dean Ambrose (Jon Moxley), and many more. In the end, Bray Wyatt has shared the ring with a who's who of this business' all-time greats, legends, and megastars. He has pinned and defeated many of them as well, which is not to be forgotten. Even if he didn't always come out on the winning end of things (which more often than not he didn't), he never failed to make you believe in both himself but also the person he shared the ring with. Truly, that cannot be overlooked. One moment that sticks out to me was the episode of Raw in early 2014 when he shared the ring with Daniel Bryan when Daniel "shed the Wyatt skin" alongside the single loudest, most in-unison crowd reaction of all time in my book. Bray ended that night on his back after a brawl and a match while Bryan celebrated with the fans, but in that moment, Bray did his job better than anyone else could have asked. As the heel, he made people hate him enough for what he had put Bryan through that they couldn't wait for Bryan to get his revenge. When he did, the place went nuts. That is thanks in a big part to Bray Wyatt's massive contributions.
Isolating some of Bray's best matches now, it is a bit harder to narrow this one down, but I have some personal favorites. The first that comes to mind is the incredible 6-man Tag Team Match he had alongside the Wyatt Family against the Shield at Elimination Chamber 2014. Having watched the build to that match, as well as the match itself, live all along the way, the anticipation was higher than any other match in recent memory at the time. WWE's two hottest up-and-coming groups clashing for the first time ever. It was a sight to behold, one the live crowd ate up, and one everyone who saw it got to sink their teeth into. It was a fantastic match as well, and it is one that established the Wyatts as a force to be reckoned with. Three years later, Wyatt had one of the biggest moments of his career at the same event. Defeating Baron Corbin, Dean Ambrose, John Cena, AJ Styles, and The Miz, Bray ascended to the mountaintop as the WWE Champion. The most prestigious title in the world finally belonged to the Eater of Worlds, and even if for only about 6-7 weeks, it was a beautiful sight to see and experience. I would be remised if I did not mention one of Bray's best contributions to WWE TV ever in this part of the article: The Firefly Funhouse Match. Making the most of the worst situation the world has ever faced, in the midst of the first few weeks of a global pandemic, Bray Wyatt and John Cena created magic in the Firefly Funhouse. Yowie Wowie indeed, it was a sequence nobody will ever forget. Cinematic wrestling can go in a variety of ways, Bray having been featured in several other cinematic matches in his career (The Swamp Fight, the House of Horrors Match, and others), but this was the peak and the standard of which they will always be compared. Bray's creative genius spoke volumes here, and without question, it showed in all the best ways. He truly was never afraid to experiment with something new, even in the hardest of times.
Finally, Bray's 2022 return to WWE deserves a special shout-out. The night Bray Wyatt came home was at Extreme Rules last Fall, just under one year ago. QR Codes and subtle teases were sprinkled everywhere on WWE TV to lead to something big, and fans speculated for weeks if it truly was Bray or not. Then, after so much anticipation, the lights went out in the arena after Extreme Rules' main event, and Bray returned home to the only place he ever wanted to be, a fact so much more humbling in hindsight. When the eerie words that we are extremely familiar with started echoing, "He's got the whole world, in his hands…", you knew who it was. When he walked through that door (in his homage to his best friend, the late, great Brodie Lee), the live crowd went nuts in a way I had never imagined. A hero's welcome to a hero returned, and the sky seemed like the limit. Unfortunately, we won't ever get to see what was to come next, but if Bray was as happy to be back home as all accounts I've seen have said, then I can take a little more comfort in knowing he was happy being back where he loved and doing what he loved one last time.
Tears have welled in my eyes so many times writing this, but it feels right and necessary to pay tribute to Bray. He taught all of us so much, and I am so grateful for that, as I'm sure everyone else is too. He was a staple of wrestling for me growing up, reminding me that there is an escape to all of life's problems. A reminder that when wrestling is on, they all go away for a few hours and we can drift away in something that means way more than anyone on the outside will ever understand. We owe a lot to Bray, and I am forever thankful for the quote he shared on social media last year It has been something that puts so much into perspective for me on the great sport of professional wrestling, and it's something I will carry with me whenever I watch going forward. Here it is now:
"Wrestling is not a love story, it's a Fairy Tale for masochists. A comedy for people who criticize punchlines. A fantasy most can't understand, a spectacle no one can deny. Lines are blurred. Heroes are villains. Budgets are cut. Business is business.
But it can also be a land where Dead men walk. Where Honor makes you Elite. Where Demons run for office. And Rock bottom is a reason to rejoice. WOOOOO! It's an escape. A reason to point the blame at anyone but yourself for 2-3 hours. An excuse to be a kid again, and nothing matters except the moment we are in.
Wrestling is not a love story, it's much more. It's hope.
And in a world surrounded in hate, greed and violence, a world where closure may never come. We all know a place that has hot and cold hope on tap, For better or for worse."
One final message to Windham before this one comes to an end. Thank you for everything you gave this sport, and each and every one of us fans in turn. Our prayers are with you, your family, and your loved ones during this trying time, and we will continue to honor, love, and cherish the legacy you have left behind. We're really glad that you were our friend, and this truly is a friendship that will never, ever end. No matter what, he will always have the whole world in his hands.
Rest in Peace Windham, we love you.
What do you think? Share your thoughts, opinions, feedback, and anything else that was raised on Twitter @PWMania and Facebook.com/PWMania.