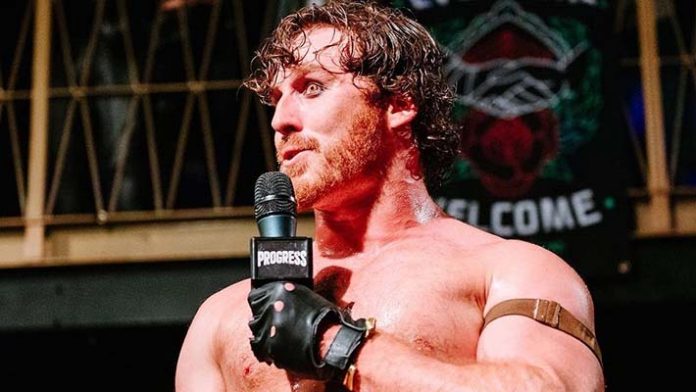 Charles Crowley has become one of the strongest characters on the British independent scene. A larger-than-life character full of solid, technical wrestling skills, Crowley had a fantastic year in 2022 where both his in-ring work and popularity with crowds grew from strength to strength.
In the lead-up to PROGRESS Wrestling's next event this coming Sunday, Chapter 148: Start Spreading The News, we spoke to Crowley about his love for the sport, his ambitions throughout the year and how important he thinks it is to be a character that elicits a response every time an audience sees them.
Charles, you're very popular across the British and European independent wrestling scene. How did your wrestling career begin?
Well, it's amazing to hear that I am popular across these fan bases as this only started last year. 2022 was a big one. And that's only the seeds being planted for this year.
But it all began in 2017 when I really felt like I could do that. I was watching RAW, and it was a backstage promo that inspired me. It was nothing technical, anything crazy in-ring, it was literally a backstage promo with R-Truth, who for me, has had one of the best careers going. The guy is a storyteller in and out of the ring. He can be funny, serious, and wow, he can go.
I watched how good R-Truth was, and I thought 'I could do this'. I was aware of lots of wrestling before that, WrestleMania 24 with Taker v Edge was my first, and I was hooked. I couldn't believe that people were cheering Taker when Edge was so cool. But they told stories, both through their amazing in-ring skill, but through their character, and that always stuck with me. But then that time I saw R-Truth, I thought  'Yes, I can do this'.
From there, I found some local wrestling schools, of which I found UBW in Hitchin, and I love them. They're my home promotion, and they've done so well, they've come on so much. But I knew nothing about the indie scene, so the production values, and the audience size, it was all new to me. So, after coming from an acting background, from early on, I wanted to bring a real form of solid production to anything I did. I did that through personality and to ensure that my character would stand out wherever I performed. And from there, I got more and more obsessed with the technical side of the sport.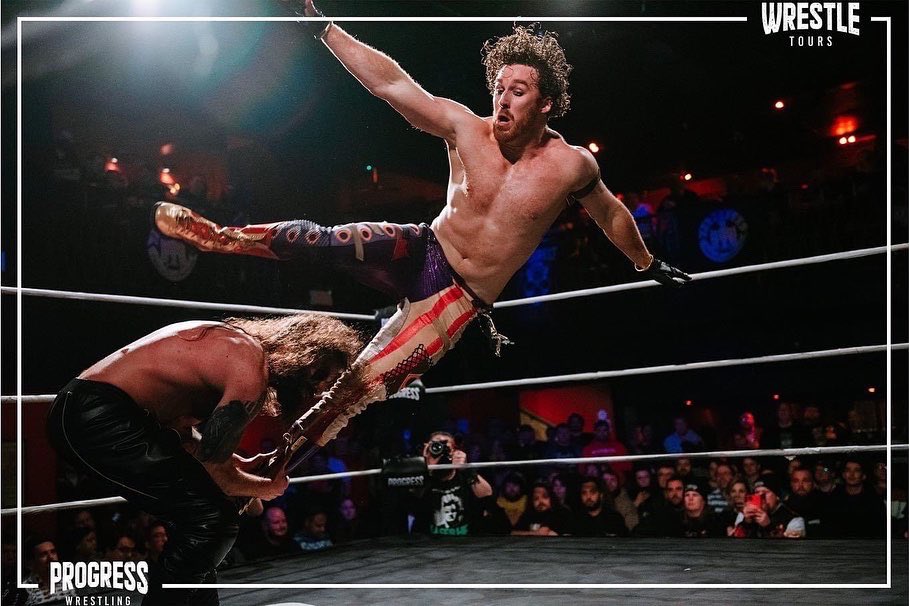 From seeing you at the first PROGRESS show post-pandemic, it was clear you stood out. You knew how you wanted to present your character and when you stepped through the ropes, you delivered. So, how important do you think showcasing a persona is to an independent wrestler?
I think it's invaluable. I honestly cannot stress this enough because in the first two years of my career, I was told to tone it down and for me to really get respect, I'd have to go out there and showcase a technical side. I understand that but without a character, how can you ever look to be at a level like the people you watched growing up?
Even if you choose to embody someone that is less flamboyant than Charles Crowley, you need to stand out. Ridgeway for example, he isn't flamboyant, he goes out there for one thing and one thing only, but he stands out. His character is to beat people up. So for me, character and showing yourself in a light that backs up your technical skills is so important.
What people want to watch is two personalities clash and the bigger they are, the bigger the anticipation to see them go. That's where the excitement and fascination comes.
PROGRESS Wrestling has been a place where you've put on some really good matches. How did it all come about working for the company and what have been some of your favorite moments there?
Well, I clawed and scratched and pitched myself to PROGRESS because I know my value comes from my creative brain. I'm a scriptwriter, an actor, so I knew I could bring something to the company as I loved what they had done and were doing.
They got in touch as they saw I had a nice, engaged following, a following I cannot be more thankful for. My followers are literally the best. So, at first, they got me on commentary, which I enjoyed, but wasn't where I wanted to stay. Hustle Malone was amazing and I learned a lot from him, but I wanted to go further and get in the ring and showcase my character to the best of my ability.
So, then I saw Elijah, who is so so good and I said to PROGRESS, get us together, we will benefit from working together and learn from one another. That went really well as we created a year-long story that we both came out of looking so much stronger.
Then I worked with Maggot and from the moment I met him, we clicked. He is fantastic. I get on with him really well as our minds think about wrestling in the same way. We know what we want and want to do things audiences do not expect. We brought our backstage chemistry into the ring, and it has been great and seems to go down well.
We tagged in France, and it was one of the best matches I've ever had. It's great as Maggot has said when in the ring with me, he feels so comfortable and I feel the same. So some of our stuff, like at Unboxing at the end of 2022 was great fun, and long may it continue.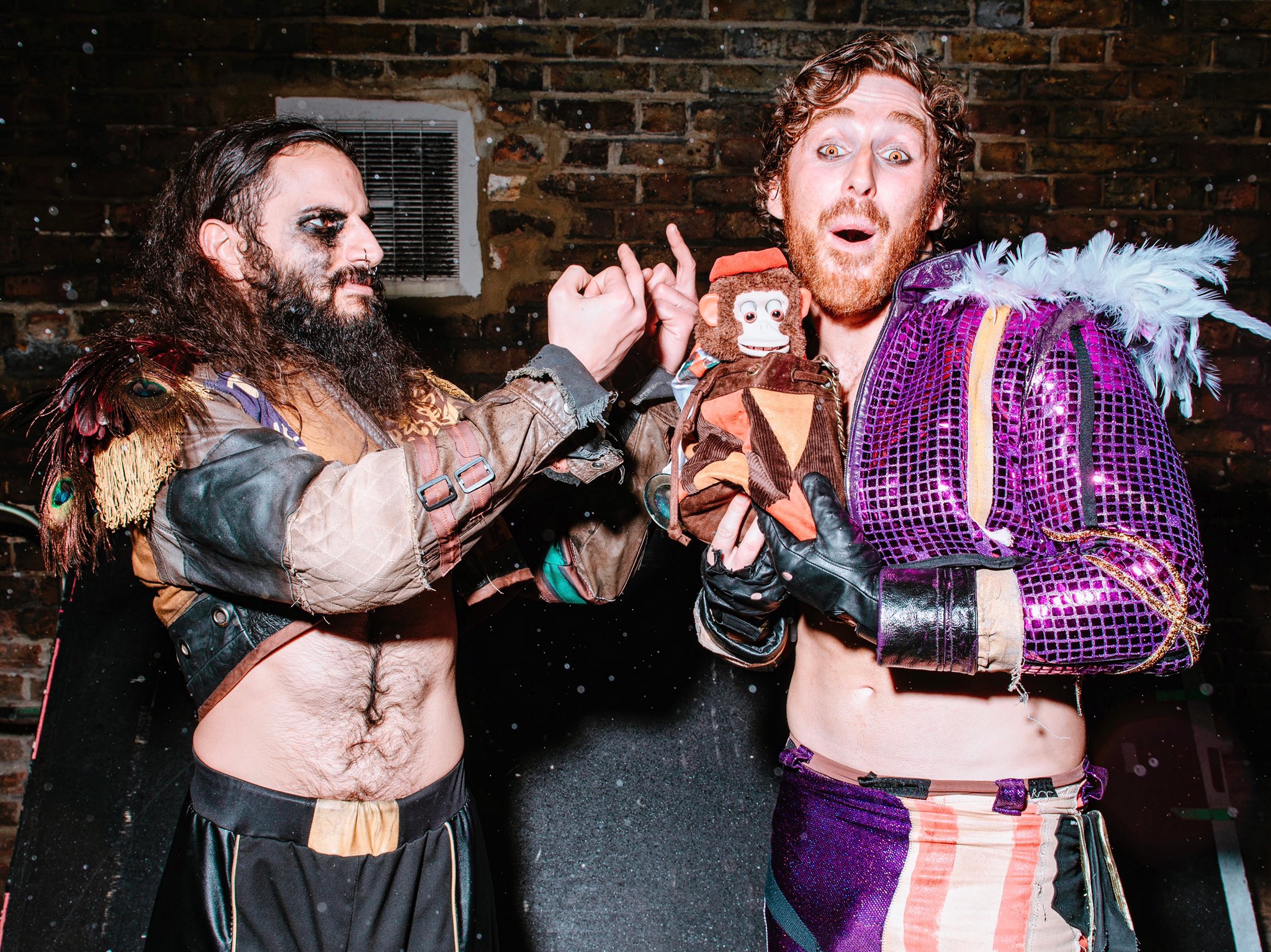 You've really made a mark in PROGRESS and other companies such as Wrestle Carnival, WxW, and Catch-Pro Wrestling. With your character so strong and with the ability to entertain, is a platform like WWE one you'd love to be part of?
Absolutely. I would love that. It's anyone's dream to be at WrestleMania and I'd like to think my character can deliver on the biggest stage. I also love Japan so much. DDT is a promotion I would love to work at, bringing something fresh, something new to audiences who will want to see me and never know what to expect from match to match.
I want to enjoy the journey and wherever it takes me. I'm loving being at PROGRESS now. The company has a great platform, great production values, the Ballroom and its lighting give me everything to really showcase my character in a great light, so I am very happy. Travelling the world, different companies, learning different things and picking up different titles is the dream, with WrestleMania being the biggest.
Right now, I, Charles Crowley am a very happy man!
Who can disagree with Crowley? He is entertaining, solid in the ring and has crowds in the palm of his hand. We at PWMania cannot wait to see what's next…hopefully, something at Chapter 148.
Tickets for PROGRESS Wrestling Chapter 148: Start Spreading The News are available here
Pictures: PROGRESS Wrestling