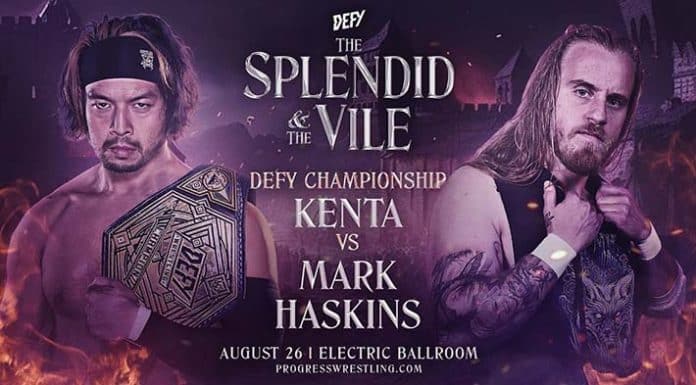 Thanks to Defy Wrestling for sending this in:
DEFY WRESTLING COMES TO ELECTRIC BALLROOM AUGUST 26TH PART OF BIG DOUBLE HEADER
SEATTLE WA – DEFY Wrestling, one of the hottest wrestling companies in the world embarks on Camden London, at the world famous Electric Ballroom on Saturday, August 26th. The special start time at 12:00PM (noon; gmt) gives everyone the opportunity to attend the PROGRESS event later that afternoon in the same facility.
DEFY is bringing its special brand of professional wrestling to the United Kingdom!
DEFY The Splendid & the Vile
DEFY WORLD CHAMPIONSHIP:
KENTA (c) vs. MARK HASKINS w/VICKY HASKINS
The prodigy Nick Wayne, and former DEFY World Champion represents the Pacific Northwest in the UK:
NICK WAYNE vs. KC NAVARRO
DEFY WOMEN'S WORLD CHAMPIONSHIP:
VERT VIXEN (c) vs. HYAN
DEFY WORLD TAG TEAM CHAMPIONSHIP:
THE BOLLYWOOD BOYZ (c) vs. SUNSHINE MACHINE
DEFY BMF PNW CHAMPIONSHIP vs. BULLET CLUB
SCHAFF (c) vs. GABRIEL KIDD
We will have a special pre-event meet and greet with all the wrestlers including KENTA
For tickets go to http://www.DefyWrestling.com