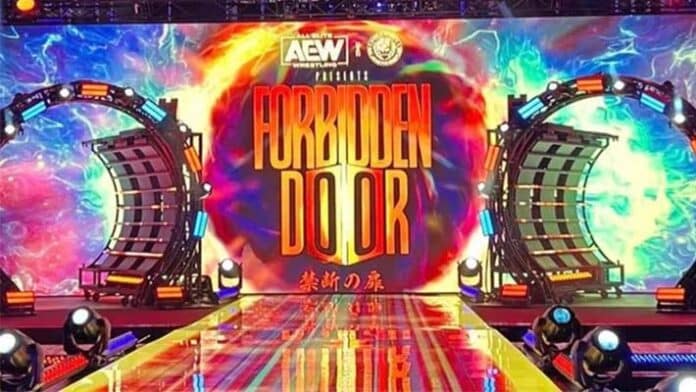 "Hold up wait a minute, Y'all thought I was finished"
– Meek Mill – "Dreams and Nightmares"
I remember where I was when Tony Khan first used the words "forbidden door" to describe working within promotions to create matchups once thought impossible – it was a concept only used for comic book movies like Enter the Spider-Verse.
The idea of interdimensional skirmishes almost always led to meetings we've never seen before, sometimes confusion, and then almost always descended into pure chaos. What's up Danger.
Back in 2021 when the concept of a "Forbidden Door" PPV event was first mentioned, wrestling fans salivated with anticipation of seeing a gateway materialize between wrestling organizations, no longer bound by antiquated contracts and bogus exclusivity agreements. The wrestling world would become less linear and more like Elden Ring or maybe the new Zelda game: a massive open-world experience where just about anything you can imagine is possible. A wrestling multiverse would exist where promotions don't act like other promotions don't exist… What a concept!
The first Forbidden Door PPV was amazing, as we saw matches such as Jon Moxley vs. Hiroshi Tanahashi, a massive 4-Way with Jay White, Okada, Adam Cole and Adam Page and my favorite, Will Ospreay vs. Orange Cassidy (side note, those two might just be my favorite wrestlers of 2023).
As we now approach time for a second Forbidden Door PPV, AEW and NJPW set it off with a HUGE announcement of Bryan Danielson vs. Okada, followed by Kenny Omega vs. Will Ospreay 2. These matches will be exceptional, but I fear that with so many other TV shows and storylines to advance, many fear that the excitement of Forbidden Door is marred by rushed or non-existent story progression and the fact that quite frankly, we're just running out of dream matches at this point. I think the concept will need some new blood before the idea gets stale before it even gets going.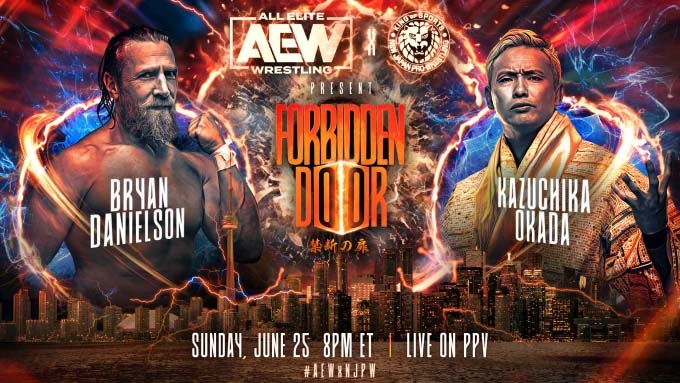 I know the show will slap, I have no doubts. I just want it to mean more than a night where Meltzer's stars get dropped like Pumpkin Bombs from the Green Goblin. A PPV full of great matches and not a lot of moments is forgotten quickly. With a new AEW show on the horizon, I just fear that there isn't enough TV time to give Forbidden Door the attention it deserves for a strong build.
The solution to that: send a few guys to Japan for run-ins or haphazardly thrown-together matches to increase visibility. The wrestling fan in me loves it. The 20-plus-year wrestling watcher in me though, is a little concerned. Seeing some of our favorites pop up on NJPW shows has been awesome, but I couldn't help but to notice that the AEW Dynamite and Rampage TV time hasn't been shared the same way. Yall gotta keep the same energy.
When Kenny had the Impact title, Rich Swann never appeared once on AEW TV to hype the match. Last year just one of the featured NJPW stars got a chance to appear on AEW TV leading up to the first PPV… it was Okada, and if I remember correctly, he didn't say anything.
Danielson and Omega's respective matches were first announced on a 3am US time live New Japan broadcast, and Danielson went right back to working commentary on BCC matches on Dynamite with little mention of the once-in-a-lifetime matchup that we're about to see.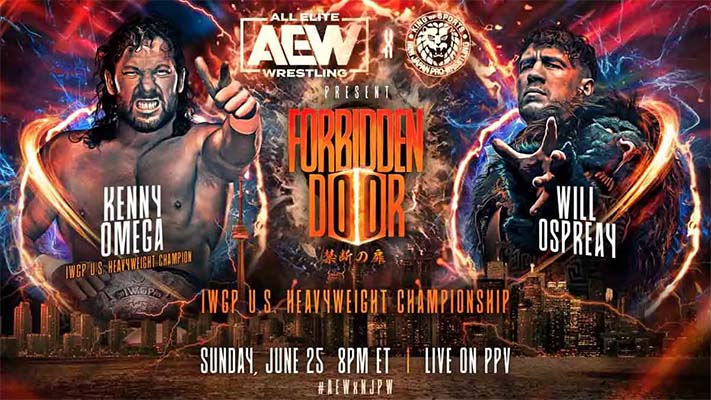 I've seen some chatter online about the lack of story or build for these matches and I'm kind of torn. There's a feeling from fans that TK and the team making the decisions at AEW are maybe taking for granted their audiences fandom and desire to just see great matches, while others say FEED ME MORE GREAT WRESTLING MATCHES. I can admit that AEW is for a different type of fan than WWE, but there are fans that tune in every week just because it's NOT WWE.
They love wrestling and want to see something different.
I enjoy PPVs because they're usually 2-3 hours of my favorite part of pro-wrestling…the WRESTLING. No storylines, love triangles, or long promos, just the graps. That's how I roll. But that's PPVs. Weekly shows are where the reason for the season happens, traditionally. If I get five-star dream matches weekly, there's less reason to get excited to spend $50 for more of the same. I do think something should differentiate a weekly show from the Pay Per View.
But every match may not need months of build-up. It's wrestling. The ultimate goal as a fighter is to be the best… and as Ric Flair said, "To be the man you gotta beat the man…" That's a story in itself. But that can't be every story. "I'm better than you" is an easy solution but loses value QUICKLY if it's the motivation behind every match on a 10-match card. It's worth taking the time to build a reason for us to care, even if it's just for one night.
What if The Watcher decided to step in and alter fate a bit, and Forbidden Door was more like Survivor Series where NJPW and AEW battled for "brand supremacy," no matter how silly that could be… or a prize, that would give a little importance to this show? Trinity is in IMPACT now. Who wouldn't love to see her and one of the AEW women cross paths? Most of the guys and gals have already jumped between AEW and NJPW, so it's not as big of a deal seeing them in the same ring. The Forbidden Door is now like the holes made by The Spot; just a bunch of really short-distanced portals that go to places we've all seen before.
Okay, I'll stop with the Marvel parallels. But it feels like a house show at this point. Great matches, no rhyme or reason, no reason to believe you're gonna miss something major if you don't tune in. We can fix it though!
After some thought, I feel like there are several ways to make the show meaningful beyond that one historic night. I don't like to use these columns for fantasy booking, but I have a couple ideas that might make the "Forbidden Door" concept more fun for everyone. Some are more practical than others, and some are just downright silly, I know. So here we go!
ADD SOME STAKES. (realistic? Yes)
Major League Baseball; for all its flaws and faults throughout history, has come up with a great way to make athletes care about what's essentially an exhibition game. At the All-Star-Game, the team that wins gets the tie-breaking advantage for their conference in the World Series. So if Forbidden Door borrowed that concept, maybe the scores could be tallied throughout the night, and the winning brand would get to send their top-scoring wrestler to Japan for a title match at Wrestle Kingdom or the other way around for All Out.
ADD A TRADE CLAUSE (realistic? Not really)
While I know that Danielson and Okada will tear the roof off, both men will return to their respective companies and feuds the next day as if nothing happened, and I think we need more. What if one promotion could pick one star from the other company, and that wrestler would have to be a part of the other roster for a year until the next Forbidden Door? Interesting, right?
DON'T ANNOUNCE EVERY MATCH AHEAD OF TIME (realistic? Yes)
Conspicuous in his absence last year was one of NJPW's most fascinating characters, Tetsuya Naito, who said in an interview that he didn't make the show because he wasn't asked to. That just seemed too ridiculous to believe. But he doesn't have a match yet this year, so maybe that will change..and imagine how hyped we'd be at an unannounced appearance. Goosebumps.
If you're not gonna give me a face-to-face in the ring anyway, why not just wait to announce it? Make it a moment! What if this year, there were 2 match spots they just left blank until the night of the show?! You wouldn't know until that person's music hit. That would make for a true surprise and huge pop.
LET THE FANS VOTE ON THE MATCHES THEY WANT TO SEE (realistic? maybe)
An old trick I used to do as a teacher is to let my students make the classroom rules on the first day. Granted, I sway them HEAVILY, but if you're good enough at your job, they don't even notice. We as fans are the same way. If we're not going to get a long build, and we're building matches from thin air, then why not put the power in our hands? Hold a voting system and let the people decide what they want to see! Make us choose from a list of say 10 people on each roster and let people put together the matches they want, and voila! We're invested.
BRING IN A THIRD PROMOTION (realistic? no)
So we can't get anyone from WWE..or anyone under a WWE Legends deal – I get that. But what if a hot free agent like Bray Wyatt or Drew McIntyre popped up..imagine the hype levels!
But on a more realistic scale: AEW does seem to have a relationship with IMPACT – there are quite a few cats there that would create interesting matchups with AEW guys. Trey Miguel, Chris Bey and Ace Austin, Motor City Machine Guns, Trinity, Mickie James, etc…. That already makes the pot a little more sweet.
I know we may have seen it before, but the idea of a "Takeover" where wrestlers buy tickets to the show and sit front row in street clothes is always exciting to me. Just have these guys show up and get busy. I'd love it.
I can't say that these will definitely work, or even that the concept as-is even needs work, I just am all about proactive measures rather than reactive ones. I stand firm that if the Forbidden Door show gets little effective tweaks every year, it can continue to be everyone's most anticipated Pay Per View Event.
Till next time, kids.
Ran
Mega Ran will be performing live at F1RST WRESTLING's WRESTLEPALOOZA in Minneapolis MN on June 18. Tickets are available at https://first-avenue.com/event/2023-06-wrestlepalooza/
What do you think? Share your thoughts, opinions, feedback, and anything else that was raised on Twitter @PWMania and Facebook.com/PWMania.