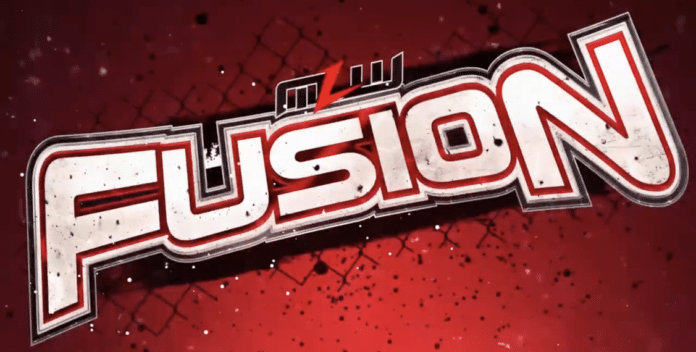 MLW Fusion Results – November 2, 2023
Kicking off this week's Fusion with a brief video from The Calling & they claim to be taking apart MLW piece by piece as we get highlights from that group rising to prominence and eventual war with 2nd Gear Crew.
World Titan Federation next Mr. Saint Laurent promises that whoever the MLW World Champion is after Alex Kane Y Jacob Fatu get done with each other will have to defend against Matt Cardona. In the long history of the MLW World Title has some good champions but no superstars or sports entertainers. Cardona wins the MLW World Title they're rebranding it the WTF Title. MSL then ends on a laugh.
A quick recap of last week when Alex Kane vs. Jacob Fatu was announced.
Mance Warner vs. Talon
Talon jumps Mance Warner at the bell and lays in stomps then a corner dropkick follows before Talon goes up top but misses a double stomp and Warner with some jabs then a Bionic Elbow.
Lariat from Warner then a headbutt then a spinebuster from Warner then a running knee to the face gets the win.
Winner: Mance Warner
A minor recap of Tony Deppen & TJ Crawford attacking Kevin Blackwood also Deppen is still suspended.
In the parking lot Matt Cardona arrives and MSL talks with him. MSL has a gift for Cardona because he's going to win the belt, and brings out a car. Cardona is quite happy and makes out with the hood. OK then.
We get a MLW World Champion Alex Kane promo & says Jacob Fatu used to be the baddest man on the planet before Kane arrived. But now it's suplex season he then yells Bomaye before we cut to somewhere in the parking lot and see that Mr. Thomas has been attacked.
Hype video for Tom Lawlor since he returned to MLW recently.
Lawlor & MSL are in MSL's "office" & MSL rants about twitter/X for a bit. Lawlor claims he can do anything. MSL wants to change MLW, no more death match goofs like Mance Warner & Lawlor will be leading the charge.
A video from The Calling next & World Tag Team & National Openweight Champions Rickey Shane Page says The Calling is always ready for a war and they'll make an example of the 2nd Gear Crew. The weak he looks at Akira will be made an example of.
In the back Jacob Fatu talks with Sam Laterna & Fatu is getting ready for the MLW World Title match. He isn't sure why Salina De La Renta made the match and Fatu talks about not trusting anyone right now. Ultimately that belt is coming back home. MSL crashes this and says Cardona will be waiting at One Shot for whoever the champion is then rushes off to a photo shoot with Cardona's new car.
Matt Cardona gets an interview with Sam Laterna & he puts over MSL for bringing him to MLW and knew all that Cardona can do for MLW. Kane & Fatu might be good but they're not Cardona and they can't do for MLW what he can. One Shot is in New York and he's the king of New York. No one has been counted out then come back more than him constantly he has to reinvent and win titles and at One Shot it'll be the same. Fatu, Kane, that criminal Don King, the cameraman doesn't matter no one can stop him. He's here for the MLW World Title that's it.
Brett Ryan Gosselin vs. J Boujii
Brett Ryan Gosselin attacks J Boujii while Boujii is taking off his shirt then stomps him in the corner and then plays with the crowd. Boujii fires some chops then rope running and go behinds eventually Boujii lands a flying forearm to drop Gosselin.
Eye poke from Gosselin then a running back elbow then some corner offense from Gosselin then a short arm clothesline for a 2 count then some mounted punches from Gosselin then he mocks Bomaye.
Jabs from Gosselin but Boujii counters with a Pele Kick before Gosselin grabs a sleeper hold but Boujii gets free only to eat a shoulder block.
Gosselin misses a Stinger splash then Boujii with a rebound German suplex then a clothesline from Boujii connects then a running neckbreaker for a 2 count.
Gosselin avoids a rush and sends Boujii to the apron then they fight over a suplex and Boujii tries a sunset flip but Gosselin sits on him in a rana pin and grabs the ropes for extra leverage to get the victory.
Winner: Brett Ryan Gosselin 
Outside in a tent Love Doug waits for Becca but winds up accosting a woman just walking by then Minoru Suzuki walks up slaps the crap out of Doug then glowers at the camera and stalks off.
Alex Kane walks around in the back yelling as he accuses random people wanting to know who jumped Mr. Thomas. Someone claims he knows it was Fatu, Kane walks off yelling about hoes and Bomaye as MSL pays off the dude who claimed Fatu attacked Thomas.
Salina De La Renta talks to the camera she's celebrating and claims last weeks got the best ratings for MLW then she promises that Featherweight Champion Janai Kai will be in action next week.
In the back security are separating Fatu & Kane then some guy comes up with a phone claiming it was Cardona & Lawlor who attack Thomas. Kane promises to beat those hoes and exits the scene.
The Calling attacks 2nd Gear Crew during their entrance but they fight back then Akira jumps onto the pile of bodies just before the bell rings.
World Tag Team Titles Tables Match
The Calling (National Openweight Champion Ricky Shane Page & Akira) (c) vs. 2nd Gear Crew (1 Called Manders & Matthew Justice)
Ricky Shane Page sets up a table on the floor as Akira with some bat shots to 1 Called Manders.
Matthew Justice attacks Akira as RSP tries to suplex Manders through a table but Manders fights that off.
RSP & Akira share a moment of tension despite being in control as we go to a break.
After the break RSP with a chair shot to Justice but Manders then fights him off and cracks him with the chair. Akira with some chair shots to Manders then he wraps a chair around the neck of Manders for a bit. Some more kicks from Akira to Manders.
Justice posts RSP then hits a Cactus elbow drop. Manders chops away at Akira but Akira slings him into the ring post. In the ring now RSP & Akira set up a table then argue about where it should be positioned then shove each other. Justice & Manders have chairs and toss them into the heads of RSP & Akira.
Some corner offense to both RSP & Akira including some avalanches then Cannonball makes his down to the ring and hits a double clothesline then a double avalanche in the corner to both Manders & Justice. Akira gets a chair now and wraps it around Justice's neck then RSP tries to throw a chair at Justice but Justice avoids it.
Akira sets up another table in the ring but Justice has a chair and whacks both Akira & RSP with it.
RSP throws a chair into Justice's head then on the apron now RSP & Manders fight and Manders tosses RSP through a table then Akira kicks Manders to knock him through another table.
Akira sets Justice on a table in the ring but Akira takes a bit too long and he & Justice head up top. Justice tries a slam but Akira grabs at a modified Octopus Stretch then we get either a slam and both men go through the 2 tables at about the same time & the ref calls for the bell.
Winners: No One (No Contest) (The Calling retains)
After the match Manders lays out the ref with a lariat as Cannonball makes his way back down and we've got more brawling but there's 3 members of The Calling. Mance Warner shows up to make the save for the 2nd Gear Crew as security show up now and we've got more brawling from both groups now. Eventually 2nd Gear Crew get a mic in the ring. Warner says they're never done fighting, they get paid to commit felonies in this ring. All those freaky masked boys want to try and put them down well they don't have what it takes to put down guys like the 2nd Gear Crew. Warner wants beers and then says Justice & Manders got robbed by that ref. They've broken everything in the building but they don't have gold yet and Warner hands the mic to Justice. Justice says the next time they cross paths with The Calling they want a new level of violence, they want everything The Calling has and a Ladder Match is hinted at.
In the back Cardona is warned that something happened to his car. Alex Kane walks up on Cardona claiming they've got problems but then we see Fatu drive off in Cardona's new car.
Fightland Card (Nov 18th)
MLW World Title Match
Alex Kane (c) vs. Jacob Fatu
Tag Team Lucha Rules Match
Middleweight Champion Rocky Romero & Barbaro Cavernario vs. Mascara Dorada 2.0 & Ichiban
Loser Leaves MLW Match
Matt Cardona vs. Mance Warner