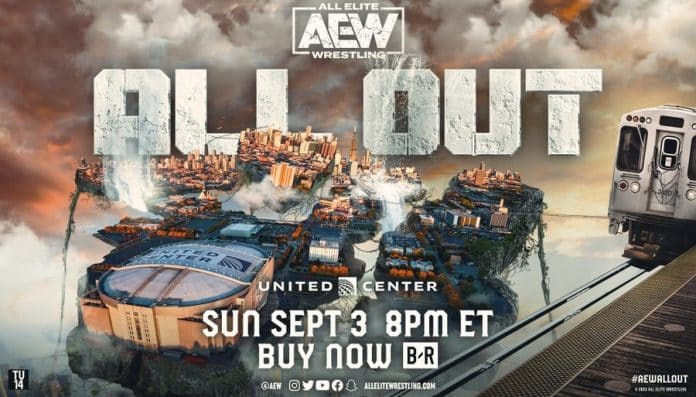 After a very tumultuous week for All Elite Wrestling, they presented their second pay-per-view within that same span of time, with All Out in Chicago. Truth be told, I had very low expectations for this card, based on how it looked on paper, as well as the lack of build up with only a week between PPVs. I plan to discuss CM Punk's exit for the organization in an article of its own, but I'd like to wait a few days to see how much more information comes to light to be able to give as accurate of an assessment as possible on the very complex story.
The event opened with MJF and Adam Cole, the two performers that worked the main event last Sunday for the AEW world championship, defending the ROH tag titles against the Dark Order combination of Jon Silver and Alex Reynolds. Aside from the fact that the ROH belts are meaningless in AEW, something that was underscored when both Samoa Joe and Claudio were pinned last weekend on pay-per-view, one of the reasons that All Out lacked any major importance on paper was because the AEW world championship wasn't on the line for the event. If anything, the championship and the champion, MJF were almost an afterthought on this card since he was involved in the opening match of a nearly four-hour PPV. Again, aside from the fact that the ROH tag belts have zero cache so it didn't present the bout as if something was at stake, The Dark Order used in this spot was almost laughable. Don't get me wrong, Silver and Reynolds are decent in-ring workers so it's not a jab at their skills, but rather the status of their characters in the company. The Dark Order are secondary comedy characters that are rarely on television so why would they be seen as credible challengers? Sure, they kicked it up a notch and appeared to turn heel during the course of the contest, with a more serious edge to their work, but that should've been something that was established before the pay-per-view. If it was given time to develop and build then they could've been some level of substance to a new chapter in their careers, but it just doesn't gel when the same guys that were B-level comedy characters are randomly shoehorned into a role as dastardly villains without much explanation. At the very least, this was a prime example as to why there shouldn't have been two pay-per-views in the span of a week. MJF and Cole retained, but this was mostly cannon fodder, despite the world champion's involvement in the match.

Samoa Joe vs. Shane Taylor was a slug fest and the physicality added something unique to the AEW production, which often has too many recycled or overdone cliches of the high spot style. I've said for years that Shane Taylor is money, and I still think he could have a very bright future somewhere, particularly for a promotion in Japan. That said, more or less nothing was done to make this match more than a TV bout because the vast majority of the AEW audience wouldn't have seen Shane Taylor recently. Yes, he had a very successful stint in ROH before the company was sold to Tony Khan, and yes, he advanced in a tournament to get a title shot on the Honor Club streaming service, but that still does nothing to establish him to the AEW fans. A few months ago, Tony mentioned that Honor Club had roughly 12,000 subscribers, and if that's profitable for him then that's great, but those subscriptions are a minuscule amount in the grand scheme of things. Even one Dynamite appearance from Taylor could've given this match more context, but the booking missed the mark in terms of hyping the match. Joe looked a little winded during a portion of the contest so prehaps he worked through some injuries. Joe is one of my favorite performers, and undoubtedly one of the best of his generation, but it must be said that his weight gain at various points through his career affected his in-ring work. Joe is a major asset to the organization so it'd be disappointing if minor injuries would limit him at this point in his career. The finish with the submission that saw Samoa Joe retain the ROH TV championship was sudden and a little flat, but this was definitely an entertaining bout. Hopefully, Shane Taylor gets more exposure than just the ROH brand because he still has the potential to be a star somewhere.
The TNT title match was really solid, and Darby Allin took some ridiculous bumps early in the match. At one point, he took a German suplex and it looked like he landed on his head. This was the classic David vs. Goliath narrative, and Allin made the champion look like a monster. Luchasarus' offense looked brutal in this contest. Christian worked well outside the ring to set up for the finish where he attacked Nick Wayne and that allowed for the distraction that gave Luchasarus the victory. The only problem that was obvious in this segment is that Luchasarus needs to change his gimmick, as the wrestling dinosaur is too much of a typical fun baby face character to be effective as a heel. That's not to say that he needs to be completely repackaged, but a name change and some slight alternations to the mask could better reflect a heel persona. That being said, this was probably one of the best performances of Luchasarus' career.
The Miro/Powerhouse Hobbs match was physical, but not quite as stiff as Samoa Joe/Shane Taylor earlier in the night. The first half of the match was probably better, as the latter portion became more about the crowd with silly "meat slapping" chants than the action in the ring. Miro won and then Hobbs attacked him to get some heat back before the debut of CJ Perry, the former Lana in WWE. For whatever reason, Miro left the ring, seemingly to reject his real-life wife, but that narrative won't get over, especially because the fans know about their real-life relationship. If anything, if they reunite on-screen, it could help rejuvenate Miro's career, which stalled after he had an extended hiatus from the organization.
The TBS title match was fine and seemed to pick up in the latter stages of the segment, but was more like something you'd watch on Rampage than on pay-per-view. Despite the skills of both of these athletes, this contest lacked any importance, simply because the TBS title hasn't had any spotlight since Jade Cargill dropped it to Kris Statlander. Furthermore, there was a conflicting narrative being told, as The Outcasts are heels, and Toni Storm, who is also a heel, cost Ruby Soho the match. That doesn't exactly make Statlander look like a strong champion.
The strap match was tremendous and quite possible the best match on the show. It was a physical segment that added to the quality of the match, with an emphasis on not only the selling ability of both performers, but also their willingness to take punishment to take the bout to the next level. There were welts on both competitors, and on a pay-per-view that overdid blood, this contest made it count. The intensity during the strike exchanges in the match was an example of what can be accomplished when that type of spot is done right. Perhaps, the biggest takeaway from the entire segment is how much of an MVP Bryan Danielson truly is, not only to AEW, but the entire industry. The American Dragon was still healing from a broken forearm and had been away from the ring for two months, but didn't miss a step when the company needed a quality performance, particularly based on the circumstances of CM Punk's exit. Furthermore, despite the defeat, this performance elevated the status of Ricky Starks within AEW. He didn't get the push he probably should've gotten prior to this, but Starks proved he could be a main event guy for the promotion.

The Blackpool Combat Club vs. Eddie Kingston and Katsuyori Shibata was fine, but again, similar to other matches on the card, this seemed more like a TV match that something you'd expect on pay-per-view, which was probably another example of what happens when there's not a proper build for an event. I understand that Claudio and Kingston have a rivalry, but Shibata randomly added to the bout didn't do much to boost the contest. It's not as though Kingston and Shibata had a prior alliance or that the Japanese star is regularly featured on AEW programming. The Blackpool Combat Club got the win, but on a weekend with multiple pay-per-views and the headlines of CM Punk's firing, this tag match was forgettable.
Konosuke Takeshita vs. Kenny Omega was a great match, and the top quality of that style of pro wrestling. These two did all the little things to make the most of the action, and that's something that so many on the AEW roster overlook. This bout had a high impact and fast-paced style that didn't look overly choreographed. Omega took a brutal suplex and it looked like he landed on his head. After nearly thirty minutes, Takeshita got the win and it was a wise decision because he has all the skills to be a top guy in the company.
The eight man tag team match had a lot of action, but for the third time on the show, this was more of a TV match than a PPV bout, primarily because there wasn't much explanation given as to why The Young Bucks and FTR would work together after The Bucks refused the post-match hand shake last week. If anything, this was another contest on the broadcast that looked to be more of a way to get as many wrestlers as possible on the card than anything that is designed for a payoff. Again, there was a lot of action, but when it was after 11 PM during the course of a nearly four-hour show, it became a somewhat tedious viewing experience. Bullet Club Gold got the victory, and it would be wise to continue to put Jay White and Juice Robinson in more featured spots since they are such quality workers.

The main event was fine, but nothing too memorable or spectacular. Maybe it was because it was the conclusion of almost eights hours of wrestling in the span of two days or the fact that a few other wrestlers already bladed on the pay-per-view, but there just wasn't anything that stood out about this match. Granted, it's become a joke about how often Jon Moxley bleeds, but it's getting to the point that his matches are the same basic matches that are rather predictable. Moxley won the title, but I'm not sure it means that much in the grand scheme of things of the company.
The success of All Out really depends on what you expect from a pay-per-view, considering that the show probably exceeded expectations, but there was such a low bar ahead of the broadcast, which isn't exactly a positive aspect of the product. In some respects, it was somewhat of a mixed bag because the matches that were PPV worthy were great, but anything else was more or less a TV match. That being said, I'd say that this event gave the fans their money's worth with Danielson/Starks and Omega/Takeshita at the pay-per-view.
What do you think? Share your thoughts, opinions, feedback, and anything else that was raised on Twitter @PWMania and Facebook.com/PWMania.
Until next week
-Jim LaMotta
E mail drwrestlingallpro@yahoo.com | You can follow me on Instagram, Facebook, & Threads @jimlamotta89