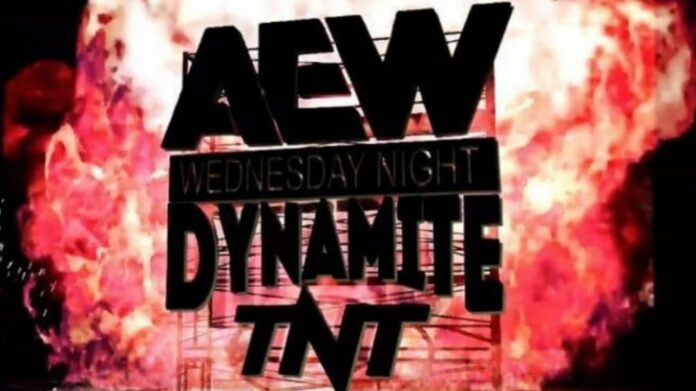 AEW Dynamite Results – March 11, 2020
It's Wednesday night and it's time for this week's AEW Dynamite. We're in the Maverik Center in West Valley City, Utah. Our announcers are Jim Ross, Excalibur and Tony Schiavone and we start with a recap of last week.
We start with Adam Page talking with Tony Schiavone, who is needing a tag team partner since Kenny Omega is out injured. The Young Bucks enter, and Page says he would never team with Matt, says he might team with Nick, but instead, he will have a mystery partner later tonight.
Then, in the Arena, it's Ortiz on his way to the ring with Santana. The lights dim, the chandelier goes up and Cody is on his way to the ring with Brandi and Arn Anderson.
Cody vs. Ortiz
They begin by running the ropes and the sequence ends with Cody hitting a drop kick. Cody follows up with a power slam and a two count. Jake Roberts walks through the crowd with Jake Archer. In the ring, Cody was distracted and Ortiz takes over the match with strikes and then clotheslines Cody out of the ring. They brawl outside the ring until Cody tosses Ortiz into the ring steps. Ortiz is tossed into the ring, Cody follows by putting Ortiz on his shoulders, dropping and then pinning Ortiz for another two count.
Cody puts Ortiz in a leg hold which Ortiz breaks by getting to the ropes. Ortiz comes out of it and gets a few strikes before Cody hits the drop down uppercut. Ortiz distracts the ref and Santana grabs Cody's leg, allowing Ortiz to kick Cody's leg out from under him. Ortiz then drapes Cody over the rope for a choke. Cody tries a move off of the turnbuckle, which Ortiz reverses and keeps control. Cody is tossed outside, and as Ortiz distracts the ref, Santana attacks Cody's injured leg.
Ortiz tosses Cody back in and hits a splash and a cover for a two count. Ortiz keeps working on Cody's leg while Lance Archer and Jake look on. Ortiz keeps working over Cody and when they go to run the ropes again, Cody is able to hit a forearm and an overhead suplex. Cody pushed Ortiz into the corner and pounds on him. When Ortiz drops to the mat, Cody whips off his belt and tosses it into the crowd.
Cody climbs to the top, Santana gets on the apron to distract the ref, and Ortiz knocks Cody from his stance on the top to hit the turnbuckle crotch first. After posting to the crowd, he goes in to attack, and Cody is able to throw him off. Santana grabs Cody's leg to stop the attack and Brandi nails Santana with his belt. Ortiz climbs up to stop Cody, hits a superplex and pins Cody for a two count. Cody kicks out and Santana starts to get in Arn's face. Santana gets hit by a Topei by Cody. Ortiz attempts a second Topei, but Cody catches him and gets a front suplex by Cody.
Archer looks like he is about to jump the rail, but Jake stops him. Cody tosses Ortiz into the ring, but when Cody gets in, Ortiz hits his injured leg with a drop kick and grabs him for a fisherman's suplex. This is followed a two count by Ortiz. They are up, and run the ropes. Ortiz tries a roll up, but Cody rolls through and sets up for the crossroads. Ortiz hits Cody in the head with a knee to escape. The battle in the corner and Cody hits a dragon screw through the ropes on Ortiz.
Cody keeps working over Ortiz's leg and then locks Ortiz in the figure four. Ortiz attempts a roll over, but Cody counters, and Ortiz submits to the figure four.
Your winner: Cody
After the match, Santana hits Cody with the Madball, and Arn comes into the ring. Before Santana does anything, Matt Jackson and Kenny Omega run them off.
Chris Jericho comes onto the screens and explains he will be beating them up next week, and Nick Jackson is laying prone behind them. Nick is pinned under a rolling door and the Inner Circle members leave as the Elite show up to pull Nick out from under the rolling door.
It's commercial time as we show Nick being stretchered out on the small screen.
We get a rundown of the matches coming up tonight.
First out is Kris Statlander and she is followed by her tag team partner Hikaru Shida. After they get to the ring, it's time for their opponents, Bea Priestly is first out and she is followed by the Champion, Nyla Rose.
Bea Priestley and Nyla Rose vs Kris Statlander and Hikaru Shida
Starting the match is Nyla and Bea rushing their opponents and taking them out. In the ring is Nyla and Shida, and no matter what Shida does, Nyla doesn't move. Nyla hits Shida with a clothesline, and then hits a slam and a leg drop onto Shida for a two count. Nyla tags in Priestly who takes over the assault. As Priestly keeps up her attack, we are told we will get an interview between JR and Mox, who is not medically cleared tonight.
Nyla tags in and maintains control. Nyla closes her attacks with a vertical suplex and gets a two count on Shida. Shida tags in Statlander and they go to the small screen and we get commercials.
When the match goes full screen, Priestly has Statlander in a submission hold, but Statlander powers her way out. Priestly stomps on Statlander before she can make it to her corner. Statlander is able to grab Priestly from the top and gives a back breaker to swing the match to her side. Statlander drags Priestly to her corner, sets her up on the second rope, tags in Shida, and Shida suplexed Statlander into Priestly. Shida gets a two count and the crowd chants Holy Shida. They trade strikes, knees and kicks in the middle of the ring until both are on the mat, struggling to tag.
Priestly gets to her corner first and Nyla knocks Statlander off the apron to prevent the tag. Nyla then stomps down Shida and and hangs Shida on the top rope. Nyla sets up the guillotine leg drop, but Statlander pulls Shida out of the way at the last second. Shida hits a missile drop kick on Nyla and then Statlander comes in so that they can both kick Nyla. Nyla hits the mat and the Shida covers for a two count.
Shida attempts to pull Nyla up for a brain buster, but Nyla tries to fight free. Shida hits an Insigiri, and follows it up with a slam for a two count broken up by Priestly. Statlander comes in and dumps out Priestly. Statlander attacks Nyla, but Nyla takes control with a clothesline. Nyla pulls Shida onto her shoulders, but Shida counters, then nails Priestly with a superplex. Nyla has had enough of this, and takes out Shida with a spear and then hits a beast bomb to pin Shida for a three count.
Your winners: Nyla Rose and Bea Priestly.
After the match, Priestly attacks Nyla rose, grabs the belt and then tosses it an the prone Nyla Rose.
We get an update on Christopher Daniels with the Dark Oder from the last few weeks. We then get a video from Christopher Daniel that says Screw the Dark Order. He runs them down stating the SCU is in control, and explains how poorly the Dark Order does. Daniels states there is no Exalted One. He challenges Evil Uno and Stu Grayson to singles matches and when no Exalted One shows, we'll see it's a myth and we go to commercial.
Poor Anthony Pires, his team is being challenged.
When we get back, the Butcher and The Blade come to the ring with The Bunny, and they are followed with MJF and Wardlow. Next out are Jurassic Express.
Butcher, Blade, and MJF vs. Jurassic Express
If you've read these before, you know what this match will cause. BULLET POINT TIME.
Starting the match are Marco Stunt and MJF. MJF takes him time in taking off his jacket for the I Pinned Cody shirt. Marco is tossed to his corner by MJF
Marco tags in Luchasaurus and MJF tries to beg off until Butcher and Blade can come in and attack.
All three of the heels work over Luchasaurus in the corner with quick tags.
They work over Luchasaurus's leg until MJF hits a Dragon Screw for a two count.
The heels go back to quick tags as we go to picture in picture with the heels continuing their beat down in the small screen.
We get back to MJF holding Purchasers in a modified figure four with Butcher and Blade helping.
Luchasaurus fights back to his corner against Blade and Marco was taken out during the break.
Luchasaurus drags MJF and Blade across the ring and then tags in Jungle Boy Jack.
Jungle Boy cleans house
They set up for Butcher to attack Jungle Boy, but Marco leaps on top of him, and while he is keeping Butcher busy, Jungle Boy kicks the other two members of the team off the apron.
Marco tries a Topei, and gets caught, and Jungle Boy leaps onto them and takes out the heels. This is followed by Luchasaurus hitting a diva onto all three.
MJF is tossed in the ring and Luchasaurus hits a double choke slam on MJF and Blade.
Butcher tosses Marco into Jungle Boy who falls onto Luchasaurus to break up the pin.
A showdown between Butcher and Luchasaurus.
Butcher takes down Luchasaurus with a clothesline.
Marco is tagged in with MJF. Marco stomps on MJF in the corner to the delight of the crowd.
Bunny distracts Jungle Boy so that Blade can knock him off the top.
Luchasaurus gets tossed into the ring steps by Wardlow
Marco locks Marco into Salt of the Earth and Marco taps.
Your winners: MJF, Butcher, and the Blade.
We get a recap of the Darby Allen vs Jericho and Sammy Guevara match from last week.
We cut to video of Sammy in a Jericho mask and a body bag with a Sammy figure in it. Darby takes off in a spray painted car with the Sammy figure being dragged behind.
Back in the arena, Tony introduces Britt Baker.
She heels Utah and brings coffee for Tony. She says that Utah much be filled with sugar for the people with high BMI and poor oral hygiene. She then says everyone looks the same, like it's a family reunion. She gives people a pep talk that they can have jobs like janitor and plumber. She is here to be a role model.
The crowd boos her a lot, and she thanks them for their standing ovations.
Big Swole comes out and two minutes later than she should have, She gets in Britt's face and Brit hides behind Tony. Britt says the only person in Swole's house people care about is her boyfriend and Swole says she is married. The coffee goes into Swole's face and Britt runs off.
I don't think the "comedy" timing could possibly have been worse.
It's commercial time. During the commercial, Joey Janela enters the ring on the small screen.
As the wrestling takes up the screen again, Private Party is coming to the ring. Next out is Death Triangle, Pac and the Lucha Brothers. The two teams are in each other's faces before the bell.
Private Party and Joey Janela vs Death Triangle.
The match starts with Cassidy and Pac facing off with Pac staying in his corner. The Death Triangle then charges their opponents, and taking them all down. In the ring, Pac and Cassidy start to run the ropes and it ends with Cassidy getting an arm drag on Pac. Pac drives Cassidy into his corner and then tosses Cassidy into the Death Triangle corner. Fenix is tagged in and Cassidy tags in Quin.
Private Party double teams and then hits the Silly String on Fenix. Fenix rolls to his corner and tags in Pentagon. Quin tags in Janela. Janela hits moves from the turnbuckle, they then run the ropes and Janela messes up by playing to the crowd and is hit be Fenix who comes in. This brings in Private Party and Death Triangle ends up being all tossed from the ring. Janela leaps from the top onto all three and we go to commercial.
In the small picture, Private Party tries to keep control, but Death Triangle is able to assert control and begin the beat down of Cassidy.
When we get back, the Lucha Bros are in control of Cassidy. They toss him to their comer, and he hits a stunner on Pac, evades the Bros and tags in Janela who cleans house. Janela hits a leaping head butt through the ropes onto Fenix. Janela tags in Quinn who hits a rana from the top and Janella grabs Fenix in mid-air for a Death Valley Driver. Cassidy climbs up and hits a Senton Atomico, and Quinn hits a shooting star press. He covers Fenix for a two count, and it's broken up by Pentagon, who drags Fenix to their corner for a tag.
Pentagon hits Quinn with a sling blade. Death Triangle triple team Cassidy with a series of leaps and stomps from the top ropes and Fenix pins Cassidy for a two count only. Pac is tagged in and nails Cassidy with kicks and finally suplexes Cassidy into his own corner when Janela tags in. Janela is able to toss out the Bros, but Pac hits Janela with a kick. Janela holds Pac on his shoulders and each member of Private Party uses Pac to get height as they leap out of the ring. Janela hits a Death Valley driver on Pac, then a Janela drop for a two count.
Pentagon hits Janela with a boot, Fenix nails Janela as well. The Bros hit Janela with a assisted package Pile Driver. Fenix takes out Private Party outside the ring to a Topei, and Pac hits a Black Arrow for the three count on Janela.
Your Winners: Death Triangle.
They drag in Private Party and hooks them all together for a interlocked move called a Death Triangle. Best Friends hit the ring to drive off Death Triangle.
They jawjack each other as we go to Lexi in the back with Dustin Rhodes. Dustin is in his gear and he is pissed off. Someone needs to step up to face the Inner Circle, and he's volunteering to be Adam Page's partner.
Commercial time!
We come back to some videos for people wanting to be Shawn Spears tag Team partner. We get a run down of next week's show, including the first appearance of The Exalted One. They give the rules of War Ga…um…Blood and Guts.
Earlier Today, JR spoke with Jon Moxley and it's time for the tape.
JR states that Mox is not cleared to be at the arena. Mox is angry and won't talk about his injuries. JR asks how Mox deals with being told he has no chance against the Inner Circle. Mox challenges Hager to a fight. JR asked what his plan for Blood and Guts. Mox survived their attack and he's in the Inner Circle's blind spot.
Commercial time!
It's main event time!
Coming to the ring at this time, it's Chris Jericho with the rest of the Inner Circle.
Jericho enjoys the crowd singing his entrance music until Adam Page comes to the ring. Who will be the mystery partner since there has been no communication between him and Dustin.
Dustin Rhodes comes out with QT Marshall and Brandi. Page is arguing with Dustin but this is our team.
Chris Jericho and Sammy Guevara vs Adam Page and ….Dustin Rhodes
We start with Jericho and Page, but Jericho tags in Sammy. Sammy takes chops from Page. Page tags in Dustin and they take turns giving Sammy clotheslines until Sammy gets pinned by Dustin for a one count. Dustin tags in Page who gets pulled from the ring by Sammy, where he is surrounded by Santana, Ortiz and Hager. Page gets up on the apron, and Jericho hits Page with a leaping kick from the outside.
Jericho grabs a beer from the crowd and says he's a cowboy. Page hits Jericho,. Grabs the beer, takes a big drink until Sammy nails him from the apron. Page is tossed into the ring and Jericho starts working over Page. He and Sammy double team Page, but Page hits a snap suplex into Sammy and tags in Dustin. Dustin works over Sammy and ends the sequences with the spinning power slam.
Dustin works over Sammy in the corner, stop Jericho from attacking, but Sammy uses the distraction to hit a drop kick and a two count on Dustin as we go to commercial. In the small screen, Dustin gets worked over on the outside by the Inner Circle.
When the screen grows back to normal size, Sammy and Jericho are double teaming Dustin. Sammy and Jericho pose for the crowd and Dustin starts to rally. Jericho starts slapping Dustin and goes for a LionSault and Dustin gets his knees up and struggles to his corner. Jericho tags in Sammy and Page beats the living crap out of Sammy. Page hits a fall away slam on Sammy, leaps on to Jericho outside, and then comes in and hits a sliding lariat on Sammy for a two count.
Sammy reverses things with a hook kick, tags in Jericho who chops away at Page. They battle on the Apron, Jericho gets tossed to the mat, Page climbs to the top with Dustin. Dustin leaps onto Sammy and Jericho in the ring, Page leaps onto the Inner Circle on the outside. Page tries to attack, but Jericho catches him in a Lion tamer. Dustin breaks it up and Sammy climbs to the top as Page waits on the mat.
Sammy tries a shooting star, and Page ,moves out of the way, Sammy lands on his feet, and Page preps for the buckshot lariat. Jericho pulls Page off the apron and then tosses Page toward the ring. Page comes back and nails Jericho into the barricade. Inside the ring Dustin hits a destroyer on Sammy, Page follows with a buckshot lariat and gets the pin for the three count.
Your winners: Page and Dustin.
The Inner Circle rushes the ring and attacks, and Kenny Omega comes from the back to help out. Eventually, the take down Kenny and the beat down continues. Cody rushes the ring and fights until Jake Hager takes him out. Cody takes a suplex on the ramp from Ortiz. Jericho starts directing traffic for an attack on Page, dragging him up the ramp.
They take Page to where Mox was thrown through a table last week. Matt Jackson comes out to break up the triple power bomb. Matt and Page come face to ace and Matt flips off Page and Jericho nails Matt with a chair. Page is taken out by Jake Hager and they pose to give a preview of Blood and Guts next week as we go to a Transformers movie.
Credit: PWInsider.com