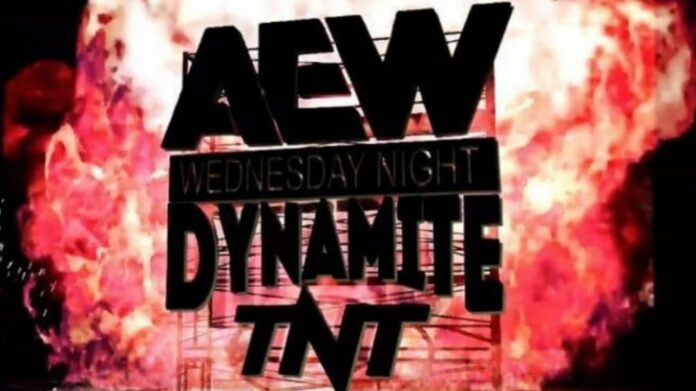 AEW Dynamite Results – October 7, 2020
It's Chris Jericho's 30th Anniversary celebration, live from Daily's Place in Jacksonville, Florida!
We open up with a collection of AEW stars, including Darby Allin, Jungle Boy, Britt Baker, The Inner Circle, Scorpio Sky and more discussing Jericho's career and its importance. Jericho's tag bout will close the show.
Tony Schiavone, Jim Ross, Excalibur are your announcers, joined by Taz and Ricky Starks. They run down the lineup for tonight's show.
FTW Champion Brian Cage vs. Will Hobbs
The two big beasts go at it hard early on, muscling each other and trying to test the other's power. Cage shoulderblocked Hobbs down. Hobbs fired back and went for a suplex but Cage escaped. Hobbs caught Cage in the corner with a series of right hands. Cage smashed Hobbs into the buckles and nailed a series of shoulderblocks. Hobbs fired back but was kicked by Cage. Cage smashed him with a dropkick. Cage elevated and tossed Hobbs backwards, then hit a standing moonsault press for a two count.
Hobbs came back with a back suplex for a two count. Hobbs nailed a series of clotheslines and a jumping shoulder tackle. Hobbs caught him with a big powerslam and went for a double underhook suplex but Cage escaped and tried to muscle him up. Hobbs escaped and nailed a sit-down slam for a two count. Cage caught Hobbs and nailed a pumphandle into a face-first slam to the may. Cage nailed a F5 but Hobbs kicked up at the last second.
Cage nailed a German suplex but Hobbs popped up and nailed one of his own. Both men were out after a big clothesline and were both almost counted down on the mat. Hobbs peppered Cage with a series of forearms. Cage fired back with some big kicks but was caught with a big spinebuster for a close two count. Hobbs missed a top rope frog splash, setting the door for Cage to nail the Drill Claw and scored the pinfall.
Your winner and still FTW Champion Brian Cage!
This was fun while it lasted as it was two big monsters battling it out and felt different from the usual AEW action junkie fast-paced aerial style. Hobbs has a hell of a back story, including dedicating his career to his brother, who was shot and killed protecting him.
Taz took the mic and called out Hobbs. He told Hobbs he was impressive. He didn't win but he was impressive. He was given the option to join Team Taz right now or turn it down and Ricky Starks and Brian Cage beat him down. Darby Allin's music hit and he ran out with his skateboard before Hobbs even had a chance to answer. They backed out of the ring. Taz told him that real soon, he was going to learn not to stick his nose in Team Taz business.
They aired a video from Guns N' Roses' Slash putting over Jericho's anniversary. This was followed up with messages from Dennis Miller, New Japan's Hiroshi Tanahashi (which will get a lot of people talking), his father New York Rangers great Ted Irvine and Bully Ray.
After commercial, we go to a video with Lance Archer and Jake Roberts talking about Archer challenging AEW Champion Jon Moxley at the anniversary show. Moxley has been playing around with Eddie Kingston and the Butcher. They are badasses but they are not Lance. He's going to take his time and take out Moxley next week.
AEW Tag Team Champions FTR with Tully Blanchard vs. Hybrid2
They showed a pissy-looking Young Bucks watching on monitors.
Jack Evans got caught up going over the ropes but scrambled to rebound and nail Dax. H2 controlled the bout until Tully Blanchard distracted the referee. Evans was knocked off the top to the floor, leaving him easy prey for Dax, who worked him over on the floor, then smashed Evans' knee into the ring post. They continued tormenting Evans during the commercial break. Evans almost fought to his corner for the tag but Cash Wheeler cut him off and smashed his knee into the mat.
Evans kept getting cut off every time he went for the tag. Dax turned him into a single-leg Boston Crab. Evans finally breaks free and Angelico looked great, including locking in a double lucha submission on FTR. Excalibur smartly pointed out the champions wouldn't have a lot of experience against holds like that. Evans came off with a double stomp but was limping and it took a moment to go for a cover, Angelico nailed an assisted 450 splash on Cash for a two count.
Dash pulled Angelico out and smashed him on the floor. They hit a series of double-team moves on Evans, scoring a two count where Angelico broke up the pinfall. Dax drilled Evans with a right hand to the jaw. Evans was placed atop the buckles in the corner but elbowed Dax away before Dax could execute a move. Evans came off the ropes and went for a spinning move but mostly missed, kicking him in the side of the head accidentally. Evans went back and hit a version of the move again. The announcers said Evans might not be OK after all the damage he had taken.
Outside, Cash wiped out Angelico, dropping him face-first on the apron from a Gori Guerrero Especial position. Dax kept working over Evans, who kept surviving at the last second, kicking up. Eventually, nailed the Powerplex and scored the pin. Jim Ross said the finisher was a message to the Bucks. Wait, not Paul Roma?!
Your winners and still AEW Tag Team Champions FTR!
This was really good at certain moments and other times, it felt like it was a bit off. I really wonder if Evans was hurting as his timing was way off compared to usual for some of the big spots. Angelico might be one of the most underrated talents in the company. FTR as the wrestling machine is a great idea.
Backstage, The Bucks were talking about FTR but realized the cameras were on them, so they superkicked the cameraman, then apologized, mocking them and wondered what they were going to ge fined this time.
FTR was watching this, when an image of themselves as hot dogs appeared on the screen. The Best Friends came out and said that as comedy, backyard wrestlers, they are saying FTR are weenies. Really? They said that they just passed Tony Khan backstage and they are getting their title shot next week on the Anniversary show. The two teams went face to face. FTR tried to attack but Best Friends were ready and fired back, backing off Dax and Cash.
They aired a video where MJF told a story of meeting Chris Jericho where after Double or Nothing, Jericho told him he could be a star and told him to never stop studying. He said that he should take and pick from the greats. MJF said he pointed at Chris and thanked him for being an inspiration and said he might come out and say it to him tonight live in the ring. They aired congrats from Shaquille O'Neal, Kiss' Gene Simmons, Impact's Don Callis, Diamond Dallas Page, and Metallica's Lars Ulrich. AEW has pulled out a hell of a lot of cool cameos for this – when was the last time WWE pulled out this many unique folks popping up in support of a big moment?
They aired a very good TNT title video feature including a hell of a Brodie Lee promo.
AEW TNT Champion Brodie Lee with John Silver & Annma Jay vs. Cody with Arn Anderson & Brandi Rhodes – Dog Collar Match
The darker hair really suits Cody.
They had Greg Valentine watching from ringside to play off the classic Starrcade '83 Dog Collar Match he had with Roddy Piper. God bless Roddy. He is missed. Nice touch.
Silver wouldn't get off the apron so Cody charged and nailed him with the chain, knocking him to the floor. Silver came up bleeding.
Brodie took control and dropped several big elbows. Cody fired back with big boots and a right hand. He went for the double jump moonsault but Lee yanked the chain, crashing him down tok the mat. Lee pulled Cody to the floor, choking him with the chain. He picked up Cody and slammed him face-first on the apron outside. Lee told Silver to sit ringside in a chair and turned around to see Cody leaping at him with a dropkick. Lee avoided and Silver, the poor SOB, gets wiped out.
Lee dragged Cody back to the ring and slammed him, but didn't go for a pin. Amma Jay began to check on Silver. Lee demanded she bring Silver to the back. Lee ripped Cody with the chain. Cody was busted open. Lee drilled him with an elbow across the face and worked him over. Lee drilled him with a hard chop in the corner. Cody starts to mount a comeback. Lee went to the floor, where Cody nailed a tope to the outside. Cody tried to untangle the chain, which allowed Lee to snap it, pulling the challenger into the guard rail.
Lee began working over Cody on the floor and set a table up at ringside for additional destruction. Several chairs were tossed into the ring. Lee and Cody battled on the apron above the table. Cody was knocked to the floor but yanked the chain and pulled Lee into a diamond cutter as they went to commercial. When they returned, Lee was the CRIMSON MASK as Cody blasted him into the chair. Cody wrapped the chain and beat Lee with punches. Jim Ross called this a "crazy-a** match."
Lee tossed a chair at Arn. Arn hit the ring but Alex Reynolds went to attack. Arn nailed him with a spinebuster but was kicked low by Lee. Cody exploded and attacked Lee with a series of right hands with the chain. They battled to the floor, where Cody yanked Lee into the post face-first. Cody went to the top but Lee leveled him with a big right haymaker. Lee nailed a superplex. Both men battled to return to their feet and exchanged rights and lefts while on their knees.
Cody nailed the Final Cut and wrapped the chain around Lee's face over and over. He looked like a monster from a Clive Barker novel. Cody nailed CrossRhodes and scored the pin.
Your winner, regaining the TNT title, Cody!
I have to say, I was shocked to see the Lee title run end so quickly. This was a well executed match. I know some will hate the blood but it was a big grudge chain match so I get why they went with it. A good brawl to be sure.
The Dark Order came out on the stage, stunned as The Nightmare Family hit the ring to celebrate. The Dark Order retrieved Lee as Cody stood triumphant.
Tony Schiavone came to the ring to interview the new champion. Cody thanked everyone and said there's no feeling like being able to perform and compete before a live crowd. He spent from the time he was 15 years old to this moment to reach across the aisle, to feel the love. He said people told him he should take a dark route because he changed his hair but the hell with this – he's sticking with the people. This sounded like Cody was saying no to a suggested heel turn backstage. He said he wants to come next week and defend the TNT title on the Anniversary Show. It was a hell of a promo.
Tony asked him who he'd like to defend against. Cody said that was a good question. Orange Cassidy walked out and gave Cody a thumbs up. The match is official.
Hangman Page, Wardlow and Colt Cabana have been officially announced for the AEW title tournament. They join Jungle Boy, Kenny Omega and Rey Fenix who were announced last week.
Alex Marvez interviewed Kenny Omega backstage. Omega said he's excited to be back as a singles competitor. He said he's been waiting to get his hands on the AEW title. You name a tournament in the world and he's won it.
Big Swole vs. Serena Deeb
Some really nice back and forth wrestling early on. Swole's power was on display with a big backbreaker. Deeb fired back with a stiff clothesline. Deeb caught her with a neckbreaker in the ropes. During the commercial, Deeb continued the assault, working over Swole's arm and sending her hard into the corner. Deeb was pulling out some sweet Billy Robinson style grappling. Some damn good stuff from Deeb here.
Swole made a comeback but was caught with a backslide. She was too powerful to be held down. Swole and Deeb went back and forth with strikes and kicks. Some looked stiff. Some didn't connect perfectly but you could see they were trying to leave it all out there. Swole finally nailed a roaring elbow and scored the pin.
Your winner, Big Swole!
This was OK. They obviously had some timing issues but I'd still like to see a rematch.
AEW Champion Jon Moxley said that the life of a champion means there's always a new monster, a new legend waiting to pounce next week. He said that could be Lance Archer, who has tracked him halfway around the world to fight him after Moxley barely left Japan with his teeth last time. Moxley said next week, maybe he wins, maybe Lance wins. He has a lot of regrets in life but one of them will not be laying down for Archer. He's going to have to take the belt off his dead body. Maybe you will. Like Lance says, everybody dies. Great piece.
They ran down the lineup for next week.
More messages for Jericho – Lance Storm, Kevin Smith, Director Eli Roth, Gabriel Iglesias, Chavo Guerrero Jr., heavy metal bands Steel Panther, Ultimo Dragon, and Kiss' Paul Stanley. I can't believe we haven't seen a Sebastian Bach cameo!
Chris Jericho & Jake Hager with The Inner Circle vs. Luther & Serpentico
Jericho started with Serpentico. He nailed a few chops but was caught with a headscissors takeover. He had control briefly but was caught with a clothesline. Luther and Serpentico gained control and double-teamed Jericho as they went to commercial. Luther ripped at his face but Jericho came back with a quebrada for a two count. Hager tagged in and he and Luther exchanged strikes. Jericho tagged in , as did Serpentico. Jericho nailed a big standing suplex. Jericho went to backdrop him but Serpentico turned it into a DDT.
Luther tagged in and sent Jericho and Hager to the floor. Luther elevated Serpentico to the floor and took them out. The Inner Circle checked on their partners and Luther flipped off the top, wiping everyone down. Luther tossed Jericho in and nailed the Bruiser Brody style kneedrop off the ropes for a close two count. Everyone battled. Jericho was worked over with a series of double-team moves but Hager made the save. Luther grabbed a bat and nailed Jericho with it, then nailed a big boot for a two count on Jericho.
Sammy Guevara got on the apron and was nailed off the apron. Jericho drilled Luther with the Judas Effect for the pin.
Your winners, Chris Jericho & Jake Hager!
Jericho took the mic and said 30 years in the business, thanks to all the fans but then MJF's music hit. He came out and asked for his music to be cut and said he wasn't here to step on Jericho's toes or steal his spotlight. He's out here for Jericho and wants to be part of the celebration, using Jericho's nicknames to describe it. He had a gift for Jericho and it was "Clownico de Clown" who had another gift. He said thao tht Jericho inspires him and next week, he's going to make a career defining announcement and wants Jericho out there with him. He opened the gift and it was a picture of MJF. Jericho destroyed it over the clown's head and wiped out the clown with the Judas Effect. Jericho warned him he hated clowns and warned MJF never to interupt him again. They stared each other down and then started laughing at each other.
Jericho thanked everyone and all the heels came to the ring to celebrate with bubbly. They ran credits at the end and everyone who did everything was listed as Jericho, which was pretty funny.
Credit: PWInsider.com