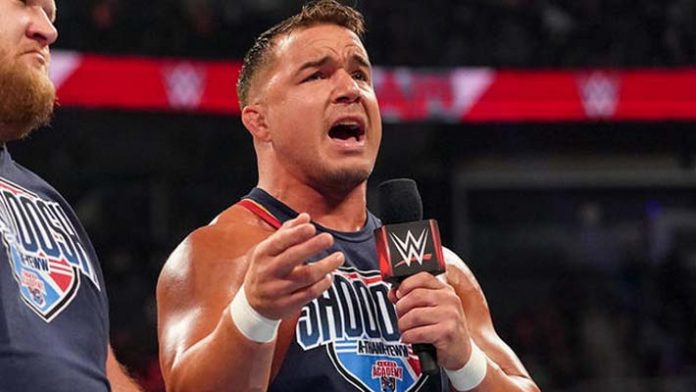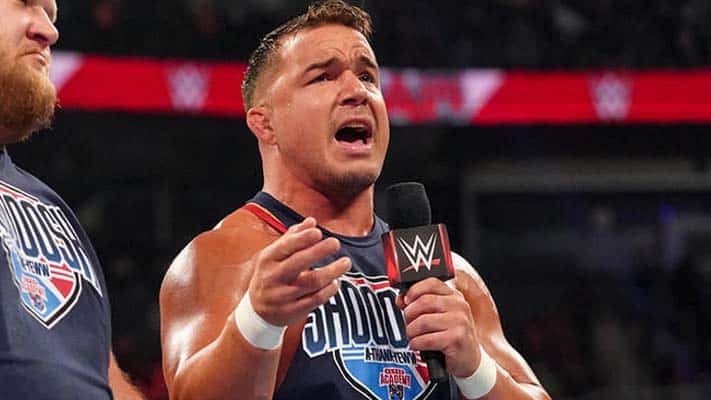 Chad Gable recently appeared as a guest on the "After the Bell with Corey Graves" podcast for an in-depth interview covering all things pro wrestling and WWE.
During the discussion, the Alpha Academy member spoke about his family attending his WWE Intercontinental Championship match against GUNTHER at WWE Monday Night Raw and how his daughter got extremely emotional at the end of the bout.
Featured below are some of the highlights from the interview where he touches on this topic with his thoughts.
On how WWE had no idea his family would be there until the day of the show: "It just happened that my family was there. It wasn't like I said, 'let's get you guys front row and make this a big deal.' It was the last week before school, so I said, 'let's give them one last fun thing before the summer.' I don't request front row tickets, I just get comps. They happened to sit there and get placed there. [WWE] didn't even know they were coming, they had no idea. When they found out about it, they said, 'let's take advantage of it' and film me during the day, but none of it was privy to them earlier in the week. I wasn't aware of where they were sitting until minutes before, my wife sent me a picture. I'll post of my little dude up front because he's wearing the singlet, and now he makes me get him a singlet every time I get one made."
On how emotional his kids got when he lost: "You can't really, even if you wanted to, force some kind of emotion out of a kid. That stuff is real. My oldest daughter is by far the most emotional. They all have different personalities, but she's the one the world saw crying that night. She knows the deal. I've spoken to her about what daddy does and how it works. She knows, but even that doesn't matter. When you get there, and your kid is sitting in front of you, watching her dad get beat up, it's going to draw it out of them when she's emotional like that. My middle daughter, she couldn't care less. She was looking down to see how many nachos she had left. The emotion from my oldest daughter, we don't get often anymore. When it happens, naturally and organically, it means so much more. None of it was meant to be part of anything, that's what made it organic."
Check out the complete interview at Apple.com. H/T to Fightful.com for transcribing the above quotes.