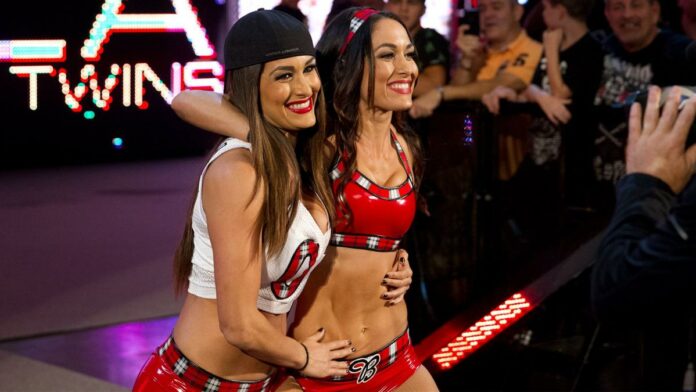 Former WWE Stars Jessica McKay and Cassie Lee, who were known as the IIconics during their time in the company, took to an episode of their Off Her Chops podcast and talked about a number of topics including how they were supposed to be in a huge feud with WWE Hall of Famers The Bella Twins (Nikki Bella and Brie Bella) when they were still a part of the company.
Below is the conversation McKay and Lee had:
Lee: The story with The Bellas… We had heard through the grapevine or were we told?
McKay: I think they told us.
Lee: They told us. I think you're right. The Bellas told us.
McKay: They DM'd us. I think so. I still have that DM (she laughed). I can probably go look at it. I can't remember how the information got back to us. But it was later. It wasn't like right after we won them.
Lee: We definitely didn't know when we won them… We won the titles at WrestleMania and we were supposed to go into this story with The Bellas.
McKay: Up until SummerSlam. It was supposed to be a long feud.
Lee: Which would have probably changed the trajectory of our careers and that's not no one's fault. Everything happens for a reason. But, why did it not happen?
McKay: I think Nikki came out and said that she — she just wasn't cleared.
Lee: Yeah. That sounds familiar.
McKay: I'm not sure what it was in particular… I can't remember, it was so long ago and we didn't really have all the information back then but, it was just I don't think she was cleared to come back and wrestle full-time for four months. That's a lot so, I just don't think that unfortunately could happen… I always think about that. I'm like, f**k, that really would have changed our careers drastically. But, it didn't happen and it is what it is. That would have been a big bucket list tick off ours just because they're a women's tag team that we looked up to and stuff like that so, definitely would have been fun too. I think we could've had a lot of fun with them.
You can check out the full podcast below.
(H/T to PostWrestling for transcribing the above quotes)