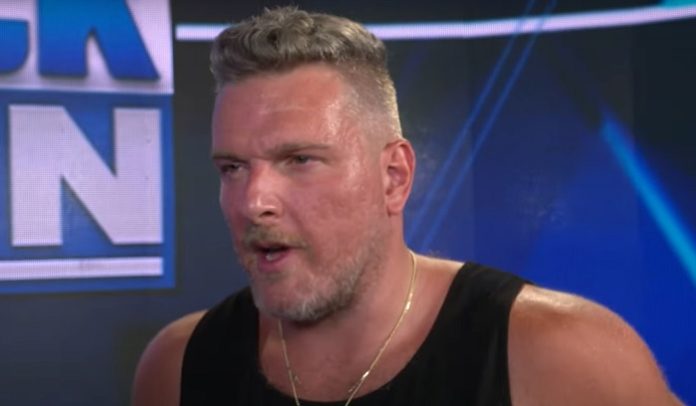 Pat McAfee spoke on the latest installment of his "The Pat McAfee Show" podcast about his surprise return to WWE on last week's episode of WWE Friday Night SmackDown on FOX.
"Got there 5:34 local time cause traffic from Boulder to Denver was not great," McAfee revealed. "The show starts 6 local time. A lot of people are talking about, 'How long did everything come together?' It's like, real quick, everything came together real, real quick."
McAfee continued, "What an honor to be back there. Absolute honor to be back. Great to see everybody. I thank them mightily for the opportunity to do that."
The former WWE commentator also spoke about getting to be a part of a memorable segment on the show with Dwayne "The Rock" Johnson and Austin Theory.
"That's Attitude Era, that's way back in the day," McAfee said. "The Rock hadn't been back in four years. This Denver crowd was loud to begin with, like, when I went out there, I heard em, I'm like, 'This is a louder crowd than it normally is.' What a night, dude. I'm so thankful that I was even asked to be apart of that."
Check out the complete episode of The Pat McAfee Show via the YouTube player embedded below.