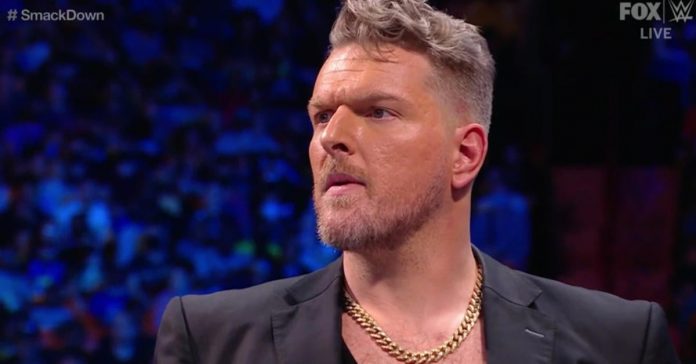 Pat McAfee shocked the WWE Universe on Friday night.
And then The Rock did.
And then John Cena did (sort of).
After his surprise appearance on WWE Friday Night SmackDown with Dwayne "The Rock" Johnson and Austin Theory in the entertaining opening segment at the Ball Arena in Denver, CO., the former WWE commentator spoke with Kayla Braxton in a backstage interview.
Featured below are some of the highlights.
On his appearance: "It was an absolute honor. I got the incredible opportunity to come to a SmackDown because the show that I do every single Saturday, College GameDay, is in Boulder, which is up the road. 45-minute drive down here, hopped in a bus, I showered in the bus to get here. As soon as I heard there was an opportunity to do something, I literally sprinted back."
On the segment: "That bum, Austin Theory. I was in the ring with him again. He looked good, looking a black tank top. He does look fantastic. It's just the inside of him that's terrible. You can't really change that. But yeah, The Rock and I had a chance to chat earlier today on my show. He was electrifying, and then tonight, to get to be in the ring, I got to see all of it happens. His spinebuster, the People's Elbow, the eyebrow raise, the 'It doesn't matter,' him starting a 'You are an asshole' chant. I was in there for the whole thing. The WWE, my entire life, has been a dream destination. Everything that I've been able to do here, I'm incredibly lucky for and thankful for, grateful for it. I try to enjoy. I definitely did that tonight. It's a dream being back for sure."
On living a dream: "It's so stupid. I got Stunned by Stone Cold at WrestleMania in Texas. Then I got to drink some Steve-weisers with him afterwards. I just got to do a People's Elbow with The Rock. I'm living, not only my dream, but I know pretty much every kid that grew up in my generation's dream, so I hope I'm doing you guys proud. I'm trying to enjoy it, and I am beyond thankful for it all."
Check out the complete interview via the YouTube player embedded below. H/T to Fightful.com for transcribing the above quotes.