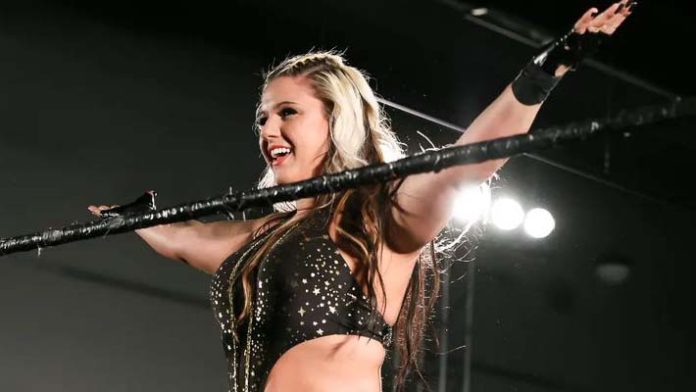 In an exclusive interview with PWMania.com's Scott Mitchell (@ScottsScoop44), NWA star Samantha Starr (@PerfectKnockout) sits down to talk about her NWA career so far, the upcoming NWA 75 show, her families history, her match with Kenzie Paige, and so much more.
You can check out the complete interview below:
Can you tell us a little bit about your legendary family background for those who may not know?
"I'm a third-generation professional wrestler on both sides of my family. My mom is "The Perfect 10" Baby Doll, and my dad is Sam Houston. My uncle is WWE Hall of Famer Jake "The Snake" Roberts, my aunt is WWF Women's World Champion Rockin' Robin, and three out of four of my grandparents also wrestled. Grizzly Smith who was one of the Wild Kentuckians, Nick Wildman Roberts who wasn't only a wrestler, but also a promoter in Texas, and one of the first female wrestlers Lorraine Johnson is my grandmother. If that's not enough, my mom got married to my stepdad who is a wrestler, and my husband is a wrestler. We are a family full of wrestlers."
You come from a pretty historic background. How have they influenced your career despite trying to be your own person?
"Whenever I started wrestling, I was very, very young. I took my first in-ring bump at 14, and at that point, I knew I wanted to do this on my own. At 14 which was 16 years ago, there weren't a lot of generational wrestlers, and the ones that were out there had a bad name. Fans viewed them as only getting to that point because of who their mom or dad was. You got your way to the top without earning it. At a very young age, I set out to do this on my own. I'm going to go out there, I'm going to hit the road, make the drives, and do everything it takes to be a respected professional wrestler. So, even at 14, I had that mentality that I didn't deserve to have a spot more than anyone else because I was born into it. However, throughout the years I've been able to take the personality of my mom, who made you feel what was going on in the match. Jake [Roberts], in my opinion, has the greatest promo skills. You have guys like Bray Wyatt and CM Punk who can go out there and be a little bit on edge. Whenever Jake spoke, he just sucked you into it. He didn't need to yell, scream, or have veins popping out of his forehead. He was able to whisper and have everyone in silence wanting to hear what he had to say. So, he was a lot of the psychology, mentality, and believability. My dad, who is 6-foot-4, is 60 years old and can still do a backflip. He's got athleticism. He and my aunt both have athleticism, and they just blow me away. I've used the bulldog in some of my matches for quite some time, and of course, my finisher is the DDT that I picked up because Jake invented the DDT, so why wouldn't I carry it on?"
Fast forward a little bit to your NWA debut. What was it like when you first made your debut for the National Wrestling Alliance?
"It was terrifying, amazing, and just so many different emotions. I was nauseous, happy, excited, and jittery. I made my debut at NWA 74, so almost a year ago to date. I made my debut in the Burke Invitational Gauntlet match. I remember being told that they wanted me for the show. On the independent circuit, I got to the point where I was the top dog. Nobody could tell me anything. It got to a point where I was a veteran of the Indies. I knew everything and knew everyone. There weren't many challenges out there for me. I haven't convinced myself to push to the next level yet. I thought to myself maybe my time is running out. Maybe I had a good indie run and that was it. Then, NWA knocked on our door and gave me this amazing opportunity to go out there on a grander stage with more fans, more production, and more invested in it. I was a nervous wreck. I had those feelings of do I deserve this? Am I worth it? Can I hang with these top women? When you look at the NWA women's division they have some of the top women's wrestlers in the entire world, and I was coming in as the newbie which I haven't been in years. To enter the match with some phenomenal, outstanding athletes was intimidating. But, you've seen me progress over time with NWA, and seen me level up and step up. I found this passion I haven't had in a long time. I have challenges, I have a mountain to climb. If I don't have something I'm working towards I get bored. So, with NWA, it's this giant mountain. I'm just climbing, and climbing, and climbing. Challenging for the NWA World Women's Television Title against Kenzie Paige was something I'm very proud of and looked forward to. Even though I didn't come away with the win or the title that time, it gave me that ferocity to keep pushing."
Shortly after your debut, you got to square off with KiLynn King who is arguably one of the most dominant women around today. During this match, you were managed by your mom "Baby Doll," as well. Looking back on it, how important was that match to you and how special was it for you to have your mom at ringside?
"I think KiLynn is one of the most underrated females in the world right now. KiLynn has stature, physique, and work ethic. I admire her so much. For her to be so young in the business, it's amazing to see the feats she's accomplished so far. To get into the ring with KiLynn King, someone I didn't know too much about, but someone who's blazed her way through women's wrestling, it was one of those surreal moments where is this young gun better than me? I had the honor of being one-on-one with her in New Orleans for the PPV, and my mom got to be in my corner. My mom is my best friend. We've been around each other my whole life, and we've always been very pivotal in each other's lives. But she hasn't gotten to work with me that once because I did my own thing. To have her in my corner is so special to me. Not only do I get that big opportunity in front of so many thousands of fans, but I had my mom in my corner cheering me. Getting to share that moment with her was just heart-warming."
More recently, you got to be on Team Tyrus in the Championship Series. What was it like to be a part of that unique series?
"So, I originally started on Team Brickhouse, representing the Women's World Title with Kamille. Unfortunately, due to some losses with the team, we got dispersed and I ended up on Team Tyrus. To go from working with the top women in the company to being moved to Team Tyrus, it was insane to say. To get to be ringside with him was incredible. He is the mountain of a man, an absolute giant. I don't think Tyrus gets enough credit for his size, but I feel like I'm 4 years old looking up at this man. For NWA to put me on a team that gets so much exposure showed me how much they believed in me. The team war was so insane. You never knew what to expect. It had our heads spinning and we had to think on our feet. It was fun and brought that excitement back to the wrestling world. It was a lot of fun."
More recently, on July 18th, you got to challenge Kenzie Paige for the NWA World Women's Television Title. What was it like working with Kenzie, and having that opportunity?
"So, I watched her over the years. I've seen her go through different stages and mature in pro wrestling. To see her go from 17/18 years old, to just scratching and clawing her way to the top and now holding the NWA World Women's Television Title, as someone who shared in those struggles was special. I was so proud of both of us for getting there. NWA gave us this platform, and for us to come out and bring it to the table, yeah, I didn't come out with the title and I'm still bitter about it, but that was my first shot at a title. So, what are the chances I'll win it on the first shot? I'm humble, and I understand there are processes and I need to learn, so I get it. To be able to challenge Kenzie Paige, and to be able to get more exposure to her in-ring work, made me learn her ways so I can come back and beat her next time. It was fantastic, and it pushed me to get even better."
With NWA 75 coming up, what are your hopes for yourself heading into the show?
"At NWA 75, we will once again be having the gauntlet match. The Burke Invitational match, where they bring in women from all over the country, and the winner goes on to Night 2 of NWA 75 to face for a Women's Title of their choosing. So, if I'm lucky to get involved in that gauntlet match, 100%. If I won, I don't know if I'd shoot my shot and just go after Kamille for her title, or if I would cash it in against Kenzie Paige. I've worked with her and know her ways. Whichever one puts gold around my waist quicker. They both would be an absolute hell of a time."
How special is it for you to be a part of one of professional wrestling's top women's divisions?
"NWA has one of, if not the best women's division in the entire world. From Kamille to Missa Kate, Madi Wrenkowski, Kenzie Paige, myself, Ruthie Jay, and Natalia Markova, the diversity we all bring to the table is what drew me to the women's division. You can watch other companies on TV, and you can see that they have cookie-cutter women's divisions where everyone looks the same. But I came into this women's division when we had the likes of Taya Valkyrie, Angelina Love, and just that level of athlete that we can learn from is special. To be included as a part of their roster almost elevates my self-esteem to say I'm a part of this incredible women's division. I'm a piece of that puzzle that makes it what it is. You have your locker room leaders, and vets that you can learn from. Not only is it very admirable to say I'm a part of it, but I can learn too. Even the agents we have in Madusa and Jazz, who doesn't want to learn from them every opportunity we get. The feedback and knowledge they share is outstanding. We don't challenge each other; we challenge the men. We want to be better than the men and blow them out of the water. We aren't trying to step on each other, we're trying to put the women out there to be the topic of discussion because we have the talent and drive to do it."
What's next for Samantha Starr? Do you have any future goals or future opponents that you'd like to face?
"My future goal is to have some NWA gold around my waist. I've never held a title bet as prestigious as either the NWA World Women's Title or NWA World Women's Television Title. So, to be able to put my name down in the history books at a company that not just I work at, but so many of my family members have worked at would mean so much to me. I feel like I can carry a title like that and do the company proud. Kamille is a fighting champion. She has that title on the line every weekend all over the world, and to be able to put me in that conversation is my immediate next step. That's what I'm working towards and what I'm driving towards. I'm so proud to be a part of the NWA. That would just be the cherry on top, to say I am an NWA champion."
Do you have a message for the fans?
"If you haven't gotten a chance to check out NWA, start on YouTube. Look at the matches, the talent, and the content we're putting out. There is something for everyone there. Whether you're into the old-school 80s style, big men who like to get in there and just brawl, or the 6-foot-4 sculpted men who look like Ken dolls. We have women who can knock it out of the park every single match. Between the characters and the action, NWA just has a solid product that if you give it a chance, please that's all we're asking for. If you're not tuning in you're missing out week after week of just hard-hitting, insane wrestling the way it should be. Of course, if I'm on there, you know I'm always doing business the right way."