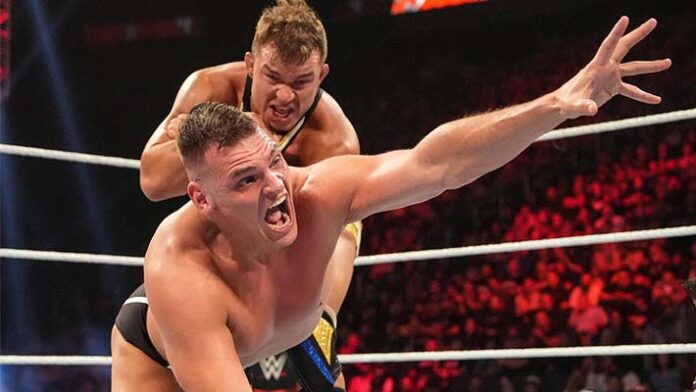 Chad Gable is a former Olympic wrestler that competed at the 2012 London Games. He has been a mainstay in WWE since late 2013 when he signed and began training at the WWE Performance Center. Gable debuted in September of the following year for the NXT brand. He won the NXT Tag Team Championship with his then-partner Jason Jordan. He and Jordan got called to the main roster in 2016. 
Since then he has made the most of every opportunity. He survived a couple of questionable gimmicks, teamed with several tag team partners, and won the Smackdown Tag Team Championship once and the Raw Tag Team Championships twice. Still, with all he has accomplished, he has yet to receive the singles push he desires and deserves.

One thing you can say is that Chad Gable has paid his dues, put in the time, has heart, and an unbelievably pure natural strength. Some of his fellow wrestlers feel the same way. Xavier Woods said, "Chad Gable is the most underrated performer in wrestling. Cody Rhodes called Gable violent and legitimate after their match on Raw.
As previously reported on PW Mania, Gable has been asking for a long time to prove himself as a single guy. He has said: "If I get this opportunity if that thing with Gunther turns into something bigger, or a bigger opportunity for me, take my word, believe me when I say I'm not going to waste it." He had his chance and made the most of it on this past Monday Night Raw facing Gunther for the Intercontinental Championship, which resulted in a count-out win for him. 
Gunther has had a dominant reign as champion and has done a great job making the Intercontinental Championship relevant again. It is only fitting he takes the title as the longest-single reigning Intercontinental Champion, surpassing the Honky Tonk Man's reign of 454 days. That mark is coming quickly, as Gunther's reign is over 435 days.
This version of Chad Gable and his character has been the best of his career. After Gable's match he had with Gunther on Raw, in which the fans chanted "This is awesome" several times, it appears WWE is going to continue this feud for a bit. Does WWE continue it past the mark they are aiming for with Gunther? And if they do, should Chad Gable be the one to dethrone "The Ring General"?  
What do you think? Share your thoughts, opinions, feedback, and anything else that was raised on Twitter @PWMania and Facebook.com/PWMania.