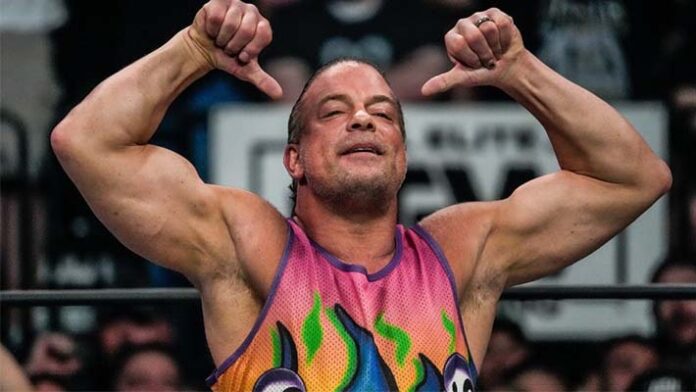 After Jack Perry's much needed heel turn a few weeks ago, he got into a confrontation with ECW legend and All Elite coach, Jerry Lynn, one of the truly solid workers in the history of the industry. Lynn wasn't necessarily the best on the mic or the biggest star during his heyday, but he was great in the ring, which was ironically why he probably didn't get a bigger push toward the top of the card, outside of the latter stages of ECW. In my ways, Jerry Lynn was the perfect utility worker, and that's meant as a total compliment. He could work a safe match with an inexperienced wrestler or have a quality pay-per-view main event match, depending on what was needed on any given night. Again, he won't be mentioned in the same conversation with Steve Austin or Ric Flair, but make no mistake about it, there's absolutely a reason that Lynn kept a job in the sports entertainment industry.
Since those that know some of the finer points of the business appreciate all the things that Lynn brought to the table, even when the big leagues didn't, it made sense to use him in this spot for the AEW audience.
That said, even as safe as Lynn was inside the ring, the toll of a fast-paced style over the course of a 25-year career prompted his retirement a decade ago. Now 60, Jerry Lynn certainly isn't going to make an in-ring comeback. However, during a segment this past week on Dynamite, he introduced a fellow ECW alumni that will challenge Jack Perry for the FTW title, a belt that originated in Extreme Championship Wrestling more than two decades ago.
Rob Van Dam, former WWE champion and Hall of Famer, made his way to the ring to confront Perry. It was later announced that Van Dam, who worked select independent shows in recent years, will have a match against Jungle Boy next week on Dynamite.

While they was some speculation online that this bout might take place at All In, if it was going to happen, Dynamite is definitely a better venue. At the same time, you have to ask if the match should take place at all?
At 52, Rob Van Dam is still in great shape, but in the past few years, he spoke in-depth about serious concussions, including in the documentary "Headstrong" that aired on Vice TV, where he spoke about significant memory issues. With the rightful extra spotlight that is placed on head trauma in sports today, you have to ask, is it safe for Rob Van Dam to be in the ring? Obviously, his health is the most important aspect of the situation, but another side of it is, if Van Dam suffers a major injury on live television, it brings negative publicity to AEW that wouldn't be there if the same thing happens to him on an independent show.
Granted, this is probably a one-off appearance, but is the risk worth the reward? Is beating RVD in 2023 going to do that much to get Jack Perry over as a heel that Van Dam's health might be at risk in an AEW ring?
Keep in mind, Rob Van Dam is absolutely one of the best athletes of his generation and his style had an influence that can still be seen today, but his prime was more than 15 years ago so I'm not sure how much cache a victory over him brings a heel. Some of it was based on his own mistakes, but still the argument could be made that the WWE underutilized RVD during the vast majority of his tenure in the company.
As we know, he made his way to TNA under the Hogan regime for the ill-fated Monday night experiment. If you watch anything from his three-year stint in TNA, you can clearly see that Van Dam mailed in his performances and looked to put the least amount possible into his matches to avoid injury rather than an attempt to have solid matches. He even acknowledged during interviews in the years after his original TNA run that he was just there for the paycheck.
He made a rather brief return to WWE in 2013 and spent about a year there until he finished up with the company before he was inducted into the Hall of Fame in 2021. The conclusion of his last WWE run in 2014 was more or less the conclusion of the major portion of his career. Anything else in the last decade was basically cannon fodder.
The concern for concussions for Van Dam extends beyond just the well-documented problems he had that were featured in the Vice TV production. When Van Dam got divorced from his first wife, Sonia, who was occasionally mentioned in ECW broadcasts, in 2017, one of the revelations from the proceedings was that Van Dam cited his inability to pay the requested amount of alimony because he couldn't pass a WWE concussion test so his earnings wouldn't be comparable to the prime of his career. Who knows if that was just a legal strategy to avoid being fleeced in the divorce filing, but he hasn't competed for the WWE in almost ten years so it's possible he didn't pass the medical tests to re-sign to wrestle for the company.
RVD did return to Impact for about a year and a half before he left again toward the end of 2020, but being featured in the organization at that particular point offered about as much as exposure as the witness protection program.
The problem with this scenario is that Rob Van Dam probably got the call to work for All Elite because Tony Khan was a big ECW fan, not because his involvement is the best business move. We saw the same thing when Sabu was brought in for an appearance at Double or Nothing, and his attempt to dive through a table could've been disastrous. It was concerning to see Sabu struggle to get to the top rope and then more or less fall, not dive through the table. Given the level of punishment that he went through in his career and the extensive injuries he had, Sabu just shouldn't have been put in a situation where he goes through a table.
If Van Dam gets his bell rung on Dynamite, it's a bad look for everyone involved. But, hey, Tony Khan got to have RVD walk to the ring with his old ECW theme music so it was worth it, right?
Don't get me wrong, anyone that has read what I've written about AEW for any length of time knows that I've praised Tony's willingness to fund a pro wrestling project when he didn't have to provide a spark to the industry. However, and this is the biggest problem with the presentation of the company on a regular basis, passion and fandom for the sport aren't enough to be successful from a business prospective. Again, don't get me wrong, AEW has done something right to sell 75,000 tickets for Wembley stadium and the other success the company had, but if the right decisions aren't made at the right time, it limits how successful the organization can be in the future.
The prime example of this is the random no DQ match that took place this week between Pentagon, Trent, and Jon Moxley. It was a gimmick match for no other reason than an excuse for more barbed wire and thumbtacks to be used on the show just two weeks after the Blood and Guts match. The overuse of weapons does nothing except to limit their effectiveness and then there's essentially nothing left to do. There are only same many weapons and bumps before injuries start to pile up, which happened previously in AEW.

The similarities are that Tony Khan brought in RVD because he's a big fan of ECW, and the extreme organization also overdid the gimmicks in its latter years when the company didn't have the compelling angles it had prior. Da Baldies and Chilly Willy, God bless them, weren't exactly household names in 2000 so the infamous flaming tables match was booked for the November to Remember pay-per-view.
Before Tony Khan booked Rob Van Dam for a match in AEW or allowed another match with barbed wire and thumbtacks on his television show, he should consider that as great an ECW was, it eventually went out of business.
What do you think? Share your thoughts, opinions, feedback, and anything else that was raised on Twitter @PWMania and Facebook.com/PWMania.
Until next week
-Jim LaMotta
E mail drwrestlingallpro@yahoo.com | You can follow me on Instagram, Facebook, & Threads @jimlamotta89