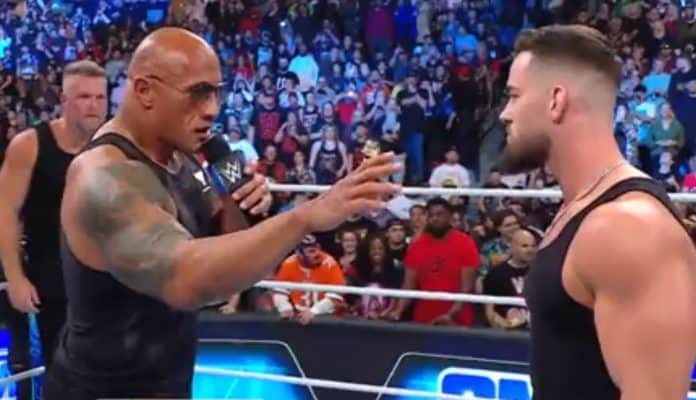 Dwayne "The Rock" Johnson and Pat McAfee shared a quick Twitter (X) exchange after their joint surprise appearance on WWE Friday Night SmackDown last week.
"What an honor to be back with WWE," McAfee wrote. "WHAT A POP for The Rock."
The Rock responded to McAfee's tweet and reacted to his comments and shared his thoughts on appearing on McAfee's show.
"Honor was mine as well, Pat McAfee," The Rock wrote. "Helluva Friday we had."
Rock continued, "Chopped it up with you and the boys Friday morning on your show (and drank tequila) and Friday night we rock the house in Denver. 'You are …' 'An asshole ..' for 10min straight."
Check out the Twitter (X) exchange below.
Honor was mine as well @PatMcAfeeShow 🥃
Helluva Friday we had.
Chopped it up with you and the boys Friday morning on your show (and drank tequila) and Friday night we rock the house in Denver.
"You are.." "An asshole.." for 10min straight 😄👊🏾 @wwe https://t.co/UXlQ3An85Q

— Dwayne Johnson (@TheRock) September 18, 2023