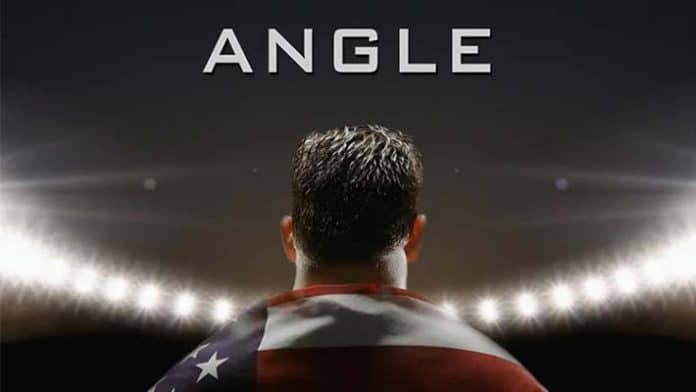 "It's An Extreme Blessing To Me That This Version Gets To See The Sunlight" – Alex Perry Talks ANGLE on Peacock
Kurt Angle is one of the most celebrated professional wrestlers in history – having entered the WWE during its famed Attitude Era – Angle went on to have a plethora of classic matches and moments, such as when he doused a host of superstars using a milk truck. In addition, he was a six-time WWE World Champion and a WWE and Impact Wrestling Hall of Famer. However, in the words of director Alex Perry, Angle has lived "three lives in the course of his life so far," as fans can often forget that long before WWE and professional wrestling, Angle legitimately won an Olympic gold medal in freestyle wrestling during the 1996 games – with a "broken freakin' neck" no less (a fact later turned into a catchphrase). For this reason, he is the subject of a new documentary, directed by Perry, titled ANGLE, which will chronicle his life and premiere on Peacock on Saturday, September 2nd.
Once the latest documentary's trailer, and the film itself, hit the audience's screens, they may feel as if it's partly a rehash of the A&E Biography on Kurt Angle, which was released a little over a year ago as part of WWE and A&E's WWE Legends series. However, what fans may not know is ANGLE is an original documentary that WWE acquired and later utilised to create their A&E Biography on the Gold Medallist. Perry explains, "This was somewhat of a unique scenario; I don't think it's too often that WWE acquires a documentary that started out as independent from WWE. A lot of stuff WWE puts out is, I believe, stuff that they create from the beginning within the WWE realm." Perry also acknowledged that WWE was a perfect home for his film, saying: "But WWE ended up being a good place for an independent film like ours to end up – because we had a lot of WWE footage in our film, as well as Olympic footage. If WWE was the one that was going to distribute our film, we wouldn't have to worry about licensing all of that WWE footage. So that ended up being a blessing."
When it comes to the concern of fans feeling they've already seen the film, Perry stated: "This is the point I want to make, when WWE fans see the footage from our film, and they see similar looking interview footage in the first trailer and so on; I want WWE fans to know, we're not pulling a fast one on them. This is the original film that Kurt and I intended."
One of the most notable differences between ANGLE and the A&E Biography is the depth and detail when exploring Angle's journey to the Olympic gold medal. Although he hadn't timed it out exactly, Perry believes his film's exploration of Angle's Olympic story ends at "a little over 1 hour," without commercials. In comparison, last year's A&E Bio spent approximately 20 minutes exploring the pre-WWE tale of Angle. "That is the story that Kurt and I intended on telling from the beginning because we thought that was the story that his fans and wrestling fans knew less of," Perry explains. "We did tell his full story. So you will see his WWE career, TNA career, and the aftermath in this version as well." According to the ANGLE director, he and Kurt wanted to create a "sports epic," and he is incredibly grateful it will see the light of day. "It's an extreme blessing to me that this version gets to see the sunlight at all because a lot of films don't. And I thank WWE immensely for that opportunity they are giving me and Kurt with the Peacock release on September 2nd."
Along with more time devoted to Kurt Angle's story prior to professional wrestling, Perry was able to track down various props, photos, and Angle's original singlet from 1996 to use for this film. However, what he's most excited for fans to see is the never-before-seen archival footage from Angle's amateur wrestling days. "I get most excited about archival footage that has never been seen before, especially in a life like Kurt Angle's, that is already well-documented," explains Perry. "So we were able to locate and find things that were – for instance – before this doc, and I know at least part of this was in the A&E version, before this documentary, no one had ever seen the actual footage of Kurt breaking his neck at the 1996 US Open. I was able to track down that footage."
The rare footage in this documentary was found in someone's basement, who proved to be a great ally to Perry and co., and the beta tape had never even been digitized. And Perry adds that "Kurt breaking his neck in 1996 for the first time is actually one of the many pieces of archival footage that we were able to find in this documentary that had not been previously seen in anything else Kurt Angle."
Although there will be plenty of fresh content for fans, one area Perry's version will not expand upon from the A&E biography is the home footage highlighting Angle's substance abuse (but there will be a few extra details on his addiction). The ANGLE director highlighted that the former WWE Champion's life "was about pain and resilience," and one of the areas he experienced a great deal of pain was when battling what Perry described as "one of the worst drug addictions" he's ever heard about. However, not only has Angle overcome this hurdle as well, but throughout it all, he's always remained "a great person," according to Perry, who first worked with the wrestling champion on a comedy short titled Olympic Trials in 2012.
During the filming of this documentary, Perry interviewed wrestler-turned-actor Dwayne 'The Rock' Johnson, who explained to the director that if a wrestler survives over a long period of time in the pro wrestling business, it's because the fans can see that deep down, "they're a good individual." When it comes to Kurt Angle, whether he was a bad guy on television or making questionable choices in real life due to his drug addiction, it appears fans could always see that a good person lay underneath. For this reason, another deep dive into the incredible life and career of the man will likely be welcomed with open arms when ANGLE hits Peacock on September 2nd.
You can follow Humza Hussain on Twitter @CameraShotHH