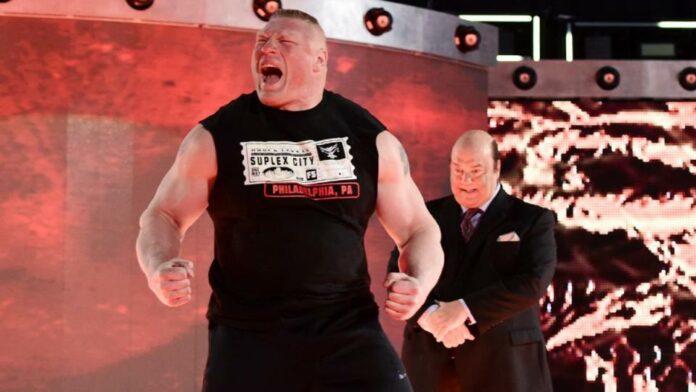 Brock Lesnar is scheduled to appear at WWE's SmackDown 20th Anniversary show on Friday, October 4 in Los Angeles, California. This is according to the official website of the STAPLES Center, which is hosting the event.
The episode, which coincides with SmackDown's move to Friday nights on FOX at 8 p.m. ET, will also feature "every major Superstar from Raw and SmackDown LIVE." Two matches are advertised for the show:
The New Day vs. Randy Orton, Daniel Bryan and Rowan
Roman Reigns vs. Samoa Joe
The STAPLES Center is also advertising an appearance by SmackDown Women's Champion Bayley. The venue previously advertised a WWE Championship Triple Threat Match with Kofi Kingston, Orton and Ziggler.
.@WWE Superstars past & present will be on hand to celebrate the 20th Anniversary of SmackDown Live including Brock Lesnar, Kurt Angle, Lita, Mick Foley, Booker T, Hulk Hogan, Trish Stratus, Goldberg, Jerry Lawler, Mark Henry, Ric Flair & Sting. Tix go on sale this Fri at 10am! pic.twitter.com/aIP5tUw2wz

— STAPLES Center (@STAPLESCenter) August 13, 2019
WWE Superstars past and present will be on hand at STAPLES Center to celebrate the occasion, including WWE Hall of Famers Kurt Angle, Lita, Mick Foley, Booker T, Hulk Hogan, Trish Stratus, Goldberg, Jerry "The King" Lawler, Mark Henry, Ric Flair and Sting. The Undertaker is featured on a WWE.com graphic for the show (along with Charlotte Flair, Bryan, Asuka, Reigns and Kingston), but isn't advertised by name.
"SmackDown has been delivering action-packed, family-friendly programming for two decades, and we look forward to entertaining generations to come as we begin this next chapter on FOX," Vince McMahon said in a press release.
It was announced in June that FOX will be the new broadcasting home of SmackDown. The five-year agreement begins on October 4, giving the network two hours of live event programming 52 weeks each year. According to The Hollywood Reporter, the deal is worth $205 million annually, totaling $1.025 billion over five years.