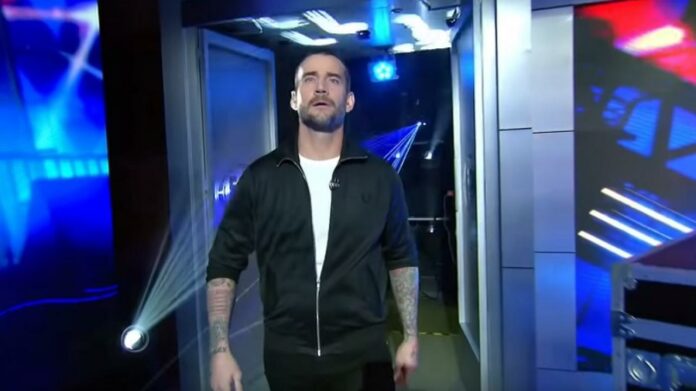 CM Punk discussed his return to WWE television on this week's edition of WWE Backstage.
Punk talked about how this job didn't exist six months ago but he expressed interest in the job when it was offered to him.
Punk said wrestling and what he's doing now are two different things and made it clear it's a FOX job. Punk said it's a unique situation that he's not working for WWE and he can criticize the product. Punk said maybe he can "find his way" in the business again through this job. Punk feels he can "tell it like it is" without fear of being fired/suspended.
Punk said he can pick and choose what he wants to do and not have to work with "jerks."
Punk talked about how he was nervous for his return but that's what makes it exciting for him.
Regarding a possible return to the ring, Punk again stated that he works for FOX and he hasn't talked with WWE about a return. Punk said returning to the ring is not something he is actively pursuing. However, Punk did note that it's a "never say never" scenario but there are a lot of hurdles and it could be like building the Great Wall of China.
Punk said the current product is overproduced and micromanaged. Punk said he likes what the women are doing but feels they don't need to be forced with the hashtags/women's revolution comments and the women should just be allowed to do their thing.
Punk felt the Baron Corbin segment from Smackdown was "garbage."
Punk feels the Lesnar vs. Mysterio match has the potential to give the fans what they want and said the Chicago crowd will help be the "third person" in that match.
Punk talked about Seth Rollins and said that Seth needs to stop tweeting. Punk asked Renee Young about her favorite Shield member and she said she likes them all equally.
The show ended with Punk cutting a promo on Tom Arnold.
"It's been so long since anything related has made me feel anything." – @CMPunk on his shocking return last week on #WWEBackstage pic.twitter.com/mIV2Wrb9Ce

— WWE on FOX (@WWEonFOX) November 20, 2019
CM Punk asked if we will see him return to the ring. #WWEBackstage pic.twitter.com/Uke9KDVqE7

— HeelByNature.com (@HeelByNatureYT) November 20, 2019
New GIF for #WWE #RAW every week. pic.twitter.com/WzgR1y3fDY

— NoDQ.com: WWE #SurvivorSeries 2019 news (@nodqdotcom) November 20, 2019
CM Punk isn't a fan of this angle. pic.twitter.com/whvodNbKOT

— HeelByNature.com (@HeelByNatureYT) November 20, 2019
CM Punk buries @TomArnold pic.twitter.com/e086W0FfI4

— HeelByNature.com (@HeelByNatureYT) November 20, 2019