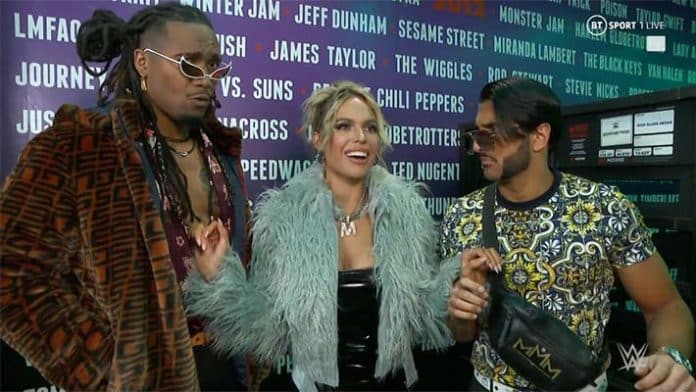 Mace and Mansoor (Maximum Male Models) discussed their time with WWE on Twitch after being released.
Here's an exchange they had about Vince McMahon:
Mansoor: Everything happened in the company where Vince left, Hunter [Triple H] took over. That was like three weeks after we debuted. I don't know if there has ever been worse timing. When we were approached to do Maximum Male Models. I'm not going to give the whole story, saving it for my book. It was given to us like, 'Here is the golden goose. If you guys grab the reigns on this and commit to it, you're going to be rich for a very long time because this is Vince's baby. He has wanted to do a male model act for eight months. He wanted this so bad.' Every week, we were supposed to do a new fashion show. We would go to the mall and buy the clothes. It was on us to buy the clothes. They gave us $2,000 to buy stuff. The rehearsal for the first fashion show was surreal. People were made to leave for us. For thirty minutes we rehearsed.
Mace: It was Money in the Bank. They were like, 'get the ladders out of the way. We have to rehearse the fashion show.' Vince McMahon came out and showed me how to turn, and to change my white pants because he hates white pants.
Mansoor: It's very rare for Vince to come out in rehearsals. He stays in his office. He came out for this. 'Is this our ticket to superstardom?'
The duo discussed the storyline with Otis and their push coming to an end:
Mansoor: The plan was, Maxxine was going to entice Otis to join us. We were going to have Otis as a Maximum Male Model while Chad Gable is like, 'they're just using you Otis, I'm your real friend.' The idea was, one day, it was Otis' big debut as a Maximum Male Model. He was finally going to graduate and come out for a fashion show. Right before he comes out, Chad was going to go, 'they're setting you up for a trap.' Otis is like, 'You don't want me to be happy.' He comes out, strikes a pose on the platform, and we dump slime on him. We had been begging writers to bring back slime. Chad was going to come out, we kick his ass, Otis makes the save, it leads to a match.
Mace: We thought, 'If we can do this, we're set. We can do ComicCons for the rest of our lives.'
Mansoor: Sadly, the week after we did the segment where we took pictures of Otis, we were supposed to do a match with the Good Brothers, it got cut and pushed back. We get pulled into a person of high rankings office…I'm not going to say what he said. I'll save it for my book. We were essentially told we were going to have to revamp the Maximum Male Model and adjust, and until then, we would be off TV. We would get cut from being in the background of segments. It all came to a head when we were in the Andre Battle Royal. Producer Jason Jordan comes up with the spot where we get eliminated by Otis and Chad, Maxxine is celebrating, we question her. 'Great, our story is going to continue.' No, we were not supposed to be in that match. When that spot aired, the person in the office who told us we weren't supposed to be on TV stood up and said, 'Who the hell let the models on?' It happened again because we were in the battle royal for the IC Title shot. We do a spot with Dexter Lumis and Johnny Gargano. The same thing happened. 'Who let the models be in the match again?' Once that happened, we stopped traveling, it was over. Then came the process of pitching stuff because we were told we would be repackaged. Obviously, that didn't happen.
Mace: We've done a lot of cool things. Unfortunately, the way that the system works, it's crap shoot. Sometimes you're up, sometimes your down, and there's nothing you can do. We can do as many pitches and ideas, but if we're not in the building, we can't get used and we can't prove that we're asset and we get let go. I hated the fact that I was ignoring every post that was wrestling related. Everything made me feel sick. Every time I saw wrestling, it stabbed me. The fact that something I love made me feel that way was awful. On the other side of it, we get to do some cool stuff, I get to learn to love it again. We can go everywhere now. We think very little of ourselves because of the run we had, but when we go out, people recognize us. I'm excited for the future.
Mansoor: I didn't want to complain too much because the run that I had, I paid off my mortgage, there's a roof over my families head, which I'll always be thankful. I got checks from those Saudi shows that, I never thought I would see that amount of money in my life. I'll never have a bad word to say. I will say this; watching wrestling from home is one of the worst feelings in the world. Imagine you have a dream job, you get that dream job, but while you're working there, you're not allowed to do it. It really feels like you're trapped under ice and you're banging the top trying to get up. I literally felt like watching other people do what I wanted to do, was like watching my wife get fucked. The worst part is, not even that well. I could be doing it better. No offense to the cucks in the chat.
You can check out the appearance below:
(h/t to Jeremy Lambert for the transcription)