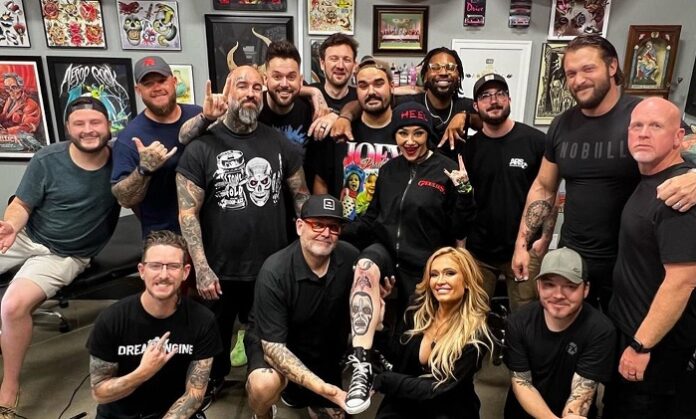 15 WWE Superstars and employees paid special homage to Windham Rotunda this week.
After the tribute episode of WWE Friday Night SmackDown wrapped up last night in Louisville, KY., 15 WWE stars and employees got tribute tattoos for Bray Wyatt (Windham Rotunda) by DeepSearch Tattoo artist Joey Cox and owner/artist Greg Mosier.
Braun Strowman, Mike Rome, Karrion Kross, Shotzi, WWE Director of Longterm Creative Rob Fee and others went together to have Wyatt tributes tattoos done following last night's SmackDown.
"Last night was one I'll never forgot. Had the honor of tattooing @thewindhamrotunda moth logo on 15 members of @wwe staff. The amount of love, storytelling, laughter and memories shared shows how DEEPLY loved he was at all levels. Thank you [folded hands emoji]," wrote Mosier.
"Omens of the most special moments I've ever been apart of that, and being able to take part in what came after the show! To all of my clients from tonight, thank you for the honor, the trust and the ability to be part of such a special moment in all of your lives. Hearing all the stories about Windham (Bray) tonight makes my heart hurt and smile at the same time," Cox wrote.
Check out photos and coverage of the 15 WWE stars and employees getting their Bray Wyatt tribute ink below.