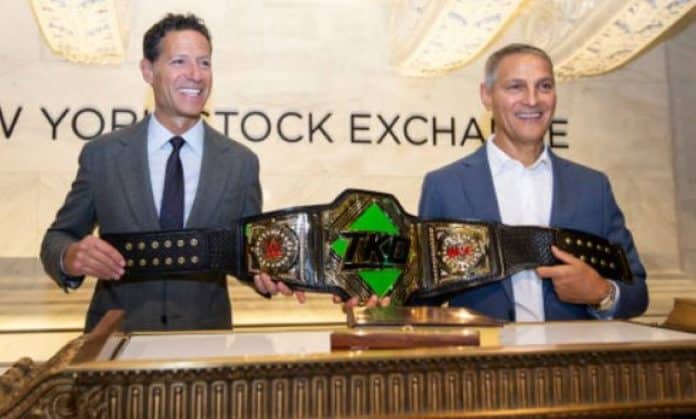 As PWMania.com previously reported, Tuesday marked a watershed moment in WWE history, as Endeavor's WWE-UFC merger to form TKO Group Holdings was officially completed. Several related stories can be found at the bottom of this post. Endeavor now owns 51% of the company, with WWE shareholders owning the remaining 49%. TKO Executive Chairman Vince McMahon owns 16% of the company. The Vince McMahon Era of WWE has come to an end, 41 years after he bought the pro wrestling company from his father and built it into a global sports entertainment powerhouse.
Executives from all three companies have spent the last several months getting to know each other, traveling frequently between the UFC headquarters in Las Vegas and the new WWE headquarters in Stamford.
THR's Georg Szalai and Alex Weprin were told by Endeavor/TKO President & COO Mark Shapiro that this was done to "communicate, ideate, and collaborate."
"And I would say there's very much a meeting of the minds on the opportunity that exists," Shapiro added.
Shapiro stated that they were prepared to "fire out of the gate" when this morning arrived. Endeavor and its leadership team, he believes, will "now have a much stronger and firmer seat at the table," but they do have a first mission in mind.
"Our first mission is to fully capitalize on this insatiable demand for premium content and live events," Shapiro explained.
According to Endeavor, the WWE-UFC merger will generate $50 million to $100 million in annual operating synergies, but THR notes that some analysts believe this figure is conservative.
"We think there's potentially more once we get into real due diligence," Shapiro said, referring to the possibility of production synergies such as satellite trucks and camera equipment.
Emanuel discussed cost-cutting measures with David Faber of CNBC's "Squawk on the Street," estimating a $50 million to $100 million savings after the merger. He stated that they have a 50-100 range with "back office and costs," and said "we are on our way to kind of doing that." Emanuel, who oversaw a $70 million cost-cutting initiative at UFC in the first 18 months, added that there are more cuts or savings to be had "as it relates to the production size… their production facility, our production facility at UFC."
The current strategy is to follow Endeavor's "championship example" set by the UFC takeover. Within two years of Endeavor's ownership, the takeover secured $70 million in cost synergies. WWE will be integrated into Endeavor's global infrastructure to help facilitate this.
TKO's first mission, according to Shapiro, is to "fully capitalize on this insatiable demand for premium content and live events," but they also intend to create more content, increase the number of live events, increase premium hospitality revenue, and expand sponsorship licensing.
Endeavor emphasized their "Endeavor Flywheel" when the deal with WWE was announced in April, and they are ready for WWE to use the apparatus. Since acquiring UFC in 2016, Endeavor has seen significant success by leveraging the Flywheel. The Flywheel is a network of subsidiaries that includes, among other things, top talent agency WME, hospitality business and current WWE partner OnLocation, online sports betting provider OpenBet, and the 160over90 creative agency.
Endeavor is confident that the Flywheel will open up numerous new opportunities for future growth with TKO.
Endeavor/TKO Ari Emanuel hosted a fireside chat at the Morgan Stanley Conference back in March and explained the Flywheel like this: "And so what do we do for the UFC? Endeavor streaming does their streaming services. Their sponsorship business, we do their sponsorship business. On Location does the high-end experience business. IMG does the international sales. Our government relations team does the location fees that we get when we go across the globe. And our licensing business does the licensing."
Shapiro discussed areas of focus and emphasized the importance of the Endeavor Flywheel to the overall process.
"We will be wringing out cost synergies, but at the same time identifying those areas that are under-monetized or where revenue synergy significantly exists," Shapiro said. "And that's happening across our domestic and international media rights, our sponsorship and global partnerships, our product licensing, enhancing our live events, through ticket yield, venue fees and premium experiences, and then just overall expanding internationally, all of these businesses and doing it with a halo of the Endeavor Flywheel, which cannot be underestimated the influence and impact that will bring."
TKO executives, including those from WWE, have all expressed optimism about the upcoming media rights renewals for both the UFC and WWE. Endeavor anticipates growth in domestic and international media rights, which is notable given streaming platforms' increased interest in sports rights.
Shapiro also spoke about the WWE TV deal negotiations, confirming that the new team has already been involved in discussions for RAW and SmackDown rights, which are up for renewal with NBCUniversal and FOX in October 2024. Emanuel and Shapiro, along with Khan and McMahon, are thought to be in charge of the negotiations. The company is expected to request a significant price increase for both of their shows, particularly RAW, which could increase the current total value of $465 million per year to $700 million per year for both deals. WWE NXT and RAW will almost certainly continue to air on the USA Network. While WWE is reportedly open to moving SmackDown to another night, it has been reported that Disney is interested in airing SmackDown on Fridays, and the blue brand would most likely air on ABC or FX. WWE could end up asking $300 million per year for the SmackDown rights, which FOX is unlikely to accept.
Shapiro told THR that they are having positive discussions with a number of "players and platforms," and that they are cautiously optimistic about the outcome.
"We're having very encouraging conversations with several players and platforms at the moment on WWE Raw and Smackdown," Shapiro said. "We're cautiously optimistic. We're, in many ways, being valued as a unicorn because we're year-round. WWE is a full-calendar sports and entertainment platform with significant engagement, strong reach and attractive demos. And that bodes well for these conversations, and I believe that we'll have results that are in line with market expectations."
According to Shapiro, they are in talks with both linear and digital platforms. There has been some speculation about WWE potentially partnering with a streaming platform for new digital programming, but nothing has been confirmed.
"But keep in mind, we're in conversations right now with WWE because those deals are up in October of next year. Both deals, SmackDown and Raw. We're cautiously optimistic and we're having conversations with all the platforms right now, linear and digital. As Ari mentioned, we have a lot of product and it's a year-around product… WWE and UFC are a full calendar year…," he explained.
"We feel very good about where we're at with the WWE now as principals in that negotiation and I think we'll be in line with what the market thinks will happen with those rights…" Emanuel added.
Emanuel also emphasized the importance of TV rights and sponsorship potential, saying that they should not be underestimated. He reiterated that there is still a lot of work to be done on TKO in terms of cost-cutting and sponsorships.
Emanuel stated that Endeavor is losing $25 million per month in revenue due to the ongoing SAG-AFTRA (Screen Actors Guild – American Federation of Television and Radio Artists) and WGA (Writers Guild of America) strikes in Hollywood. He believes that if a deal is not reached within the next three weeks, the strike will last until the end of the year, but that a deal will be reached and people will return to work.
Emanuel also addressed the rumored MMA match between Elon Musk and Mark Zuckerberg. He doesn't believe Musk will ever face Zuckerberg, but he did believe a UFC-sanctioned fight between the two was on the cards. He acknowledged Musk's neck and shoulder surgeries and said it's probably best if the fight doesn't take place.
"It's probably best it doesn't happen."$EDR CEO Ari Emanuel tells @davidfaber that while he thought a UFC-sanctioned Musk vs. Zuckerberg fight was going to happen, the billionaire battle is now moot. pic.twitter.com/cyMl4oljnq

— Squawk on the Street (@SquawkStreet) September 12, 2023
In a total knockout of a deal, @WWE & @ufc are merging into $TKO, a new sports entertainment company. CEO Ari Emanuel and COO Mark Shapiro join @davidfaber to discuss. pic.twitter.com/LyIh4smIto

— Squawk on the Street (@SquawkStreet) September 12, 2023