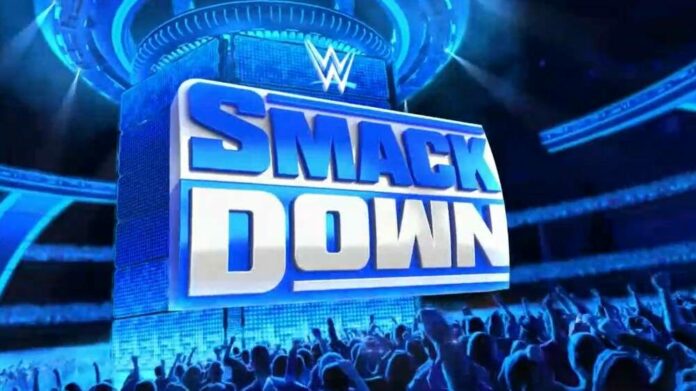 WWE SmackDown Results – August 12, 2022
Quarter Final Match of the Women's Tag Team Title Tournament 
Raquel Roderiguez & Aliyah vs. Xia Li & Shotzi Blackheart 
Shotzi Blackheart & Raquel Rodriguez starts this match as they lock up. Shotzi delivers a kick to Rodriguez's head, then looks for a tornado DDT but Rodriguez counters it and slams Shotzi into the mat. Aliyah & Xi Li both tag in, we cut to Natalya & Sonya Deville watching the match from ringside, Aliyah slams Li to the mat then delivers a crossbody off the apron. Rodriguez & Shotzi take out Natalya & Sonya Deville before the two women begin brawling that leads us to a break.
After the break Xia Li has the upper hand on Aliyah. Shotzi tags in and she drops Aliyah on her head. Li tags back in and goes for a pin, but Aliyah kicks out. Shotzi tags back in and sends her to the mat. Li tags back in and looks for a vertical suplex, but Aliyah counters it into a neckbreaker. Aliyah makes the hot tag to Rodriguez as Shotzi tags in. She delivers two fallaway slam to Shotzi, followed by the spinning elbow splash. Shotzi sends Rodriguez into the middle turnbuckle, then delivers a suplex. She goes for a pin, but Rodrioguez kicks out. Li tags back in and delivers the Texana Bomb for the win.
Winners & Advances To The Semi Finals: Raquel Rodriguez & Aliyah 
We see a video package of the main event last week and Karrion Kross' return to the company.
We head backstage to Karrion Kross & Scarlett. He says last week was the re-birth of a darkened soul and it must be nice for Roman Reigns & Drew McIntyre to be the chosen ones. He says they waited for the perfect time to strike and in the end, everyone pays the toll. He says Tick Tock as we see him spy on Drew McIntyre.
Drew McIntyre comes out to the ring & says it's an exciting time in WWE and a time for new faces. McIntyre addresses Kross following his attack last week and says that he took a major opportunity. He says the only problem is that the #1 Contender happened to be him and says he has 3 choices: knockout, hospital or graveyard. He says he will send him back to the dungeon he crawled out of. McIntyre then addresses Reigns before saying he isn't there tonight and says he believes his hype. He says it took multiple people to beat Brock Lesnar at Summerslam, but he did it alone with his bare hands.
Karrion Kross' music hits and Scarlett comes to the ring as the screen goes black & white. She gets into the ring before The Usos come out of nowhere and attack McIntyre from behind. They begin firing down forearms before McIntyre fights back. The Usos nails a superkick, followed by the 1D. They look at Scarlett and tell her to tell Kross that if he steps up to the Tribal Chief, they will put him down. Scarlett says he will do the same to Reigns.
Back from the commerical break, we get a video hyping up the Intercontinental Title.
We head backstage to Shinsuke Nakamura, where he addresses Gunther and tells him to come on!
Kofi Kingston vs. Ivar
As Viking Raiders heads down the ramp, Kofi Kingston appears out of nowhere and assaults them with a kendo stick. Erik uses his shield to protect himself as Ivar throws his shield at Kingston. The two beat him down with right hands. They send his face into the shield before Ivar delivers a splash off the barricade to Kingston.
Winner: No One (Match Never Got Started)
We come back from the break, we see Sami Zayn at Roman Reigns' locker room. He knocks on the door and The Usos answer. Zayn says he's been thinking about what they said before McIntyre comes out of nowhere and assaults them. He says every single week they get involved, he will beat them.
Tag Team Match 
Hit Row vs. Brandon Scott & Travis Irwin
Brandon Scott & Top Dolla begin the action. Dolla delivers a shoulder tackle, followed by a cannonball in the corner. Ashante Thee Adonis tags in and sends Scott face first into the mat. He whips Scott into the corner as Dolla tags back in. Travis Irwin tries to attack Dolla, but Dolla catches him and slams him to the mat. The pair hit the Heavy Hitter for the win.
Winners: Hit Row 
After the match, they grab mics and B-Fab asks if the audience missed them. They re-introduce themselves and say they are the OG 3 and if fans didn't know, now they do.
WWE then send their condolences to Gene LeBell.
We head to a video recapping the #1 Contender's Gauntlet match from last week.
We head backstage to Intercontinental Champion Gunther & Ludwig Kaiser. Gunther says Nakamura will suffer at the hands of the Ring General.
Ronda Rousey comes to the ring through the audience with a bag in hand. She grabs a mic and says she knows she isn't supposed to be here as the crowd cheers her on. She says she was fined a lot of money and dumps a whole bunch of cash out of it. She says it probably won't be the last time and being the baddest is expensive. Security comes down to the ring before Rousey meets them and taunts them. She delivers a hip toss to one of the guards and teases locking in an arm bar. Shayna Baszler comes to the ring and says you have to play by the rules here in WWE. Rousey tells her she used to be a killer and walks off.
Baszler enters the ring and grabs a mic. She sifts through the money on the desk before she addresses the crowd. She says everyone watched her win the gauntlet match last week and says Morgan will be the next one to fall. She signs the contract and calls Morgan to the ring. She says she will tear Morgan apart limb by limb and says she will step over her lifeless carcass to walk out of there as the new Smsckdown Women's Champion.
Morgan then comes to the ring with her Smackdown Women's Title in hand. She grabs a mic and tells Baszler she won't beat her. She calls her a bootleg Ronda Rousey and says she knows that because she beat the real deal twice. She says she will beat Baszler in Cardiff and signs the contract before holding up her Smackdown Women's Title.
Baszler loses it and slams Morgan's injured arm into the table. She then twists her arm as Morgan screams out in pain. Baszler stomps on her arm before delivering a kick to it into the corner. She sends it bouncing off her shoulder, then gets Morgan up on her shoulders. Morgan counters it into a bulldog and sends Baszler through the table.
We head backstage to Sami Zayn. The Usos approach him and ask where he was when they were attacked. Jey Uso says that if he doesn't step out, they will leave him behind.
We then head to a video of the WrestleMania 39 launch party from last night.
Undisputed WWE Tag Team Champions The Usos head down. They grab a mic and tell Drew McIntyre to pick a partner of his choice and get out to the ring. McIntyre's music hits and he heads to the ring.
Non Title Match 
Undisputed WWE Tag Team Champions The Usos vs. Drew McIntyre & Madcap Moss 
Drew McIntyre goes straight after Jimmy Uso he beats him down, then sends Jey Uso into the barricade on the outside. McIntyre delivers a chop to Jey and sends him into the ring. McIntyre delivers an elbow to Jey before Jimmy delivers a superkick from the outside. Jey delivers a series of stomps before Jimmy tags in. Jey delivers a cheap shot to McIntyre and tags in.
Madcap Moss' music hits and he takes down The Usos with a shoulder tackle. He delivers a fallaway slam to Jimmy and both him and McIntyre clothesline The Usos out of the ring as Moss officially becomes McIntyre's partner that takes us to a commercial break.
After the break, Tne Usos have the upper hand. Jey delivers a splash to Moss in the corner, but Moss fires back with a spinebuster. McIntyre tags in and gets the upper hand. He beats down Jey before Sami Zayn enters the ring. This allows Jey to pin McIntyre, who kicks out. Jimmy tags in and the two look for 1D, but Moss pulls Jey out of the ring and whips him into the barricade. McIntyre pulls out a Glasgow Kiss before Jimmy hits him with a superkick. McIntyre manages to hits the Claymore Kick on Jimmy Uso for the win.
Winners: Drew McIntyre & Madcap Moss 
After the match Jimmy tries to surprise attack McIntyre, but McIntyre hits him with the Future Shock DDT. McIntyre looks for the Claymore Kick but Zayn pushes him out of the way and takes the Claymore.
We head backstage to a photo shoot with Maximum Male Models. Los Lotharios approach and ask to join the agency. Max Dupri says they aren't model material as they say they weren't talking to him, but Maxxine. They tell her to give them a call.
We head to another video hyping up Gunther & Shinsuke Nakamura ahead of their Intercontinental Title match.
We head backstage to where Kayla Braxton is intervewing Ricochet. We go to a video of the end of the match between him & Happy Corbin last week. He says that he is more locked in now than he has been in a long time. He says it feels like he's been shot out of a cannon and says it doesn't matter who the Intercontinental Champion is because he will be waiting next in line out of nowhere, Corbin attacks Ricochet and takes him out.
We then head to a video hyping up Nikkita Lyons & Zoey Stark as a tag team ahead of their SmackDown debut next week.
Intercontinental Title Match 
Gunther (c) vs. Shinsuke Nakamura 
Mstch starts off with a lockup into the corner referee Jessica Carr bscks Nakamura out of the corner, Shinsuke Nakamura mocks Gunther. He sends Nakamura into the corner and looks for a chop, but Nakamura moves out of the way. He delivers several kicks to Gunther before Gunther delivers a big boot that stops him in his tracks. Gunther delivers a couple uppercuts, followed by a chop. Gunther locks in a Boston Crab, then counters it into an STF. Nakamura grabs the bottom rope to break the submission. Gunther hits a brutal chop before delivering several brutal kicks to Gunther's midsection. Gunther delivers a vicious chop
After the break, Gunther delivers a German suplex to Nakamura. Gunther looks for a splash, but Nakamura counters it into a triangle submission. Gunther is able to counter it and hit a double underhook suplex. Nakamura delivers a kick to Gunther's leg, followed by a knee to his face. He goes for a pin, but Gunther kicks out. Nakamura drives his boot into Gunther's face before he hits him in the back with his boot. Gunther hits a dropkick, but Nakamura fires back with a kick to the back of his neck. He looks for the Kinchasa, but Gunther delivers a vicious clothesline. Gunther locks Nakamura in a sleeper hold, but Nakamura escapes. Gunther drills Nakamura with a powerbomb to score the win.
Winner & Still Intercontinental Champion: Gunther (STILL CHAMPION!!!!) (Recommended)
After the match Ludwig Kaiser & Gunther pose in the ring to end this weeks Smackdown.