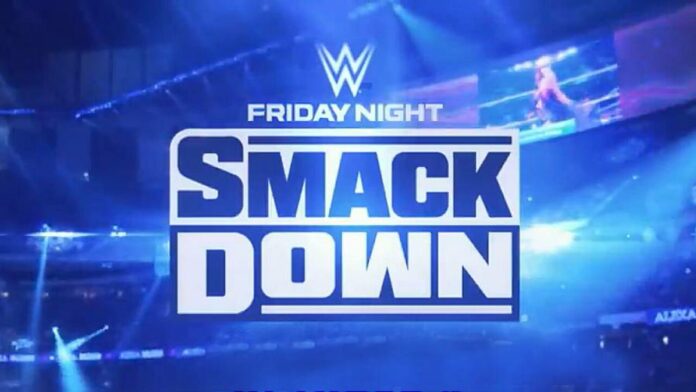 WWE SmackDown Results – November 9, 2019
We see the Smackdown wrestlers waiting for Raw and NXT to show up and Big E is playing limbo with a 2×4. Baron Corbin wants to speak with Robert Roode and Dolph Ziggler flanking him. Roman Reigns, Shorty G, and Mustafa Ali show up. Roman says they are not going to be cowards when Raw and NXT show up. Roman says they are going to open up the door and then let them all in and whoop their asses.
Baron Corbin says that is the stupidest diea.
Sasha Banks says that is enough. You argue about who has the biggest ego. The Boss waits for no one and the women's division is ready. They head to the ring.
We are in Chicago, Illinois and your announcers are Corey Graves and Michael Cole.
Sasha Banks makes her way tot he ring with her teammates for Survivor Series, Dana Brooke, Nikki Cross, Carmella, and Lacey Evans.
Sasha says this is their ring and this is their show. They are going to put their differences aside and they will not get jumped. NXT will not come out because they don't have the guts after what happened last week. They did the same thing in their house. Raw is here so why don't you come out and fight us right now.
Sasha tells Captain Queenie not to be bashful because they are ready.
Charlotte Flair's music plays and she comes out with Sarah Logan, Asuka, Natalya, and Kairi Sane.
Charlotte says it is the welcome wagon. Thank you for opening the door for them, but it isn't like Raw would kick it down anyway. Charlotte asks Sasha if they want to take business, so why not go one on one like old times sake?
The NXT theme plays and Rhea Ripley, Tegan Nox, Toni Storm, Mia Yim, and Candice LeRae make their way to the ring.
Rhea says NXT has guts and since you captains are ready to go one on one, why not make it captain versus captain versus captain?
All fifteen women and a few referees are in the ring and they try to maintain some order.
Everyone brawls in the ring as we go to commercial.
Match Number One: Rhea Ripley versus Charlotte Flair versus Sasha Banks
Sasha with forearms and chops to Charlotte and Rhea. Sasha with a kick to Rhea. Rhea and Charlotte with boots to Sasha and she goes to the floor. Rhea and Charlotte have some words and Charlotte with a waist lock take down. Rhea with an escape and Charlotte with a single leg take down and side head lock. Charlotte kicks Rhea when Rhea drops down. Charlotte goes for a slam but Rhea escapes and applies a waist lock and runs Charlotte into the corner. Rhea with shoulders. Rhea with a kick but Charlotte with a boot to the head.
Charlotte with a forearm and shoulders in the corner. Charlotte misses a shoulder and goes into the turnbuckles. Sasha with a lungblower to Rhea for a near fall. Sasha with punches. Rhea with a short arm clothesline followed by a second one and a drop kick. Sasha with a kick to Rhea when Rhea tries to send her back into the ring. Charlotte sends Sasha into Nikki against the ring steps. Sasha and Nikki argue and then the other members of Smackdown try to play peacekeeper but the other two teams watch. Rhea and Sasha with punches as Charlotte goes up top and hits a moonsault to the floor.
We go to commercial.
We are back and Ripley gets a near fall on Charlotte. Rhea with a forearm to Sasha and sends her into the turnbuckles. Sasha with an elbow. Rhea gets Sasha on her shoulders and Rhea drops Sasha onto the turnbuckles. Rhea puts Sasha on the turnbuckles and Rhea with a forearm. Sasha with forearms and then Sasha with Meteora but Charlotte with Natural Selection on Sasha to break things up and Charlotte gets a near fall. Rhea kicks Charlotte and Charlotte has a boot blocked and Rhea misses a drop kick. Charlotte with Natural Selection and Rhea goes to the apron. Sasha with a rollup on Charlotte for a near fall. Charlotte with a figure four leg lock and she bridges and Rhea goes under Charlotte and pins her.
Winner: Rhea Ripley
After the match, NXT celebrates and Charlotte and Sasha argue. Charlotte punches Sasha and Sasha punches back. The other eight women from Raw and Smackdown join the fray. Raw is forced to the floor but they get back into the ring as the battle continues.
Baron Corbin, Robert Roode, and Dolph Ziggler talk in the back and Baron says they need to lead by example. Baron talks about the six man tag match. Baron says they need a plan to deal with an attack from Raw and NXT. They are going to leave the ring and let Raw and NXT beat the hell out of Roman, Shorty G, and Ali. Then they are going to roll into the ring and beat them up.
Sami Zayn shows up and he has a bag.
Baron calls Sami the most annoying person he has met.
Sami tells Baron to call him annoying to his face in the ring right now.
Sami's music plays and he goes to the ring.
He is joined by Shinsuke Nakamura.
We go to commercial.
Kayla Braxton is in the back with Bayley. Kayla asks Bayley about her match on Sunday and whether she is worried if Becky or Shayna show up. Bayley says she is the only one in the match who held the Raw, Smackdown, NXT, and WWE Women's Titles. Becky is too smart and she knows that Bayley is ready. Shayna is too impulsive. Bayley has her head on a swivel because Shayna attacks her from behind. If Shayna is done hiding in the shadows, then she is ready.
We return to the ring and Sami has a mic in one hand and the bag in the other.
Sami says it looks like King Corbin isn't coming out because Corbin is afraid of him and Nakamura. Corbin can call him annoying. If there is one word to describe him, Sami says he would go with stud. For as big of a stud as he is, Nakamura is an even bigger stud. In fact, you have been so studly as Intercontinental Champion over the last few months that he got him something. Sami says this is from him to Nakamura. Sami opens the bag and reveals a new title belt. Sami says this is the only way you take a championship from Nakamura. Sami exchanges the old title belt for the new one. It is a masterpiece befitting an artist. This is the only match Smackdown is guaranteed to win on Sunday. Nakamura will defeat US Champion AJ Styles and NXT's North American Champion Ricky . . . Sami asks Nakamura his name and Nakamura says he is drawing a blank.
The music for the Undisputed Era plays and they make their way to the ring.
Sami and Nakamura decide to leave the ring.
Adam Cole takes the mic and he fills Sami in. He says his name is Adam Cole and this is Roderick Strong, the NXT North American Champion. After him and the fellows take care of business on Saturday, they will wipe the floor with Raw and Smackdown on Sunday. That is Undisputed.
The New Day make their way to the ring.
Kofi Kingston says look what we have here. You took off so fast last week, they didn't have a chance to give them a proper good bye. We see you here right now and they are here right now. They can settle what you guys started last week in a match right now.
Roderick takes the mic and says the two of you against the four of them.
Big E says it will be the two of them teaming up with . . .
Heavy Machinery makes their way to the ring.
Match Number Two: Otis Dozovic, Tucker Knight, Big E, and Kofi Kingston versus Roderick Strong, Adam Cole, Kyle O'Reilly, and Bobby Fish
Big E and Strong start things off and Strong backs into the ropes to stop Big E. Fish, Kyle, and Cole distract Big E and Strong hits Big E from behind. Kyle tags in and he connects with a knee. Fish tags in and they kick Big E but Big E with an overhead belly-to-belly suplex on Fish. Big E hangs Fish on the apron and Kofi tags in. Big E with a splash onto Fish on the apron and then he hits an overhead belly-to-belly suplex on Kyle. Kofi kicks Strong. Cole tags in and Kofi with a springboard chop. Kofi runs into a knee.
Cole with forearms and Kofi with punches. Kofi with kicks but Cole with a knee. Strong tags in and Kofi with a thrust kick and Strong with a half nelson back breaker to Kofi followed by kicks to the back. Kyle tags in and he kicks Kofi while Strong chops him. Fish and Kyle with a double suplex and Fish gets a near fall. Fish with a snap mare and slingshot senton for a near fall. Cole tags in and hits a neck breaker. Strong tags in and he kicks Kofi. Strong gets Kofi on his back for a Gory Special. Kofi escapes and gets a near fall with a rollup.
Strong with a drop kick and Kyle tags in. Kyle with a waist lock followed by elbows and knees to the ribs. Kyle with a sliding knee to Kofi. Strong with a front face lock on Kofi. Kofi with a pendulum kick and he goes up top. Strong stops Kofi and Strong sets for a superplex but Kofi blocks it and sends Strong to the mat. Tucker has some words for Kyle on the floor and Strong drop kicks Kofi off the turnbuckles onto Tucker. Otis picks up Kofi and Big E argues with Otis. Otis and Big E push each other and Tucker tries to calm both men down as we go to commercial.
We are back and Fish with a body scissors on Kofi. Fish with a reverse chin lock as Kofi gets to his feet. Fish knocks Big E off the apron and he does not deal with either member of Heavy Machinery. Kofi with a drop kick off the Irish whip and both men are down. Kyle and Otis tag in and Otis with shoulder tackles to Kyle and Roderick while he hits splashes on Cole. Kyle with kicks but Otis shimmies it off. Otis with a head butt and Otis blocks a rebound clothesline with an overhead suplex. Otis with a splash to Cole and Kyle. Otis sets for the Caterpillar on Cole but Cole is pulled out of the ring. Otis with a shoulder tackle to Kyle and Tucker tags in. Otis catapults Kyle into Tucker for a slam and a near fall.
Strong tags in and Tucker with kicks and a arm trapped butterfly suplex. Tucker with a splash into the corner followed by a side slam for a near fall. Tucker goes up top and hits a moonsault for a near fall when Cole breaks up the cover. Cole kicks Otis off the apron and he kicks Big E. Big E with a belly-to-belly to Cole. Fish and O'Reilly are back dropped over the top rope by Big E. Kyle and Bobby with Total Elimination on Big E and Kofi tries for a double stomp off the ring steps but he misses and Kyle and Bobby with Total Elimination on Kofi. Otis catches Kyle and hits a spinning slam. Otis with a Caterpillar to Kyle. Cole with a super kick and Strong with a jumping knee for the three count.
Winners: Kyle O'Reilly, Bobby Fish, Adam Cole, and Roderick Strong
After the match, Roderick Strong goes up the ramp to confront Shinsuke Nakamura, who was watching the match from the ramp. AJ Styles with a forearm to Nakamura and then Strong with forearms to Nakamura. Styles hits Strong and then Zayn hits Strong and Styles with a chair. The rest of Undisputed Era make their way to the stage and Nakamura and Zayn go to the back.
Daniel Bryan walks in the back as we go to commercial.
We are back and AJ Styles is joined by Karl Anderson and Luke Gallows. AJ asks if you enjoyed that and then he says Chicago is one of the most depressing cities in the world. AJ says he is the best thing going in Chicago right now. He is not going anywhere to remind you exactly who they are.
AJ responds to the CM Punk chants by saying he would wipe up the floor with him. Karl says if you mess with one of them, you mess with all of them. AJ tells Shinsuke to appreciate what he just did. Your mouthpiece will get what he deserves for that chair shot. You guys may be great on NXT and Smackdown, but he will show everyone that he is the Phenomenal AJ Styles.
Daniel Bryan makes his way to the ring.
Daniel says if you want to know why he is summoning Bray Wyatt, here is why. We see footage of Bray attacking Bryan.
Daniel says he did not come out here to chant Yes, talk about the environment, or play with puppets. He came out to bring out Bray Wyatt. Before we have our match on Sunday, come out here and we can talk face to face, man to man. We can clear the air and get things off our chests. We can talk about the past. We can talk about any issues that you have with me. If you don't think that is fun, we can fight right now, and that would be fun. Daniel says he will not be another name on your hit list and he will not become another toy . . .
The lights go out and they come back on and Daniel is still in the ring by himself.
Daniel says mind games. You don't want to fight and disappoint these people?
Instead of Bray Wyatt, Miz makes his way to the ring.
Daniel wants to know why the Miz is out here.
Miz says based on your behavior last week, I am a professional. MIz says he had to bite his tongue about what he wanted to say to Daniel Bryan. Daniel says he does not respect Miz and Miz says the feelings are mutual. Miz says he hopes Bray destroys Bryan. Miz says maybe he will slap some sense into Bryan but that won't work so he will do half of that and he slaps Bryan.
We go to commercial.
Match Number Three; Daniel Bryan versus MIz
The match is joined in progress and Miz with boots. Bryan blocks a kick and slaps Miz. Bryan with a chop and Miz with a kick. Bryan with a flying knee off the apron. Bryan with European uppercuts but Miz with punches. Miz with a knee to the midsection. Miz gets a near fall. Miz with a boot to the head. Miz with another kick and he gets a near fall. Miz with a shoulder tackle and Bryan with a kick to the chest. Bryan with chops and kicks in the corner. Bryan with a running drop kick into the corner. Bryan with a second drop kick into the corner. Miz with the Awesome Clothesline and he goes to the turnbuckles. Bryan stops Miz off the turnbuckles and goes for the LeBell Lock but Miz blocks it.
Miz with an Irish whip and Bryan flips out of the corner and hits a flying clothesline. Miz stops Bryan on the turnbuckles and Miz sets for a superplex. Bryan blocks the superplex attempt and Bryan with a head butt to send Miz to the mat. Bryan with a missile drop kick. Bryan with kicks and a round kick to Miz.
Bryan starts to do the Yes, but the lights go out.
The lights come back on and it is red in the building and The Fiend is in the corner. Bryan charges at The Fiend and The Fiend with the Mandible Claw.
The lights go out and we go to commercial.
NXT Women's Champion Shayna Baszler makes her way to the ring.
Shayna tells Bayley she heard what you were saying about how she only attacks you from behind. You aren't getting the message, so here she is, not lurking in the shadows. She is in the middle of the ring and she is calling you out.
Bayley attacks Shayna from behind and she punches Shayna. Shayna with a double leg take down and she punches Bayley. Bayley kicks Shayna away. Bayley goes to the ringside barrier and Shayna applies the Kirifuta Clutch and Bayley is able to escape. Bayley sends Shayna throat first into the ringside barrier and then into the ring post.
Shayna looks at Bayley and Bayley thinks it might be time to go to the back.
We go to commercial.
Match Number Four: Roman Reigns, Shorty G, and Mustafa Ali versus Baron Corbin, Dolph Ziggler, and Robert Roode
Roman and Roode start things off and Roman punches Corbin and Ziggler on the apron. Roman sends Roode to the floor and hits a Drive By on Corbin. Roman with an uppercut to Roode. Ziggler stops Roman on the apron and Corbin sends Roman into the ringside barrier. Roode sends Roman into the apron and then they return to the ring. Roode kicks Roman in the back. Ziggler tags in and Roman with a kick to Roode and a punch to Ziggler. Roman with a Samoan drop to Roode. Shorty tags in and he drop kicks Baron off the apron. Shorty with a European uppercut and kick to Ziggler. Shorty with an overhead bellly-to-belly suplex to Roode. Shorty with a Northern Lights suplex to Ziggler for a near fall. Shorty is press slammed onto the announce table by Corbin and Roode.
We go to commercial.
We are back and Ziggler with a hesitation DDT for a near fall on Reigns. Ziggler sets for a super kick and Roman with a Superman punch. Ali and Corbin tag in and Ali with drop kicks and punches. Corbin misses a splash and Ali with an enzuigiri and rolling X Factor. Ali with a spinning heel kick to Ziggler and a suicide dive to Ziggler. Alia with a flip dive onto Corbin on the other side of the ring. Ali sends Corbin back into the ring and Corbin grabs Ali but Ali escapes the choke slam. Ali with an elbow and tornado DDT. Ali goes up top but Roode crotches Ali Shorty pulls Roode off the apron and tries for a German suplex but Roode escapes and hits a spinebuster. Reigns with a Superman punch to Roode and Ziggler with a super kick to Roman.
Ziggler knocks Ali off the turnbuckles and Corbin with Deep Six for the three count.
Winners: Baron Corbin, Dolph Ziggler, and Robert Roode
After the match, Roman spears Corbin.
Seth Rollins' music plays and the Raw roster appears at the top of the aisle.
Seth goes over the ringside barrier and gets in the ring wtih Roman Reigns. Seth and Roman exchange punches. The Raw roster goes over the ringside barrier and they go after Roman, Ali, and Shorty.
The Smackdown roster makes its way to the ring, led by Braun Strowman.
Braun with a power slam to Drew.
We go to the entrance of the arena and NXT is led by a jeep with Hunter and Shawn.
NXT joins the brawl and there is mayhem around the ring.
Keith Lee with a Spirit Bomb to Montez Ford.
Braun gets on the apron and Keith Lee smiles like a child on Christmas morning.
Braun and Keith give shoulder tackles to innocent victims and then they exchange punches as everyone enters the ring and we go to credits.
Credit: PWInsider.