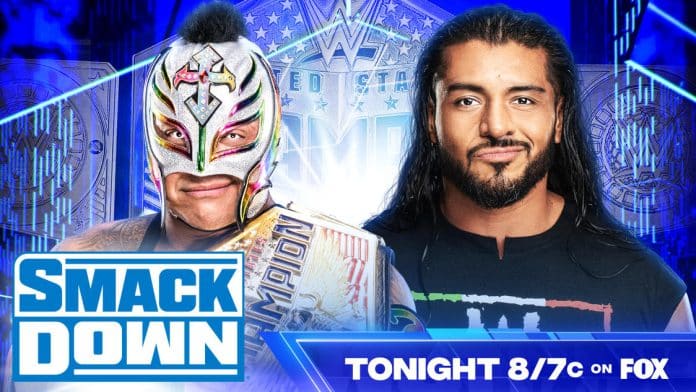 The road to WWE Fastlane 2023 continues tonight.
WWE Friday Night SmackDown returns from the Golden 1 Center in Sacramento, CA. tonight at 8/7c on FOX.
On tap for tonight's show is the return of John Cena, Rey Mysterio vs. Santos Escobar for the U.S. title, Charlotte Flair vs. Bayley, Bobby Lashley on "The Grayson Waller Effect" and more.
Featured below are complete WWE Friday Night SmackDown results from Friday, September 29, 2023. The following report was written by PWMania.com reporter Matt Boone (@MattBoone0709) as the show aired live from 8-10pm EST. on FOX.
WWE FRIDAY NIGHT SMACKDOWN RESULTS (9/29/2023)
The John Cena-narrated "WWE Then. Now. Forever. Together." opening signature airs to get us started. We then shoot into the "Who's better than me?" theme song and cold open video intro video.
We shoot live inside the sold out Golden 1 Center in Sacramento, CA. as fireworks explode and the camera pans the crowd as Kevin Patrick welcomes us to the show. Corey Graves and Michael Cole join him in running down the scheduled lineup for tonight's show as the match graphics flash across the screen.
The Bloodline Kick Off This Week's Show
Jimmy Uso's theme hits and out he comes accompanied by Solo Sikoa and "The Wise Man" Paul Heyman. The Bloodline trio head to the ring to kick off this week's show. "Ladies and gentlemen, my name …" begins Paul Heyman, before he is drowned out by boos like Dominik Mysterio. They're bad enough that he acknowledges them. "No, my name is not booo!"
Heyman leads Solo and Jimmy in acknowledging their "Tribal Chief," complete with each of them throwing up their respective "1's." He says it is in his name that last week, the second greatest of all time, John Cena, took a beating the likes of which he hasn't taken in over a decade. He then introduces us to the footage of the beat down.
We return after the package and Heyman mentions Cena is having transportation issues tonight. He says he's fully expected to make it, but as of this moment, Cena is not here at SmackDown. He asks if we know who else isn't here. The answer is AJ Styles. Why? Because he's laying in a hospital bed thanks to The Bloodline. Jimmy Uso then extends his hand, cutting off Heyman, asking for the mic.
He pretends to be kidding but then yanks the mic out of Heyman's hands like last week. He says The Bloodline are in the building. He tells Heyman he's too kind. He says the real reason Cena isn't here tonight is because he's scared. Scared of him. Jim Uso! Jimmy begins mocking Styles' catchphrases and then he and Solo get attacked by Karl Anderson.
Karl yells off mic that AJ being in the hospital makes this O.C. business. He tells them to get back in the ring but Heyman tells them not to. Solo tells Jimmy off-mic that he better handle this, or he's about to handle this for him. Jimmy says he's got it. We head to a commercial break on that note.
Jimmy Uso vs. Karl Anderson
When we return from the break, we see our opening match, an impromptu showdown between Jimmy Uso and Karl Anderson, already in progress. Anderson takes it to Uso, beating him down in the middle of the ring before stopping to look out at ringside and taunt Solo Sikoa.
Anderson continues to work over Uso in the corner of the ring as he yells at Uso about AJ Styles being in the hospital. He hits a big spinebuster for a close near fall. We see another shot of Solo watching on before Uso finally shifts the momentum after Anderson is distracted. Uso shifts things in his favor by jabbing at Anderson with a finger in the eye.
Uso works over Anderson a bit and then leaves him laying in the middle of the ring. He climbs to the top-rope, looks around and then leaps, connecting with an Uso splash for an easy pin fall victory in a quick match. After the match, Uso and Solo beat down Anderson some more. Solo leaves him laying with a Samoan Spike.
Uso goes to shake Solo's hand but he walks past him. They continue up the ramp together. Michin comes out and Uso taunts her, so she slaps him so hard that he falls down. He gets up and says "Damn" as Solo looks at him like it was pathetic.
Winner: Jimmy Uso
Cathy Kelley Interviews Santos Escobar
We shoot backstage where Cathy Kelley is standing by with Santos Escobar. She asks him about his feelings heading into his U.S. title shot against fellow LWO member Rey Mysterio tonight. He says he's calm in his head but nervous in his stomach. He says Rey is in for the fight of his life tonight.
The Grayson Waller Effect With Special Guest Bobby Lashley
After that, we head back inside the Golden 1 Center where we see the WWE production crew at ringside loading up the set for "The Grayson Waller Effect" into the squared circle. On that note, we shift gears into a quick commercial break.
When we return from the break, we see Jimmy Uso embarrassed backstage shoving production people. Paul Heyman looks disgusted. He pulls out his phone and says, "Call Roman Reigns."
Now we shoot back inside the venue where we hear the drum roll and then the introduction for Grayson Waller. He appears in the ring in a bright pink button up shirt to a ton of boos from the Sacramento crowd. He talks about it being a wild night already here on SmackDown.
He says John Cena might be the greatest of all time, but he ain't the greatest at being on time. He mentions his guests on The Grayson Waller Effect keep getting bigger. He says his next guest has done it all as a performer, but is lacking as a talent scout. He introduces Bobby Lashley.
As "The All Mighty" makes his way to the ring, we see footage of Lashley helping The Street Profits last week and they still lost. We also see him yelling at The Street Profits after the loss backstage. Lashley says he made a mistake in picking The Street Profits, so it's back to the drawing board.
Waller says maybe Lashley is looking for a better team, such as Austin Theory and himself. He says he's had history with Theory and he'll pass. Before he can say anything else, out come The Street Profits still dressed in nice suits. They head to the ring.
They go to talk but Lashley cuts them off. He doesn't want to hear excuses or reasons. He says if they want something from him, prove it. He walks off. They leave after him and stop him in the aisle. Lashley talks for a second but turns and walks away. Waller says this is awkward. He introduces Austin Theory.
Austin Theory vs. Cameron Grimes
Theory walks to the ring as the commentators joke about him taking credit for the most viewed video in WWE social history with his clip from The Rock's return with Pat McAfee. As he settles in the ring, we head to a quick pre-match commercial break.
When we return from the break, we see a vignette for Dragon Lee, who is then shown sitting in the front row as the commentators promote him being the special referee for the NXT North American Championship match at NXT No Mercy 2023 tomorrow night.
Already in the ring is Theory, as well as his scheduled opponent, Cameron Grimes. The bell sounds and we're officially off-and-running with this one. We see Theory go right at Grimes, who quickly shifts the offensive momentum in his favor. He takes it to Theory and goes for the cover, but Theory kicks out and then takes over.
Grimes fights back into the lead and hits a flying cross-body off the top rope for a close near fall. He then hits a nice belly-to-back suplex into another pin attempt. Theory kicks out. We see Waller watching on at ringside as Grimes clotheslines Theory out to the floor.
He kicks Theory on the ring apron and then we see Waller distract him on the floor. Theory recovers and slams Grimes into the ring post. He rolls him back into the ring and hits a big drop kick before connecting with his A-Town Down finisher for the pin fall victory. After the match, Theory gets in a pushing match with Dragon Lee.
Winner: Austin Theory
WWE United States Championship
Rey Mysterio (C) vs. Santos Escobar
We shoot backstage where Kayla Braxton introduces her guest at this time, WWE United States Champion Rey Mysterio. She mentions Santos Escobar saying he's in for the fight of his life tonight. Rey says the LWO is all family and he's got nothing but love for Santos.
He says there's a saying. "Be careful what you wish for." He tells Santos he's giving him the fight of his life. May the best man win. He walks off as his theme hits in the arena. He makes his way out to a huge pop and heads down to the ring for his latest scheduled defense of the U.S. title.
As the WWE Hall of Fame legend settles inside the squared circle, we shift gears and head into a quick pre-match commercial break.
When we return from the break, we see Jimmy Uso beating down Hit Row as Solo Sikoa watches on. Some officials come to the scene to hold Uso back. Solo Sikoa ends up picking him up and putting him through a nearby table. The Bloodline then leave.
Back live inside the arena, we see Rey Rey bouncing in the ring as he awaits the arrival of his challenger. The LWO theme hits and out comes Santos Escobar for this championship contest. The ring announcer handles the pre-match introductions and then the bell sounds to get this one off-and-running.
Santos wrestles Rey down to the mat early on. Rey tries hitting a cutter to escape, but Santos keeps his hands locked around him and continues to control him on the mat. He wraps his legs around him and rolls for a pin attempt, but Rey kicks out.
They get back to their feet and now we see Santos isolating the arm of Rey and focusing his attack on the limb of the reigning and defending champ. We see a big high spot that sees both guys end up on the floor and then we shift gears and head into a mid-match commercial break as the action continues.
As we settle back in from the break, we see Santos once again grounds Rey and controls him on the mat as fans try and rally behind the masked WWE Hall of Fame legend. Rey frees himself and begins fighting back, knocking Santos to the floor and hitting a big diving splash that pops the crowd.
We see the action continue as a split-screen shot shows The Bloodline duo of Jimmy Uso and Solo Sikoa causing more chaos backstage with random attacks. The commentators remind us that John Cena is about to be arriving to the building for tonight's show. Rey hits his trademark spots on Santos.
He gets him set up for the 6-1-9 but Santos recovers and blasts Rey with a big super kick that knocks him out of the ring. He follows up with a big dive and splashes onto Rey on the floor. Santos hits back-to-back meteora's in the corner. We see a concerned Zelina Vega watching on at ringside.
Santos sits Rey on the top-rope but Rey starts fighting back. He knocks Santos off the top and then eats an enzugiri from Santos, who climbs right back up. He hits a top-rope hurricanrana. He goes for the cover but Rey kicks out. On that note we head into another mid-match commercial break as this title tilt continues.
We're back from the commercials and we see Santos is still very much in a comfortable offensive lead. We see Santos focus on the hurt lowered back of Rey with a Gory Special. Rey ends up countering his way out of it and firing back up on offense.
He hits a 6-1-9 and heads to the top-rope. He goes for his finisher but Santos moves. Santos looks for the Phantom Driver, but Rey counters and rolls him up for the 1-2-3 and the win to retain his U.S. title in great match.
Winner and STILL WWE United States Champion: Rey Mysterio
The Street Profits Attack The LWO
Once the match wraps up, we see Santos struggling to accept the loss. Rey celebrates and then the two stop and look at each other. As they appear ready to show mutual respect after a hard-fought battle, we see an ambush from behind.
The Street Profits duo of Montez Ford and Angelo Dawkins hit the ring and beat down both LWO members. They clear them from the ring. Bobby Lashley's theme hits and out comes Cruz Del Toro and Joaquim Wilde, who Lashley and the Profits beat down as well.
Dragon Lee is shown trying to hop the guard rail but is held back by security as Lashley and the Profits continue to guzzle up all of the LWO members. Lashley has a big smile on his face as the fans loudly boo.
The Greatest Of All-Time John Cena Has Arrived
A "Breaking News" graphic flashes on the screen and then the commentators inform us that the greatest of all-time, John Cena, has landed and has arrived at the Golden 1 Center. On that note, we shift gears and head into another commercial break.
LWO Issues A Challenge For WWE Fastlane 2023
When we return from the commercial break, we shoot inside the trainers room where we see Rey Mysterio, Santos Escobar and the LWO being checked on after the sneak attack by Bobby Lashley and The Street Profits. Mysterio issues a challenge to the trio on behalf of the LWO for Fastlane.
Jade Cargill Signs With WWE
Michael Cole, Kevin Patrick and Corey Graves talk about the biggest free agent signing in years, Jade Cargill, noting the video of her signing announcement garnered 20 million views. We see a compilation of media coverage of her signing.
Charlotte Flair vs. Bayley
Now we shoot to a video package that looks at the build-up to our next match of the evening. We return inside the Golden 1 Center in Sacramento, CA. where we hear the familiar sounds of Charlotte Flair's theme music. "The Queen" makes her way down to the ring.
As the women's legend settles inside the ring, we shoot to the parking lot where we see a car pull up. John Cena pops out and begins walking with some pep in his step as he enters the building. On that note, we shoot to a quick pre-match commercial break.
When we return from the break, we see a big, dramatic video package looking at Pretty Deadly making their comeback trail from injury. We shoot backstage and The Brawling Brutes duo of Ridge Holland and Butch talk about how they should have finished him off for good.
Back inside the arena, the familiar sounds of Bayley's theme music hits and the Damage CTRL leader makes her way out to the ring. She settles inside for the showdown of the two Four Horsewomen. Before the match, Charlotte asks what happened to Bayley. She calls her IYO SKY's side kick and says she's still the queen of the division.
Charlotte says after she beats Bayley tonight, she's calling out IYO SKY for a title match at Fastlane. The bell sounds and we're officially off-and-running with this one. Bayley immediately takes it to "The Queen" with a vengeance. We see Bayley hit a big high spot on Charlotte on the floor.
After the high spot, we see Bayley taunting her as her fellow Damage CTRL members are shown behind her cheering her on. On that note, we shift gears and head into a mid-match commercial break as this match continues.
We're back from the break and the first thing we see is Charlotte soaring off the top-rope and connecting with a cross-body splash for a close near fall attempt. She continues to dominate, back-suplexing Bayley half-way across the ring and then leaping back to her feet. She hits a big spear and gets the win.
Winner: Charlotte Flair
Women's Title Triple-Threat Match Set For WWE Fastlane
Once the match wraps up, Bayley gets on the mic and tells everyone to shut up. She says Charlotte isn't just cutting the line and getting a title shot. She says she vowed to take out Charlotte tonight and that's what Damage CTRL is about to do.
Before they can, the familiar sounds of Asuka's theme hits. "The Empress of Tomorrow" makes her way down to the ring. She mumbles something in Japan and then Bayley offers she and Charlotte a triple-threat match for the WWE Women's Championship against IYO SKY at Fastlane.
John Cena Closes Out This Week's Show
We shoot to the backstage area where we see John Cena speed-walking the hallways. The greatest of all-time is up next to close out this week's show when we return. On that note, we shift gears and head into another commercial break.
When we return from the break, the commentators announce Dragon Lee vs. Austin Theory and an appearance by The Judgment Day for next week's Fastlane go-home episode of SmackDown. John Cena's theme hits and out he comes with some papers in his hand.
Cena talks about honoring his contract to fight The Bloodline at Fastlane, even if it means he's got to go it alone. The theme for Jimmy Uso hits and out he comes with Solo Sikoa. Uso tells Cena he won't be making it to Fastlane. They go to attack, but Cena strikes first.
The Bloodline duo end up beating Cena down. Just when it seems Cena is going to get mauled, we hear the familiar sounds of LA Knight's theme. "The Mega Star" comes down and helps Cena clear the ring of The Bloodline duo. He signs the contract to be Cena's partner at Fastlane. The two shake hands. That's how this week's show goes off the air. Thanks for joining us!