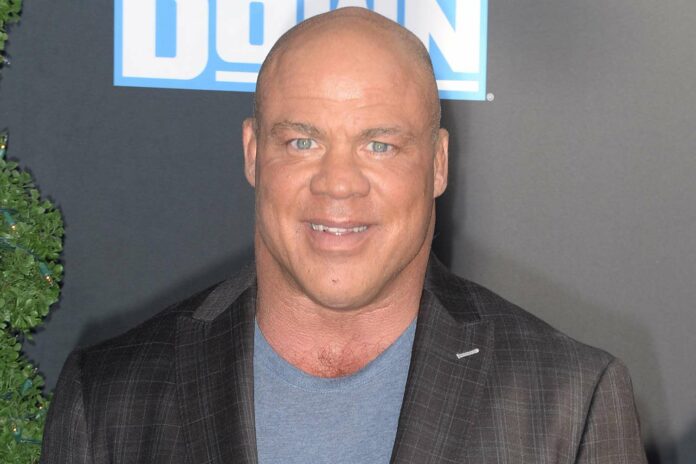 Kurt Angle isn't overly fond of ladder matches.
On the latest installment of his "Kurt Angle Show" podcast, the Olympic gold medalist and WWE / IMPACT Wrestling Hall of Fame legend explained why he has never enjoyed wrestling in ladder matches.
Featured below are some of the highlights from the show where he touches on this topic with his thoughts.
On TNA No Surrender 2008 and his ladder match with AJ Styles in the lead-up and how he doesn't like ladder matches: "Just the Olympic gold medals in a ladder match. That's ridiculous. I hate ladder matches. I'll do them. But I hate them. I like straight-up wrestling matches. I just think that you do a lot of stupid shit when you get ladders involved, and a lot of guys get hurt that way. Yeah, we've seen it just carrying a weapon. I even thought that listen, the booking in TNA was a little subpar, a little baseball bat. And then. And then AJ has a guitar. What were they for? Was it the represent Sting and Jeff Jarrett? It's like we're having an Olympic wrestling match and bringing bats and guitars into it. It's just it was just pointless. Yeah, yeah, that is the spectacle. But they made it into, hey, let's get a Sting, a little rub, and Jeff Jarrett, a little rub in this match, and I'm not sure why."
On TNA booking outside interference in his ladder match with AJ Styles: "And I don't know why they didn't trust AJ and me to have a straight-up ladder match without anybody involved. I just thought the booking was subpar at this point. Looking back, I'll be honest: when they were booking these matches, I never thought about the guys that would come out at the end and add to the match or take away from it and all that stuff. I didn't look at it till I stepped out of the ring, retired, and looked back and said, Gosh, man, that booking was not good. I don't know why they did this, why they did that. It's just when you step away from it, and you look back in, you say, Man, there's some stupid shit they did here, you know? That's just how I am. And that's how I was always going to be. I mean, you can't change a person with their work ethic. I've always had an incredible work ethic, and I was always going to give everything I had, every match."
Check out the complete episode of the show at AdFreeShows.com. H/T to WrestlingHeadlines.com for transcribing the above quotes.